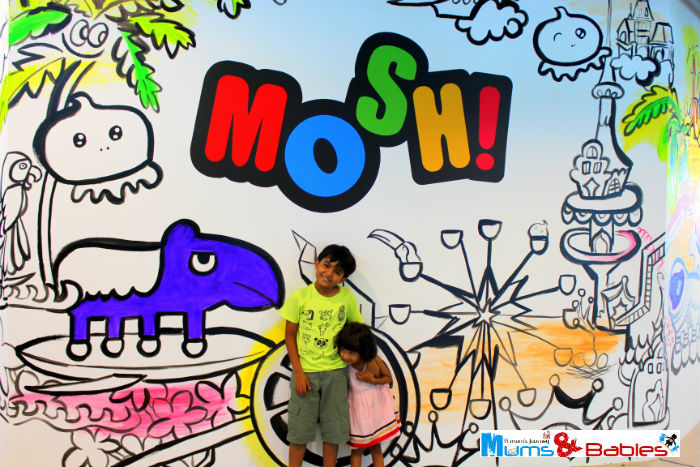 We all love Sentosa isn't?
A place with endless options to have a fun filled day not just for kids but for the entire family. Kidzania Singapore is making its way on 12th April'2016 and in the  same building you will find an Interactive Digital Multi-Media Theme Park – MOSH!
This futuristic edutainment park brings you, your family, teens and children to an alternate world of incredible wonders. Using advanced, special tools and cutting-edge technology from Japan.
Loved their logo which is full of colours adding that brightness to their entrance where you can't give a miss without clicking a photo. Trust me from the entrance you can't make out that you will be entering a dark zone. As usual for kids when I told them we are visiting a new playground their first thought was slides which is very common.

I have clicked this photo just to give you a glance of the entire space and different themes they have there before we start exploring everything.
MOSH has got 5 attractions to keep you engaged namely-
Land         : Hide & Seek

Air

              : Paper Plane Adventure

Sea          

: Doodle Aquarium

Space      

: Firework Party

Fantasy  

: World of Wonder
AIR: Paper Plane Adventure
We have started with paper plane adventure and as the name says, we had endless paper plane making and not just flying a paper plane out of it but making your imagination into a reality.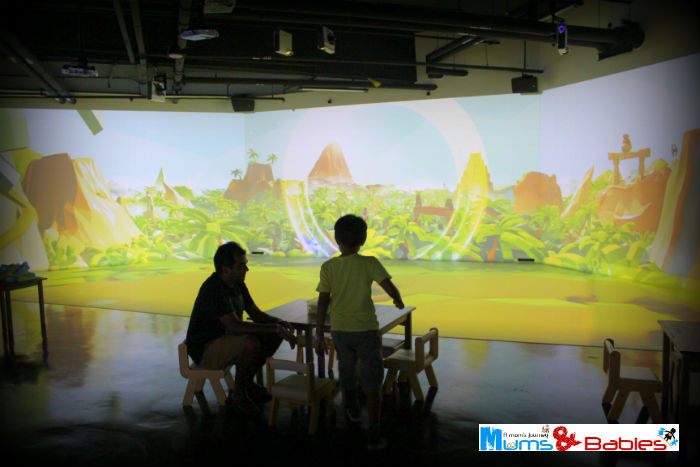 Paper plane in making…..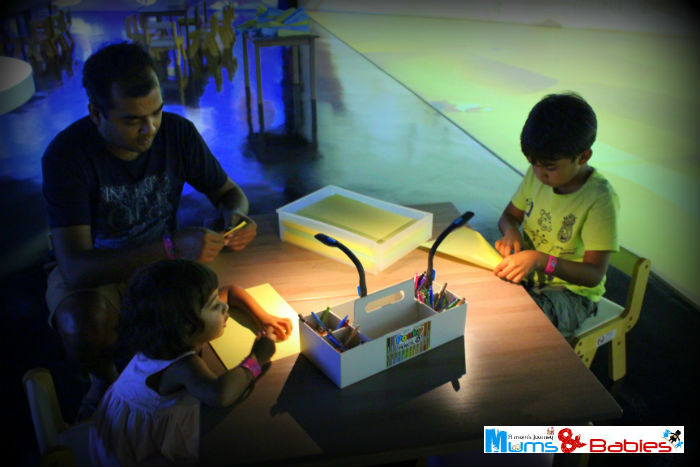 Here, we go putting our imagination into a reality! This screen will keep on changing and you will see a lot more new things.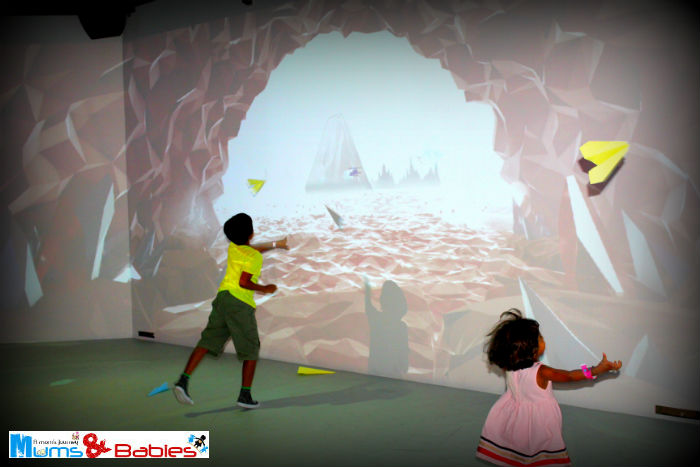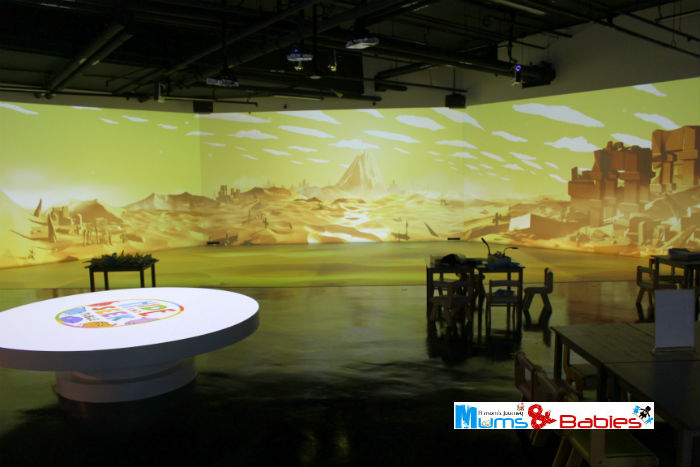 SEA: Doodle Aquarium
This is the place to showcase your artistic skills and design any marine creature you want. Scan your artwork and bring them to life in the large 'ocean' at MOSH! Your wildest imaginations keeps the MOSH!cots dreaming. I got to know that they have special paper and  colour pencils which are not available in Singapore.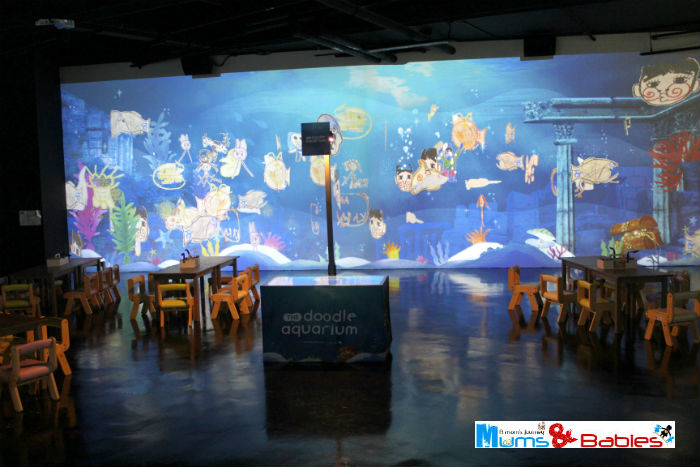 Colouring is their favourite activity and if they can bring it to life, what more do you want?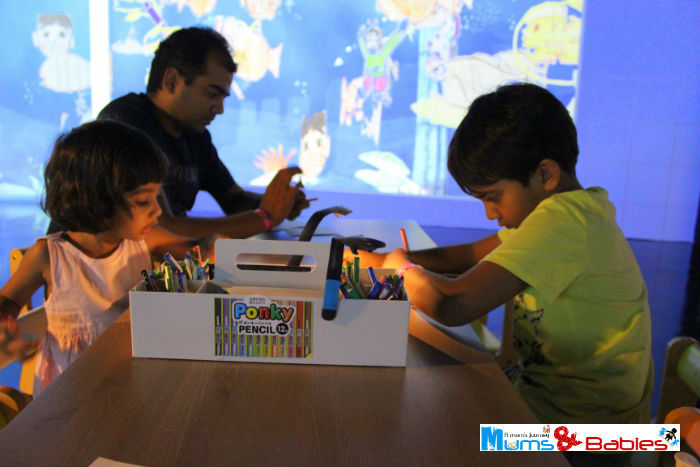 Scan your art work here, we just overboarded the doodle machine with our work.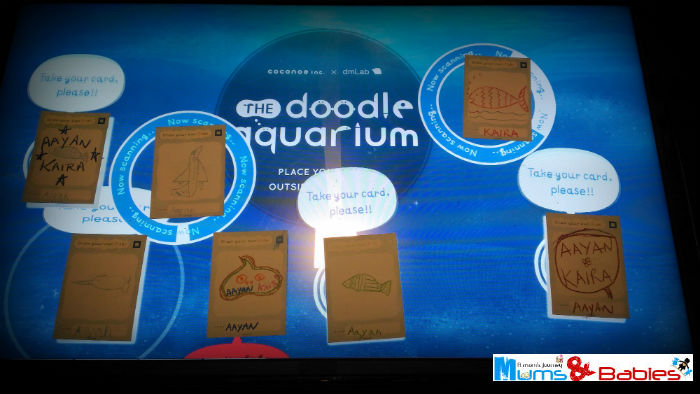 Here we go are floating in the sea.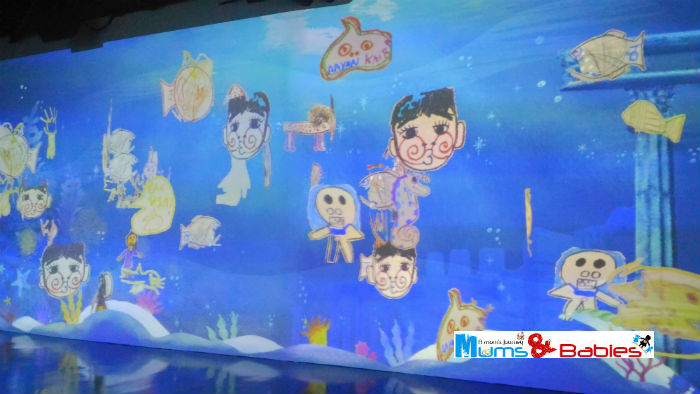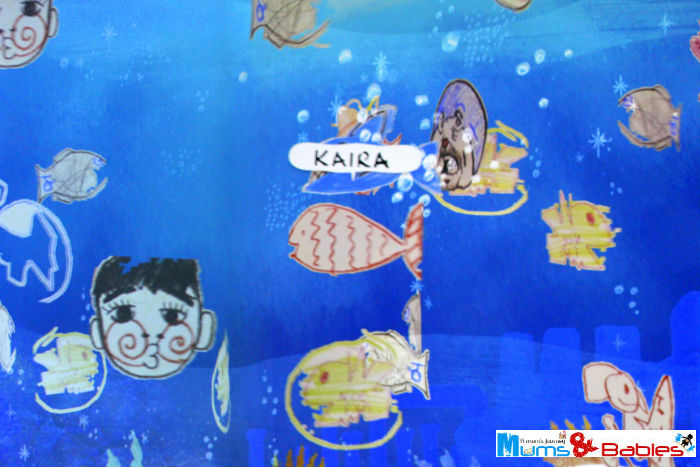 Land: Hide & Seek
This was a fun table to play hide & seek that too on a table. Staff was quite friendly to keep kids engaged and Aayan trying his best to win.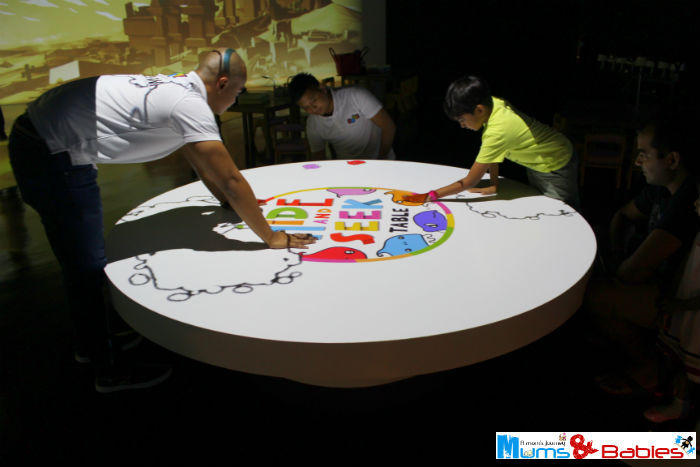 As they were pretty fast and Kaira couldn't play with them.So, here is mumma and Kaira.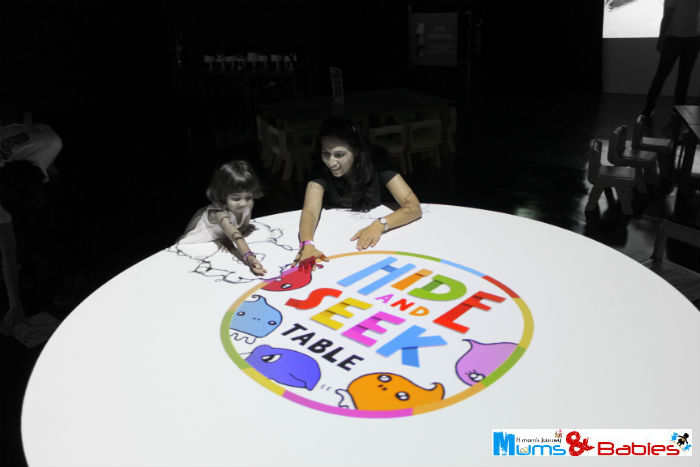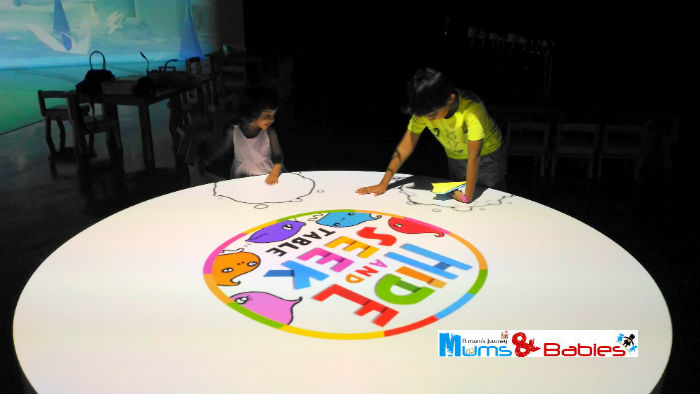 Fantasy: World of Wonder
You can choose from four little MOSH!cot and can see yourself on the screen. I feel it is best played with the friends.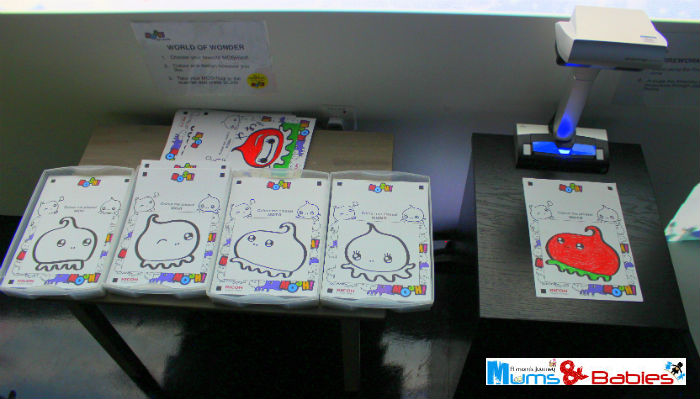 A scanner similar to doodle aquarium.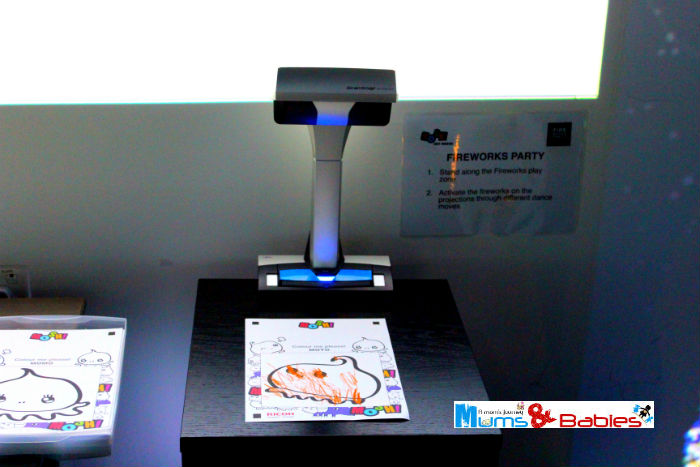 Space: Firework Party
If you are missing the firework, you can enjoy them here as fire work party will starts when you wish.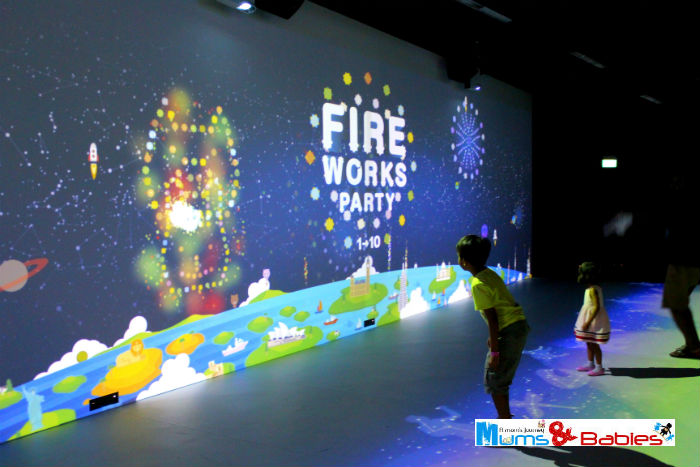 You can dress up too like them.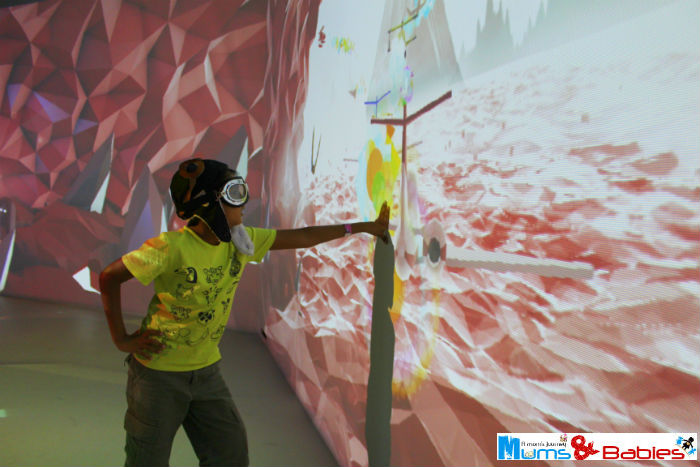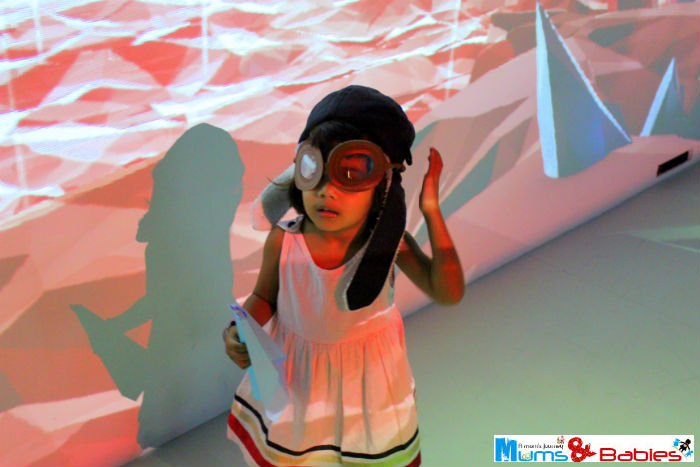 Overall, I will say that it is a new concept to explore as we have not seen something similar in any of the playground around us. Since, we were the only one that day to play, kids find it a bit dull without any kids. I feel if there were more kids to shout, laugh , jump around you it will  double up your fun.
As an adult, it can't keep us engaged for too long and if you have to pay for an adult ticket priced at $28 it is slightly expensive.
Adult: S$28 | Child: S$22 [3 to 12 years old] | Free of Charge below 3 years old
Hope they will be any revision in the rate chart but we still manage to get a giveaway for our readers who can enjoy it.
MOSH!
Address: 31 Beach View #03-01, Palawan Kidz City, Singapore 098008
Opening Hours: 10am – 9pm Daily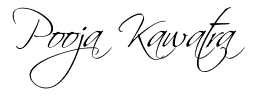 **[Media Invite]