Little Planet Playland at the Centrepoint mall is a perfect place for your kids to enjoy the pretend play as they can spend hours doing it . If you are familiar with this shopping mall it will be easier to locate this playarea, as recently some renovation is happening so you have to walk a bit inside.
This is the view from outside and it resembles to a miniature world for kids to engage in imaginative pretend play exploring the various area from the farm to market place, kitchen, cafe, fishing area, forest maze and castle role-play.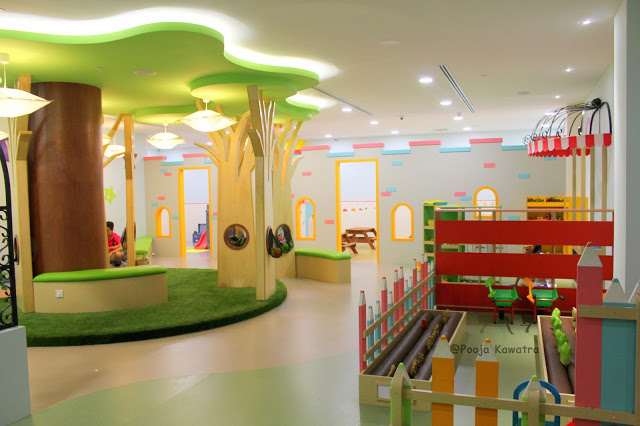 Kids started with their choice of vegetables from here to set for harvesting in the soil.
Kaira pushed this little wheelbarrow to balance on her own.
Here is all the hardwork done as a team of Bro-sis duo and I am glad that Kaira was exploring the cassia seeds which resembles soil but much cleaner than it. She took the seeds in her hand to play with it.
After a lot of work here both of them decided to visit nearby market place to cook some delicious meal for them. Here we present our own market which is very thoughtfully designed with fruits at one corner, seafood and vegetables in another corner.
My little vegetable and fruit lover who has generously filled her trolley with it but also one extreme corner has got lot of sweet bake as well. This pretend way of buying the grocery not only help kids to learn and identify the different food and vegetables but also help in building healthy habits of including fruits and vegetables in their daily meal.
Who else can fill all this in his trolley?
Our little cute and cosy kitchen to cook fresh and healthy meal here and is fully equipped with all latest gadgets in the market. Microwave, electric kettle, BBQ station, electric range for cooking. I wish to have a similar one at home as well.
Chef is busy with her double boiler cooking some healthy soup and preparing some delicious cupcakes.
Some yummy treats to enjoy here!
 Even though it was just a pretend food but Kaira couldn't resist herself.
As Castle area is well connected to Kitchen, so they head straight to the castle. Kaira was busy with the little castle hiding, jumping and sliding inside it while Aayan was all set to act as a warrior protecting the castle. I think he really got in the form here:)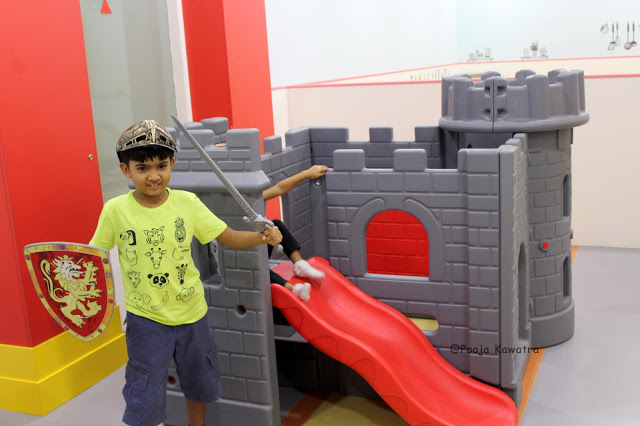 Aayan and his dad both really get carried away here with their swords.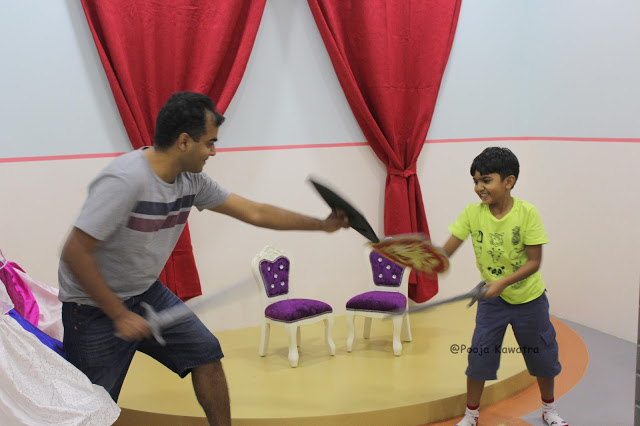 Our majestic highness!
Next to it is the small fishing area with a boat where you can sit and pick these sea creatures with a stick.
It resembles to a forest with trees and leaves giving a feel to be surrounded by nature.
This party room can be used for some art & craft sessions or a small birthday party while enjoying the play.
She wants to celebrate here and all dressed up.
Few points which I did notice:
1. No place for storage or lockers
2. Strollers need to be parked outside so do remember to take them while going back.
3. No cafe so if kids get hungry you have to go out
4. No nursing room unless you are comfortable nursing outside.
5. Bring your anti slip socks.
6. Do bring your kids to toilet before entering.
176 Orchard Road, #02-21, The Centrepoint, Singapore 238843

Nearest MRT :
Somerset MRT
Fees: 
Weekdays: $25 per child(>1 year old) for unlimited play
Weekends & PH: $25 per child(>1 year old) for 2 hour play
Thanks to Little Planet Playland for sponsoring the tickets to our readers. We have 5 passes to giveaway! 
(function(d, s, id) { var js, fjs = d.getElementsByTagName(s)[0]; if (d.getElementById(id)) return; js = d.createElement(s); js.id = id; js.src = "//connect.facebook.net/en_US/sdk.js#xfbml=1&version=v2.3"; fjs.parentNode.insertBefore(js, fjs);}(document, 'script', 'facebook-jssdk'));