Last week we were invited by
OMY Blog Club
to attend an exclusive food tasting session!!                                                     
Can you guess where it was?? 
A clue- Ask any kid about french fries/burger and they will love to jump over its name – hmmm…. McDonald's!!
We had a wonderful time to taste McDonald's Singapore newly launched "Golden Samurai Beef/Chicken Burger".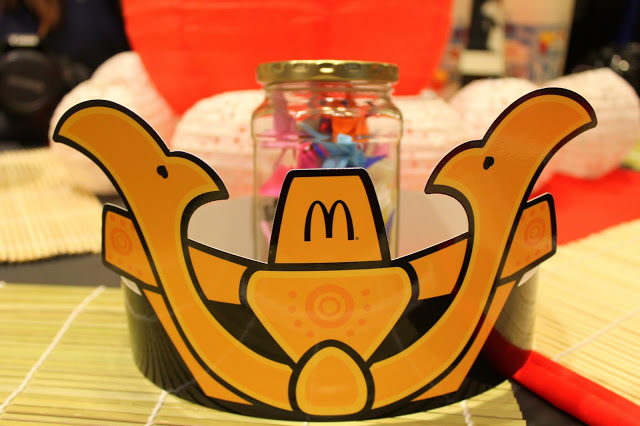 All the omy bloggers along with their winners got to relish the food and fun activities organized by the club. Though this was not the usual blogger event I attend, so was not familiar with anyone but we all enjoyed the event together.
Before we indulged ourselves eating the yummy food we got into our inner samurai feel. Here are some lovely shots with Samurai!
It seems that we were in line with Samurai colour code (red & black)
Here is the sneak peek of the Golden Beef/chicken burger which you can enjoy at all McDonalds outlets. We were all set ready to enjoy this on our tables.
Presenting the new Samurai Beef Burger (in a black box) and Chicken Burger(Yellow Box). Not just the burger but you have much more you can enjoy with it- Seaweed shaker fries and Mocha flavour Mcflurry !!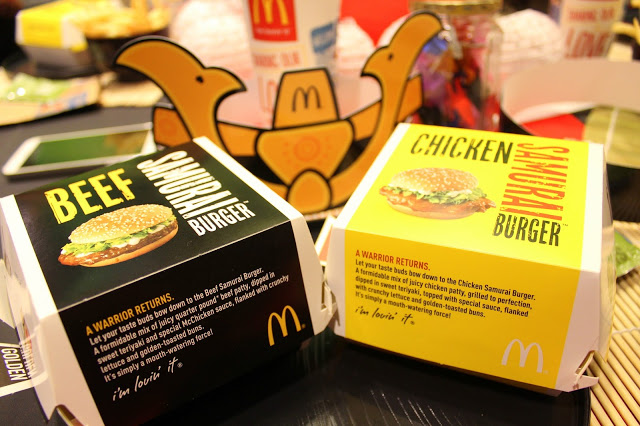 Well! I have tasted Chicken samurai burger and I find it quite different from the regular burgers served in McDonald's. Usually burgers won't have any sauce inside except mayonnaise but this one is different!
Chicken patty dipped in teriyaki sauce, topped with creamy sauce and lettuce served between oat bran buns. There was an unique flavour attached to this burger and it was in the form of a grilled pineapple ring giving this burger a sweet and tangy flavour. I personally like pineapple in any form so this was a bonus with my burger, overall burger was quite nice but since I am a bit slow eater so with sauce it was a bit messy.
Seaweed shaker fries nicely coated with the seaweed powder and I felt that along with seaweed it was giving some cheesy flavour as well.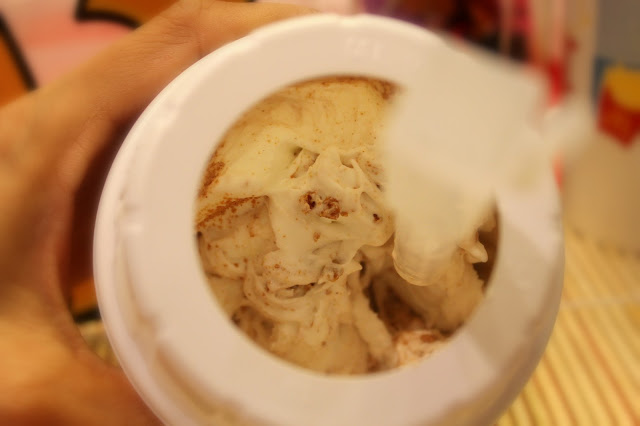 Mocha flavoured McFlurry was totally yummy in a velvety vanilla with delicious swirls of mocha and crunchy, caramelised biscuit crumbs. You will enjoy the crunch with every spoon!!
You can enjoy them at McDonald's Golden Samurai special, which includes a Golden Beef or Chicken Samurai burger, Seaweed Shaker Fries(L) and Green Tea(M) available from $8.95. Each extra value meal, which includes a Golden Beef or Chicken Samurai burger, French Fries(M) and Coco-cola(S) will be available from $7.85. Not to forget the Mocha flavoured Mcflurry with caramelized biscuits available from $2.90.
A Samurai shot with fellow bloggers and winners from our table!
Not to miss Janet from OMY team for co-ordinating and helping us!
Thanks to OMY Blog Club and McDonalds Singapore for the invitation!!
## McDonald's Singapore will be celebrating McHappy Day on 1st November, and in conjunction with this, McDonald's Singapore(@mcdsg) will be donating S$1 from every purchase of a Strawberry sundae to help raise funds and bring love, hope & courage to children and families supported by the Ronald McDonald's House Charities. To find out more about RMHC Singapore check their website.