Singapore national stadium is opened for quite a while but din't get to see the place. Recently went for Barclays Asia trophy held at Stadium and later end up exploring this place. We got a new rooftop playground "Splash n Surf" for kids to beat the heat.Weather is really hot these days and water play is the best way to enjoy. Located at the level 3 of Kallang wave mall and well connected to MRT.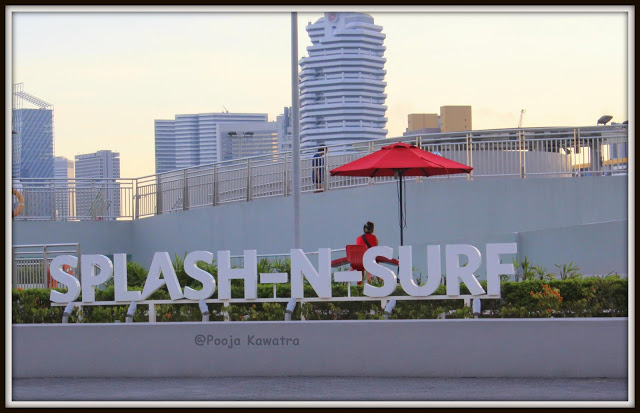 "Splash n Surf" water play area is a two level water playground and has been beautifully designed in a way so that all kids age group can enjoy it. It has got 4 different level slides from toddlers to big kids.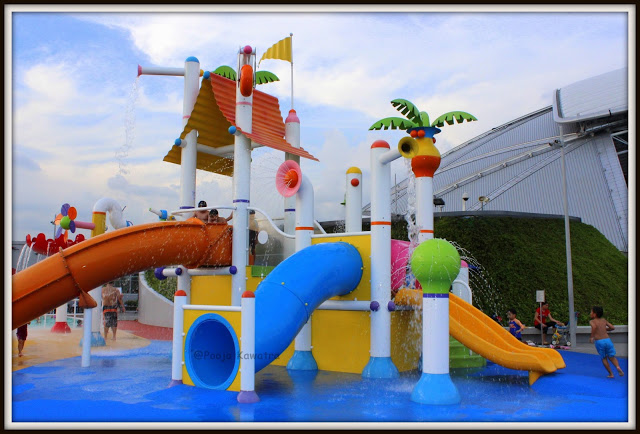 Full of water splash, water gun, water spray across the entire playground kids can move to anywhere and enjoy the water play. This blue slide base was slightly hard what I have noticed as when kids came out of this slide everyone was rubbing their back.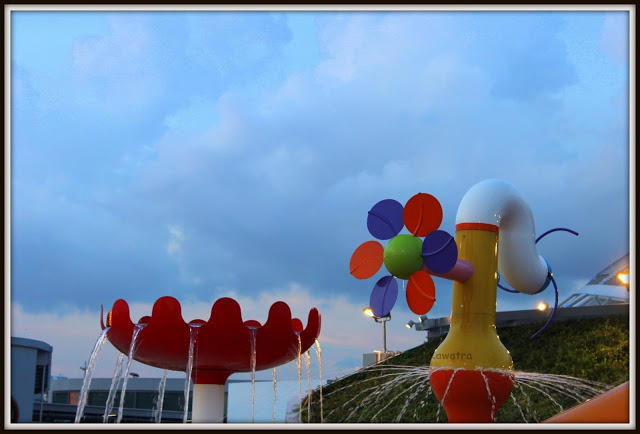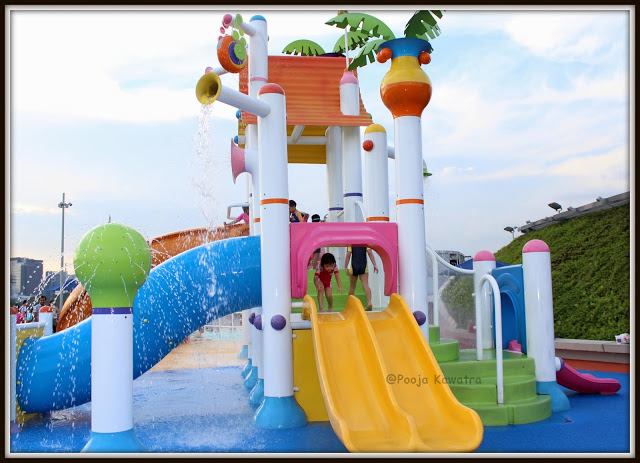 Toddlers can enjoy this yellow slide and one in pink on the right side is for babies/toddlers both.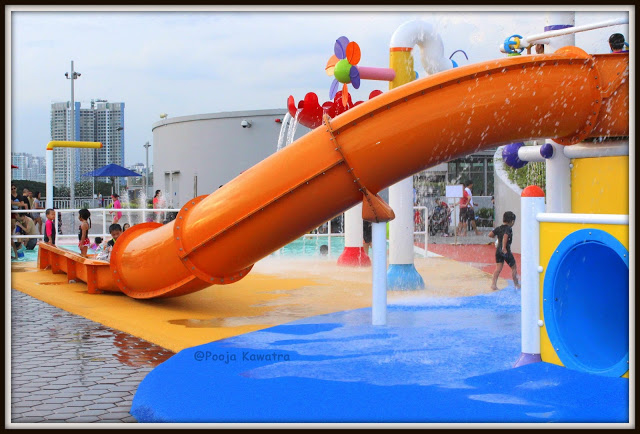 This slide which is enjoyed by big kids is similar to one I saw at
Jurong Bird park
and it is filled with water at the end.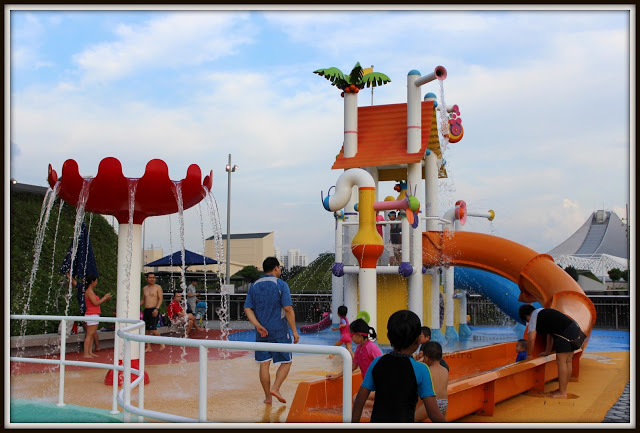 They have very thoughtfully put this white railing to divide the water pool and slide area, if you notice they are just next to each other so this railing is a safety provision as kids will be coming really fast on the slide.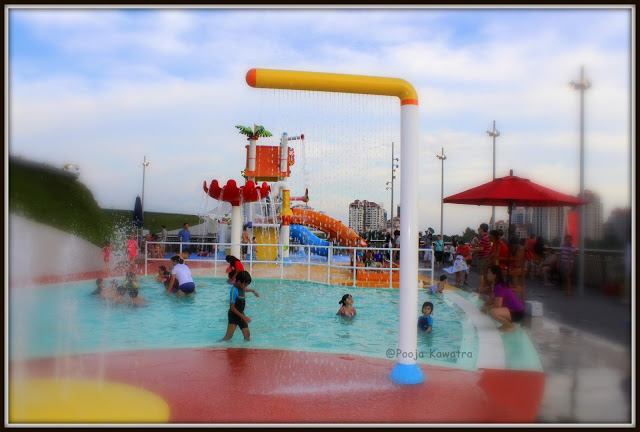 Kids water pool which is with depth of 0.5 metre and a life guard sitting to supervise all the kids.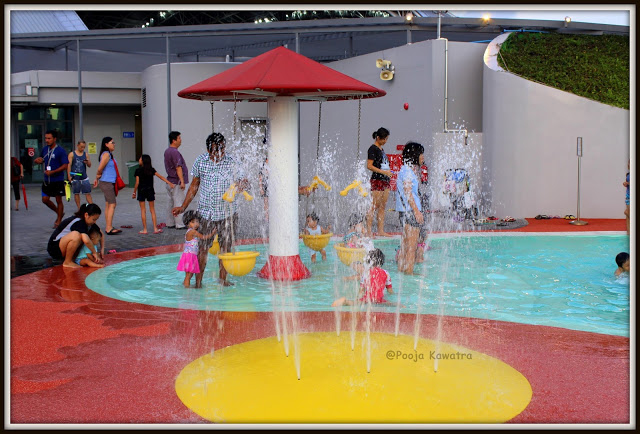 For toddlers under age 2 and weight <12 kgs can enjoy these bucket seats like a carousel and pool is not deep so they won't feel scared.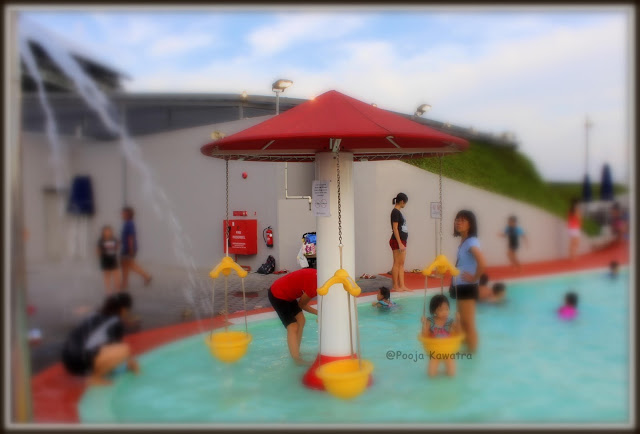 Aayan was enjoying his rain shower and was totally engrossed in it.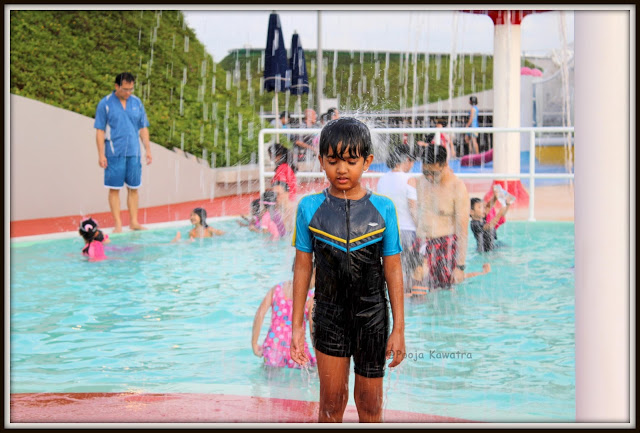 For parents there are benches nearby where you can sit and relax to oversee the kids. Lockers, bathing facilities and changing room are available as well.
Overall I find this playground really good with a free entry except for the Lazy river( entry fee is $2) which can be bought at OCBC Aquatic centre and all the facilities available like Food court is nearby, NTUC, Daiso for some freaks like me.
Venue : Kallang wave Mall
MRT : Nearest Stadium MRT or Kallang MRT ( walking 15 minutes)
Timing : 8 am – 10 pm
Ticket:  Free except for lazy river
Clicked few more pics to capture the city and National day rehearsal going on so got to see the air show practise.