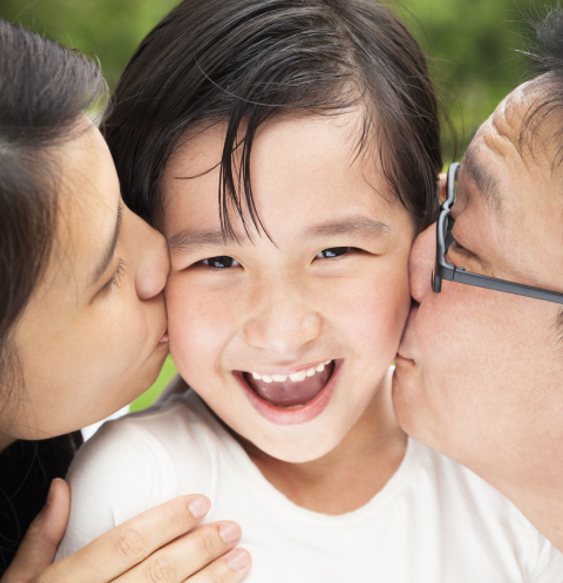 Child development experts believe that prime time of a child's brain development and learning is in the first 6 years. What occurs during these 6 years can have an enormous impact on not only how well the child's brain develops, but also how well the child learns and grows throughout their lifetime. Rise & Shine parenting seminar has some tips for all the parents.
Parents can  definitely help to raise a healthier and smarter child by incorporating few wonderful tips from this parenting seminar.
1. The Secrets To Raising A Healthier, Smarter Child
Topic :  Parenting concept- Understanding the best way to raise a child
Date : 29th August'2015
Time : 3.30pm- 6.30pm
Venue : Suntec Convention Room 300-302
Fee: $30/ Couple, $20/Single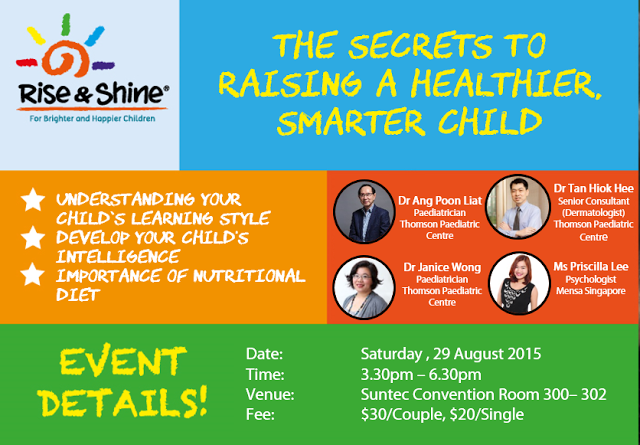 ·
How can parents help their children realize their
full intellectual creative potential?
·
Building young children's brain: what parents
need to do during the first 6 years
·           Using certain smart activities to develop your
child's intelligence and creativity
·          Understanding your child's learning style
·
Nurturing the right brain development from a
young age
·
Importance of nutritional diet
·
Recognizing and praising your child's efforts,
instead of praising intelligence
 ·          Realizing that IQ is not the best predictor of
academic performance, but self-control
·           Common Skin conditions in toddlers
·            What does "Being Gifted" really mean for parent and child?
·             What are the needs of a gifted child?
·             How can parents help with the child's emotional development?
·             How much of a child's gifted potential can be nurtured/nature?
·            Appreciating and celebrating multiple intelligence
2. Getting Results in your Child 
Topic : 
 Parenting concept- How parents can help your child in the academics
Date
 : 30th August'2015
Time 
: 11.30 am- 2.30 pm
Venue 
: Suntec Convention Room 303-304
Fee
: $30/ Couple, $20/Single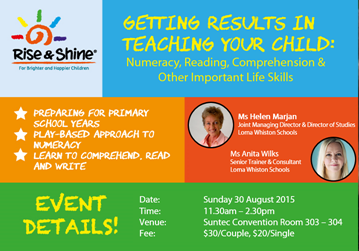 ·   Strengthening children's  auditory, tactile, kinaesthetic and visual modes of learning.
·   The world of learning to comprehend, read and write
·  Play-based approach to numeracy
·   How to teach critical thinking
·  Develop your child's potential and self-esteem without pressuring them
·  Enhance children's literacy and numeracy skills through the integration of children's disposition towards the natural environment.
For ticket booking refer to their website : Rise & Shine
Thanks to Rise & Shine for offering the Parenting seminar tickets. You can enter the giveaway through the form below.