As a parent I always encourage my kids to do more and more outdoor play, it not only promotes their physical development but at the same time helps them to explore their environment, make new friends and improves their self-confidence as well.Since last month we have hardly been to any playground and to make both of them sit at home is a BIG task! We had an episode of falling sick followed by a bad haze making everything so dull around us and I was really looking for some ways to cheer them up.
Thanks to Friso for this lovely play set to bring playground to our home

What more I can ask for at this point of time. Here is the sneak peek into our playground…shhhh )))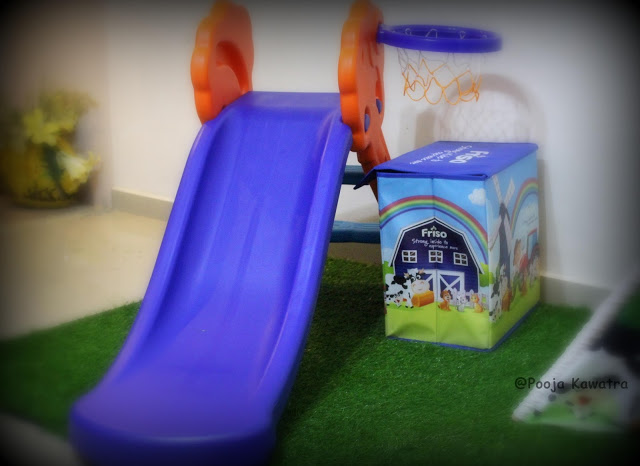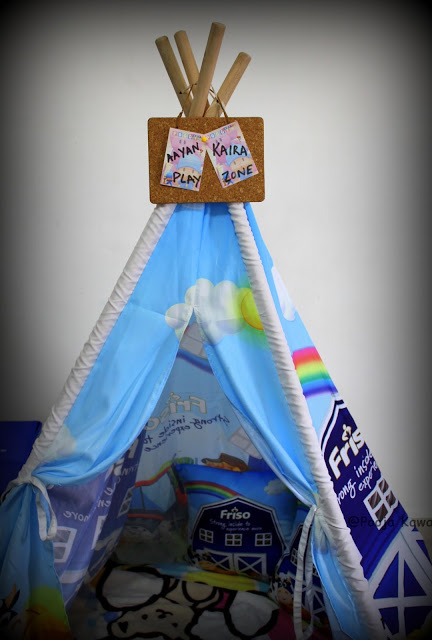 When we received this play set from Friso, we were so thrilled to see it and were waiting to assemble everything to make our own exclusive play area! Now we are all set ready to enjoy !!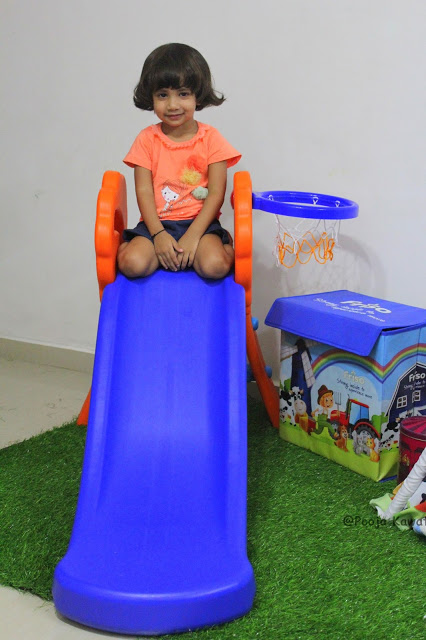 Kaira was all excited to slide here and she was too happy to show her stunts here. She said, "See mumma, I can go down the slide like this also." I think in a day she is on this slide atleast 30-40 times and she don't even give a chance to big brother.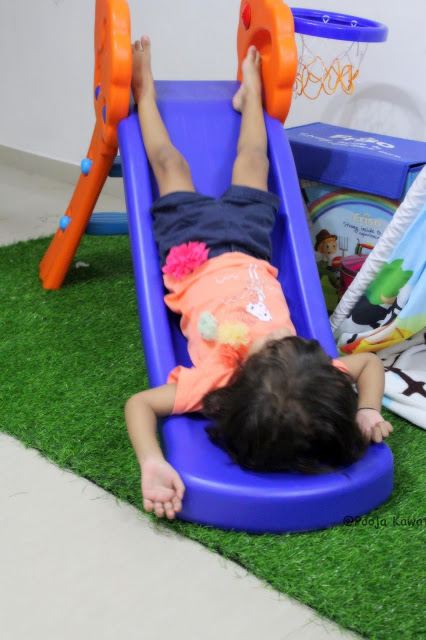 But a little love from big bro is all she need to let him play once! So, even Aayan don't want to miss  to slide down here but I think he is tall for this slide but still enjoys it.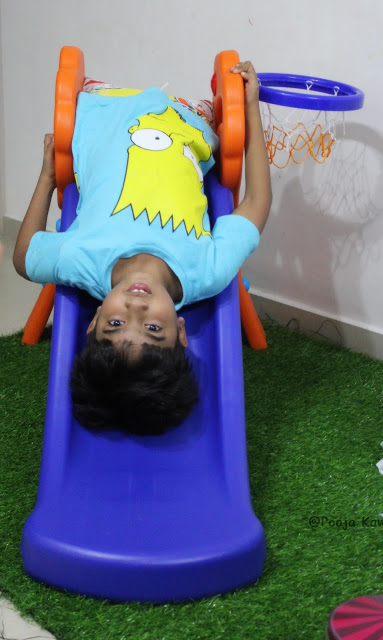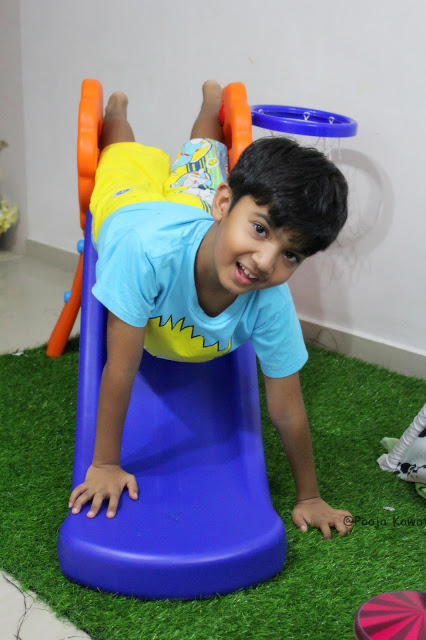 Well! We have added a tunnel to this slide so every time they will be going from this tunnel to go on this slide. Our creative juices for full camping mood!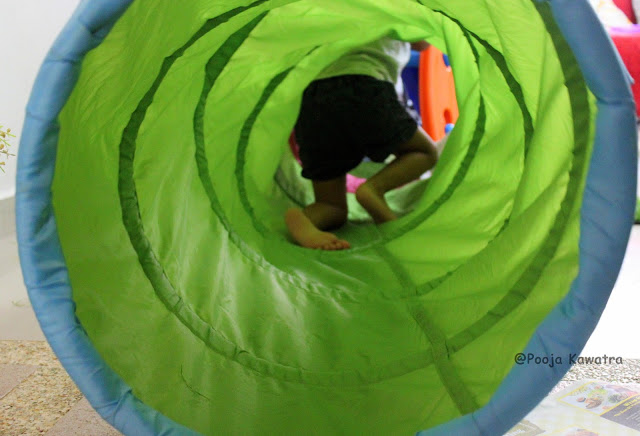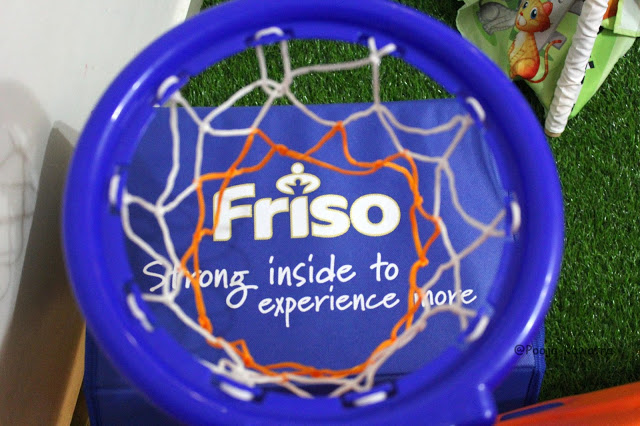 This storage box is spacious to stuff their toys but right now we have used it while playing the basketball.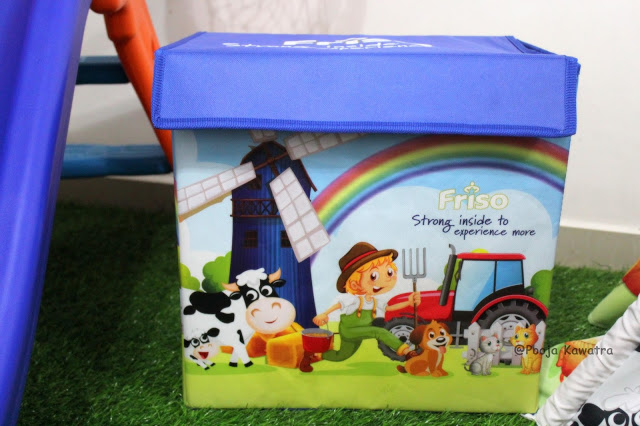 She was busy playing basketball and clicked this lovely shot of her! We have actually kept the friso storage box here as every time she will play and the ball goes to other end.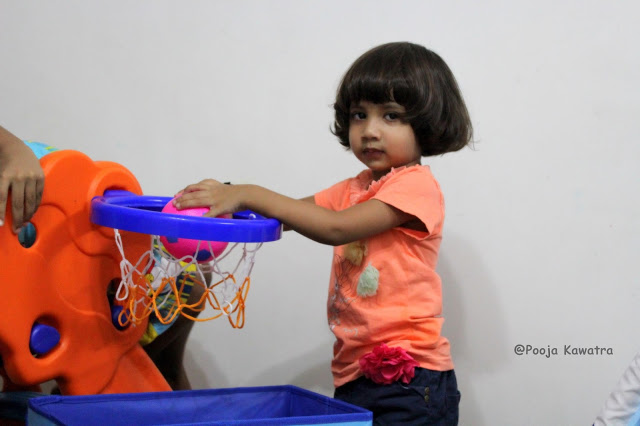 After lot of fun and exercise we did while playing … Guess what they are going to do next here?
Our comfort zone is ready with our blanket and cushions…. A little doll house is there too!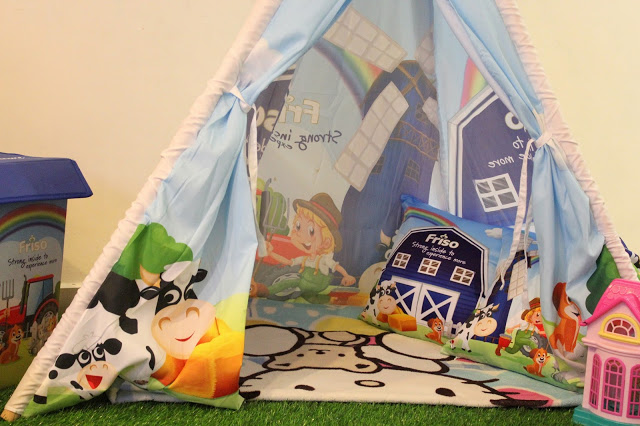 My super glued kids into such big books and really wonders they picked this from their books as if they will be spending the entire day in this tent. They said both of them are here for camping and not at home!
I loved this cute tent for their camping and book reading at the same time.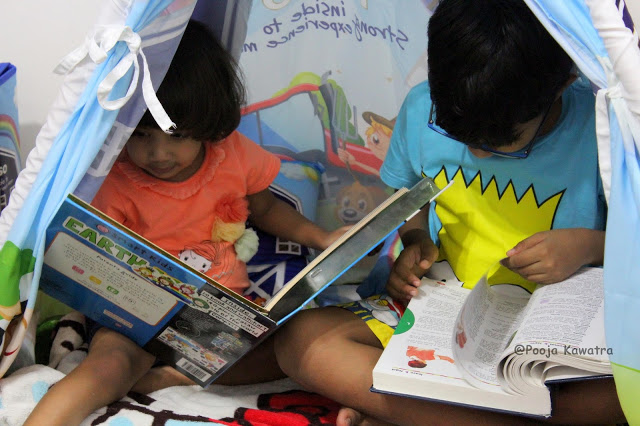 We want to do a day and night kind of camping with our playset, so this is our night camping tent in a sleeping mode and a candle lantern. We are enjoying our playset a lot and still thinking to use it in more creative way.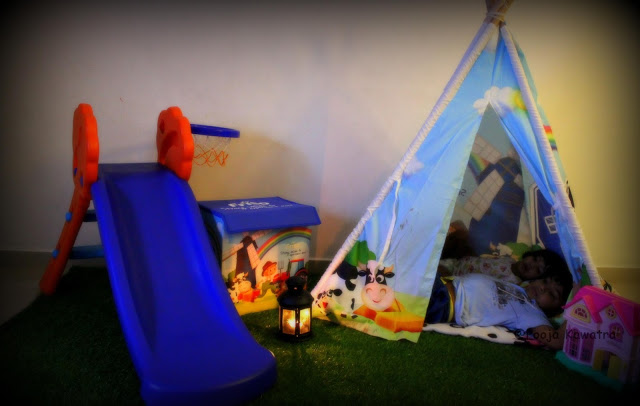 If you are looking for own this set and enjoy in the comfort of your home.
Your Friso Experiences Play Set
Friso wishes to encourage parents to have a special parent-child experience together! See how you can enjoy and have fun together with your little one.
From 1st September 2015- 31st October 2015, parents who spend $350 on any Friso participating products at participating retailers will receive the Friso Experiences Play Set. The participating Friso products included in this promotion are (Frisomum, Friso Gold Cereal and Friso Gold 2, 3, 4). It excludes all infant formula for 0-6 months.
What you will get in your Friso Experiences Play Set-
A Tent
A Slide with a basketball hoop
2 Cushions
A Storage box
A Green carpet
You can bring your little ones during weekends at the following play zones to take pictures and Friso ambassadors will be on-site to snap your photos.
Friso Experiences Play Zones
Sheng Siong Woodlands 6A 1 to 31 Oct