Shiver me timbers, ahoy there matey! 
Singapore Repertory Theatre (SRT)
 is all set to bring their thrilling production to you this month end. 
The Little Company(TLC)
is set to stage
Treasure Island
, a hilarious and exhilarating musical production suitable for the entire family at
DBS Arts Centre
from
30th Oct' 2015 – 13th Dec' 2015
A new adaptation of Robert Louis Stevenson's popular novel of the same name, Treasure Island follows the adventure of Jim Hawkins, a lion-hearted 13 year old girl who receives a treasure map from a kooky old seaman. Jim is tasked to help find the hidden treasure, but the road to riches is never smooth sailing.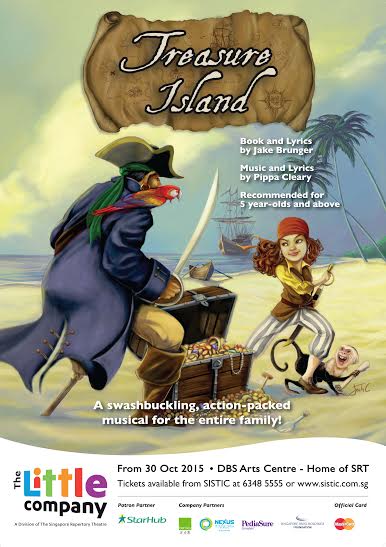 Ahoy, matey! Is the pirate's life for you? If you're saying "aye-aye" to that, then strap on your wooden leg, put on your eye patch and jump aboard as we set sail on this heart-stopping, breathtaking adventure.
A swashbuckling, action-packed musical about friendship and trust. This exhilarating show for the entire family will keep you on the edge of your seat!
 Let's gear up for all the fun from 30th Oct' 2015 and to add more fun to it your kids can even come dressed up like a pirate!
You can check more details about this show and also can buy the tickets at SISTIC website .
We have 2 family packages worth more than $153 each to win here for show on 14th Nov'2015 @ 2.30pm
What are you waiting for?? 
Enter our giveaway and win the family package for 2 lucky winners. Kindly note all the sets are compulsory to qualify for the giveaway. 
(function(d, s, id) { var js, fjs = d.getElementsByTagName(s)[0]; if (d.getElementById(id)) return; js = d.createElement(s); js.id = id; js.src = "//connect.facebook.net/en_US/sdk.js#xfbml=1&version=v2.3"; fjs.parentNode.insertBefore(js, fjs);}(document, 'script', 'facebook-jssdk'));