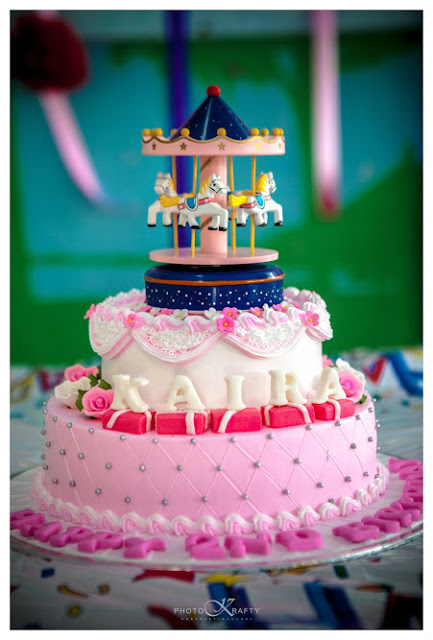 Pic courtesy: Photokrafty
Birthdays are simply incomplete without a birthday cake we all agree !! They become special if brings that smile on the birthday girl/boy's face. It is just priceless ….
July is a special month for us as it's both Kaira and Nikhil's birthday but since she is the little princess in the home so she grabbed all the limelight and the cake cutting honour.
Her birthday celebration was very last minute plan and can you imagine how difficult it would have been to decide on ordering a cake.
I have heard about few of the renowned bakers here but then no one wants to take a last minute order( to be precise 3 days) but thanks to Julina from Bakers Heart that she agreed to take my last minute order.
Birthday Cake
I saw something similar to it all in pink and want to do the same but then they have only left with this blue and pinkish carousel with them.
She asked me if i am okay to go with it and we agreed on the same but all the time I was thinking how the blue will look on a birthday girl's cake.
Till the time the cake has not arrived on the venue, we didn't know how it looked as my friend Pallavi helped me to bring the cake from them and it was packed in a box so even she can't sneak into it.
When we opened the cake we all were like "WOW" it was just gorgeous

Must say it looked more beautiful than the original one I had in my mind as they have very beautifully blended the colours to match it with the blue shade.
Secondly, I had a doubt about using chocolate marquise as a flavour thinking that it will be too sweet for kids but then it was very mild.
Thank you so much Bakers Heart for making Kaira's birthday so beautiful with this wonderful cake and thanks to Harpreet from PhotoKrafty for clicking this gorgeous photo.
Bakers Heart has offered to provide discounts to our readers until the end of this year.
So if anyone is interested to avail the discount and get the gorgeous cakes you can leave a comment on this post or can message us on our facebook page Mums&babies
Happy a Yummilicious day !!