Recently I heard about this beautiful personalised work from Made for tots, created by two mums who are inspired by their little tots. This reminds me of my school days when I used to love doing all Do-it-Yourself( DIY) stuff making crafts, cards for my family and friends began. It was the most fun part to make those personalised cards for various occasions and a very proud moment to show it to my parents.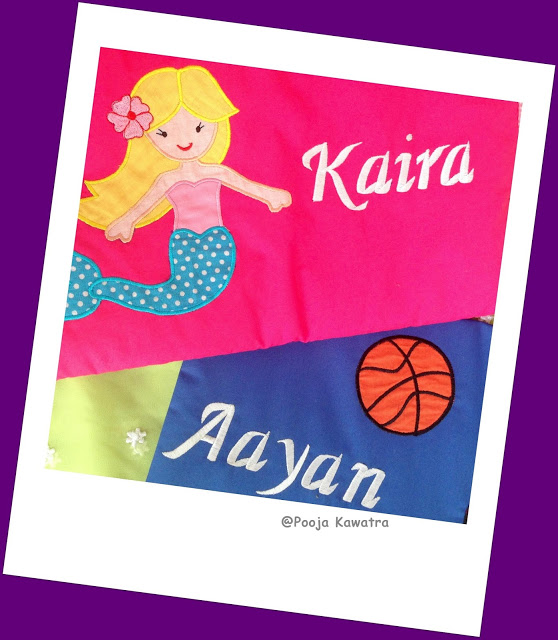 I remember how much my dad used to love my little treasure. Same thing now my kids love to do and I equally appreciate collecting their handmade personalised cards for Mumma/ papa's birthday, Mother's day. father's day and valentine's day.
As a mom myself I can totally relate to their feeling of being with their little one and to step down the corporate ladder just to be with them. It is truly worth every cent to see the smile when you are with your little one. I have checked their range and loved that personalised touch they give to the products.Just looked perfect for any occasion to bring smile on kids face.
Thanks to Ekta for sending these cute personalised stuff for both Aayan and Kaira.
1. Single pocket pouch with applique : Aayan just wants to have this little pouch which he can easily slide in his school bag and carry it everyday. What else can be better than having a personalised pencil pouch in the class.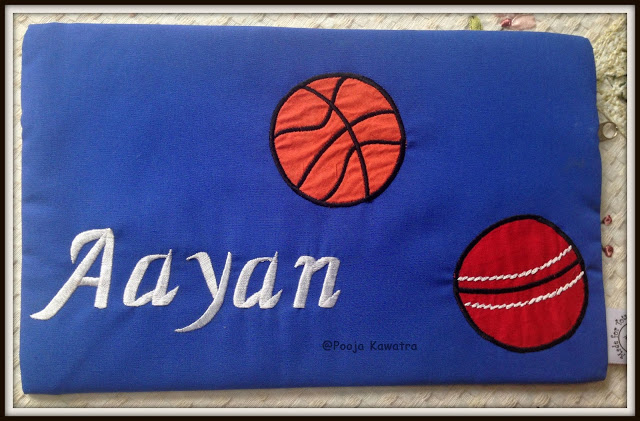 2. Art Doodle purse : Nowadays Kaira loves to carry little bag on her shoulder so thought this one is perfect for little princess. She can carry her own art stuff and crayons which otherwise also I need to carry everytime. This art doodle purse is trendy yet perfect for keeping the stuff together at one place.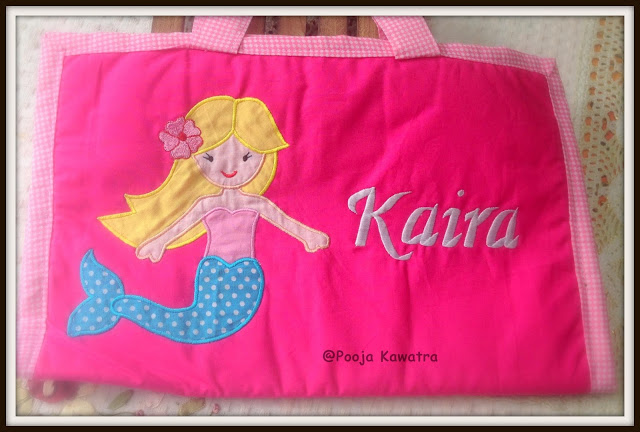 Inside the purse, you have ample space to keep crayons and the other section you can keep a notebook which is just perfect for her to carry her own purse.
You can check their website or facebook page as I find that they have got a good range to choose from but i am highlighting few which I feel kids might love to have it with them. Product range to choose for any occasion be it just for your kids, birthdays, festivals, baby showers.
3. Room Decor : You have lot of variety to select under room decor from bunting, cushion covers etc.
4. Aprons- They looks so beautiful for the little one who enjoys cooking. Your little one's own Masterchef apron with their name.
5. Towels : No more fights on towels when your little one can have their own personalised towels- face, hand, bath towels.
6. Bathrobes: Bathrobes are quite soft in material and dry up fast keeping kids warm.
7. Drawstring bags and backpack: This one seems to be quite popular on their website and page. It can be used to carry lunch boxes, for your library trips or swimming classes.
8. Diaper Bag and Crib organizers : These bright and cute little diapers bag which surely no one can guess are diapers bag and can store everything from small accessories to clothing etc.
# Only precaution or the tricky part here is that to remove stains on the product due to use you can wipe the stained area gently with a damp cloth. No machine wash or hand wash, soak or bleach.
What are you waiting for ???? Go and grab one beautiful piece of love for your little tots and make them the happiest one….