Unbeatable kids fiesta with Barney's Beach Party 'Live' Show at City Square Mall!!! Summer holidays always bring loads of fun and excitement for kids. We parents start searching for various sorts of frolicking activities for our young ones. A mother of two little angels, I personally try to keep my kids busy with lots of fun-filled indoor and outdoor activities. Watching T.V. is one of the favourite pastimes amongst kids. And stopping them do so, is favourite amongst most of the parents. I too am one of them. Hahaha!!!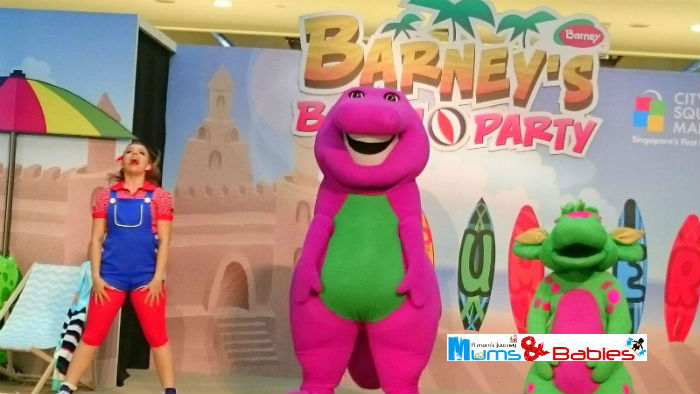 And to relieve kids and their parents from this tussle, the best experience was to meet the live fantastic, favourite characters of my kids. Barney& Beach Party 'live' show with kids cuddly all-time favourite Barney, sweet BJ and cute Baby Bop is a super duper hit show ruling and attracting all kids and their relaxed parents in City Square Mall.
Barney's Beach Party
If you have still not attended this happening Beach party which is going live on stage from 4-19 June at City Square Mall, do make a visit for some beachy fun. The show with its musical sing along and dance beats stole innumerable innocent hearts together with their families. The musical all-time favourite songs like "if you are happy and you know it, clap your hands"; Barney's most famous and melodious song "I love You love me/ We are happy family" and since the sunny and sandy beach theme, how can one be away from the sweet song "castles so high up to the sky" absolutely wonderful!!! All such vibrant, wonderous and lively notes turned the mall into an amazing surrealistic kid's dreamland where kids were in their own sweet world, dancing and singing.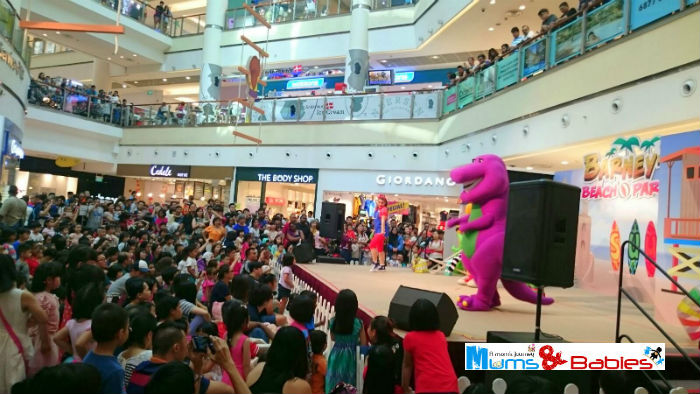 For Shreeya, my five years old daughter, it was a great experience. She was trying to catch every beat, clapping wherever told in the song. Though my three years old son, Atharv was not well that day but still he was awestruck with the musical performance and was thrilled by the live, colourful characters on the stage. Kids standing there loved the show and Shreeya wanted to stay back for the next show time. When I told her about the meet and greet session, she was so excited to go and touch the live characters on stage. When we went up the stage to get our photo clicked with live Barney and his friends, Atharv was super scared of real lifelike characters standing next to him. Our happy family click with the crying Atharv in it, is an all-time favourite of me and husband.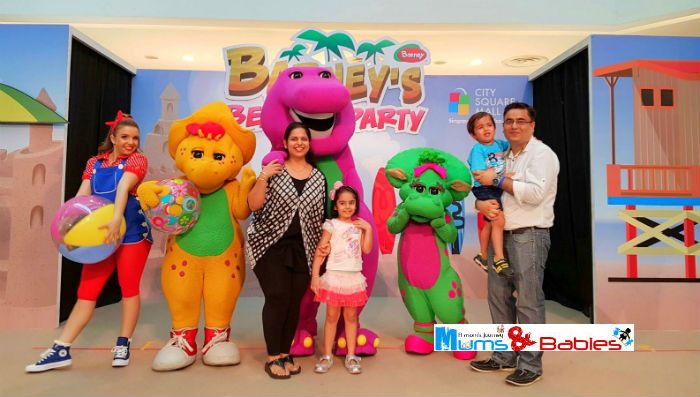 This, however, was not the end of fun for the kiddos. In fact, the fun had just begun!!! The Summer Splash Carnival held at the outdoor park of the city mall was yet another attraction for the kids.The show's theme of beach party had beautifully coincided with the Summer Splash Carnival thus introducing the young kids with beach terminology. Shreeya while attending various beach activities like bumper boat ride, beach frisbee, sand bowling, etc. learned new words and concepts. Atharv too became cheerful and was enjoying himself with his sister and daddy.
The Daddy, son and daughter trio stopped at almost all the stations and had great fun. The sand bowling was something new to Atharv. He too was so glad to participate. Though they could not hit the bowls right. But no grudges, all of us were laughing and learning new techniques of throwing bowls.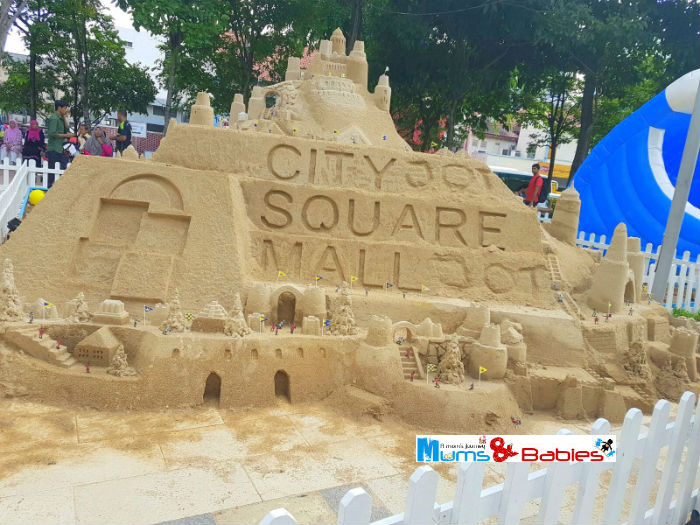 How can I forget to tell you about one of the stations, the marvellous, giant Sand Castle with the inscription "City Square Mall". Wow! What a piece of art! I need to capture it in my memories so first on the phone.
The next station was "Surf Board". Both the kids looked at the swirling sensations of this activity and decided to be away from it. However, Shreeya's happy mood was quite visible with her dancing pose click.
Unbelievable! Shreeya's first love "boat ride" was also a part of Summer Splash Carnival. The Bumper Boat Ride was a great fun activity for the young kids. All the kids were so happy to take a ride. Shreeya's smiling, glowing face while sitting in the boat was an awesome experience.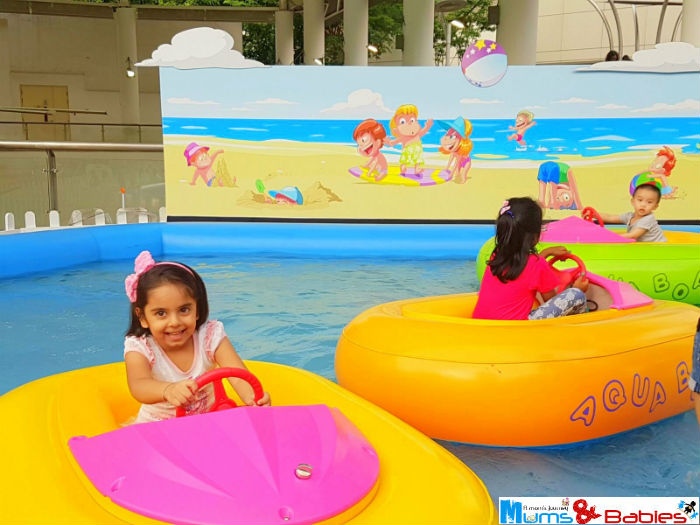 The last station we went to was "Beach Frisbee". There were four rectangular shaped wholes on the beach scene sheet. The Frisbee should go into one of the wholes on the sheet. This activity was so captivating that I, who was busy clicking the photos, too kept my phone aside and joined the gang. We all four tried throwing the Frisbee in the right direction but could not do. Thanks to our non-practicing skills!
Overall, the Sunny and Sandy Beach theme prevailing throughout the setup both indoor and outdoor was a great experience in itself never lived earlier. Whether it was Barney's Beach Party 'Live' show on stage or Summer Splash Carnival on ground, we were all soaked up completely in the fun filled beach side ambience. Loved every single bit of it!!!