As a parent, we love to bond with our kids through fun experiences and learning something new at the same time. Nowadays you will find irresistible offers where you don't need to shell out any extra money. One of the recent offer is Friso Powered Ride on Car a perfect deal for the little one to enjoy their own ride in a car made just for them.
Last week, we had a surprise awaiting for Kaira at home! When she came back from her school, she was super excited to see a new car. She said, "Is this mine, Mumma?"
I said, "Yes!"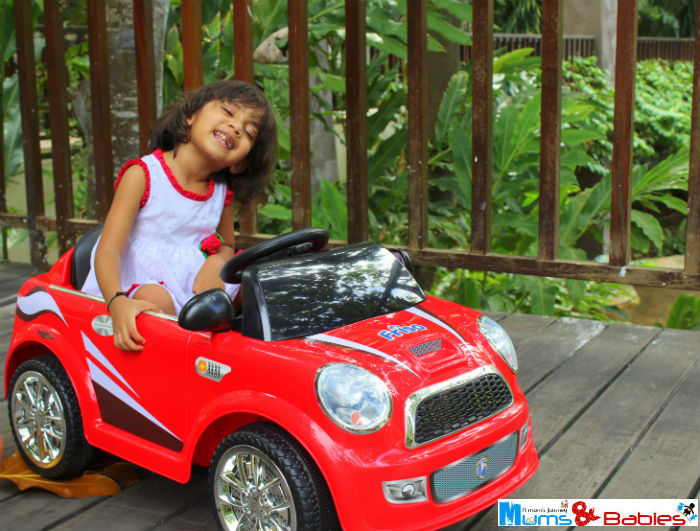 Friso's mission is to help children grow up strong and healthy, and this includes inner strength and emotional wellness too. Children are most secure and resilient when they feel connected with their parents; it's for this reason that Friso has focused on finding new ways for parents to spend quality time with their children.
Kaira can't wait to ride it but you need to charge the car for 4-6 hours before it is fully charged to use and your little one can drive on their own. Also, note that don't charge it for more than 10 hours or don't leave it overnight on charging. Only an adult can charge and recharge the battery.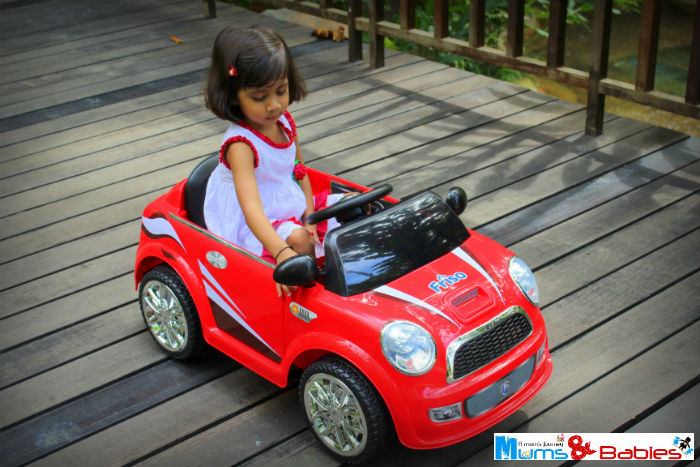 Friso Gold 2,3 and 4 also comes with enhanced LockNutri technology which protects the protein in our Friso products from overheating and becoming damaged during the production process.Nutrients in their natural state facilitate absorption. Provide your little ones with gentle nutrition, so they can be #StrongInside.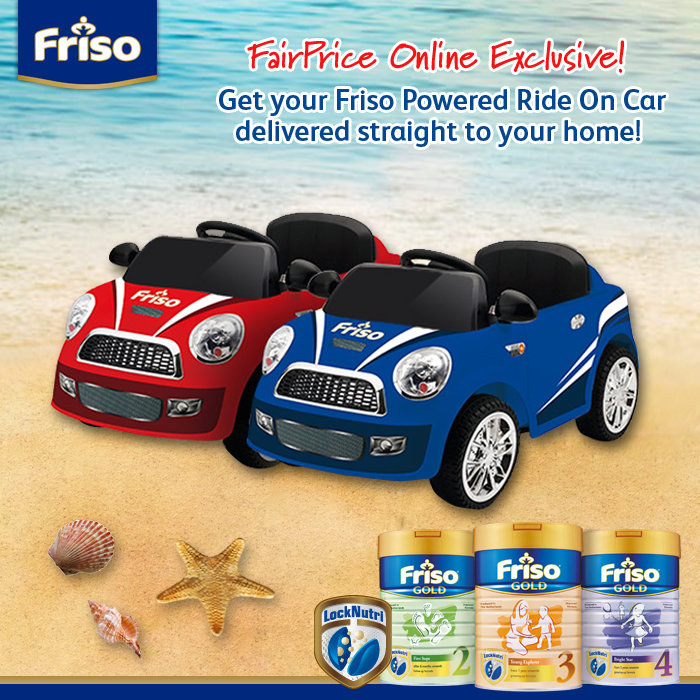 Someone is not tired of riding the car, you can ride it in a manual mode or using a remote controller. You have got a seat belt for safety, a horn, headlights and music to play while driving. Kaira doesn't want us to use the control to move the car.
Such a cheeky photo where she doesn't want to get down the car and proudly claims it's mine.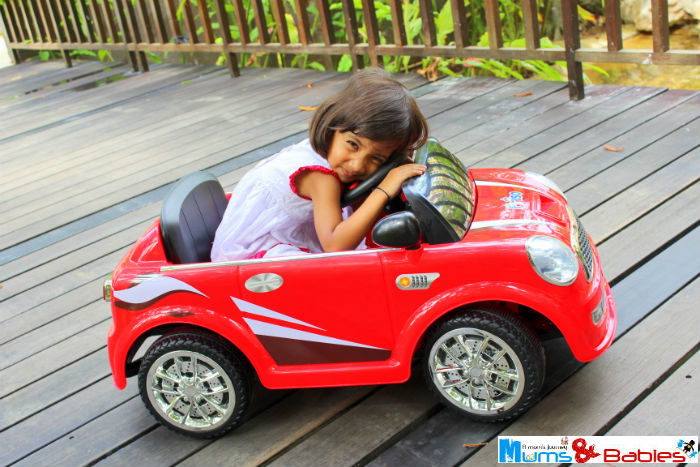 Friso Powered Ride On Car is suitable for indoor and outdoor play. Since, I don't have enough space in the home for this new rider as she keep bumping into furniture so brought her down to the common area to drive around and all the kids had their eyes on it. Next time everyone will be driving it together and will surely queue up.
Now, we need to get a parking slot to park our new car.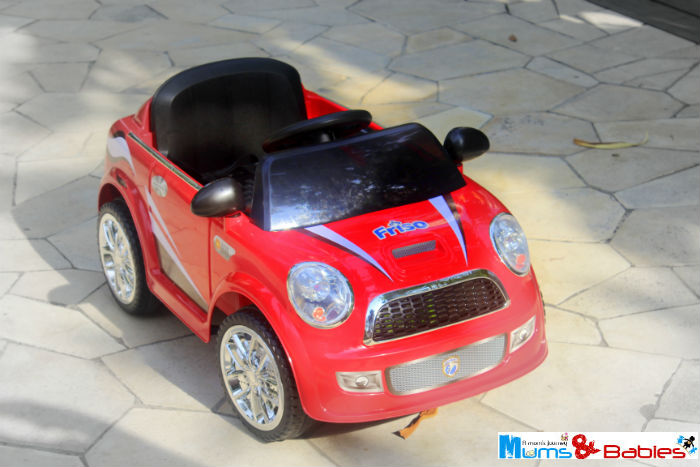 Points to consider for redeeming
From April 1 to 31 May, customers can redeem a Friso Powered Ride On Car worth $369 when they spend $380 on Friso products* at NTUC FairPrice, Cold Storage, Market Place, Giant, and Guardian.
*Friso products included in this promotion are Frisomum, Friso Gold Cereal, and Friso Gold 2, 3, and 4. Not included is infant formula for babies aged 0-6 months.
* Each order must add up to a minimum of $380 to qualify for this redemption. Only 1 Friso Powered Ride On car can be redeemed per order. If you purchase $760 in one order, you will still be entitled to 1 Friso Powered Ride On car.
*The Friso Powered Ride On Car is suitable for children aged 37-96 months, under 30kg. Size of car: 99×50×53CM, weight of car: 12kg. Power way: Charging type. Charge time : 8-12 hours. Adult assembly required, please refer to the detailed instruction manual that will come with your car. Before using for the first time, the battery needs to be charged for 4 to 6 hours , 
*Not suitable on loose dirt, gravel or wet areas that can affect the engine and moving parts Customers can redeem their Friso Powered Ride On Car immediately with their original receipts and completed entry form at: Global Opus Solutions Redemption Centre.
Redeem your Free Friso Powered Rise On Car
Find out more info here on the promotion here: http://bit.ly/1SS9KHg
Promotion period is from 1 April 2016 (1200 hrs) to 31 May 2016 (2359 hrs).
Redemption period is from 7th June 2016 – 31st July 2016.
 Bring along your original Friso Online order confirmation email and the completed entry form to: Global Opus Solutions Redemption Centre (Blk 265 Serangoon Central Drive #02 275 Singapore 550265)
Other past promotions : Friso Tent & Slide