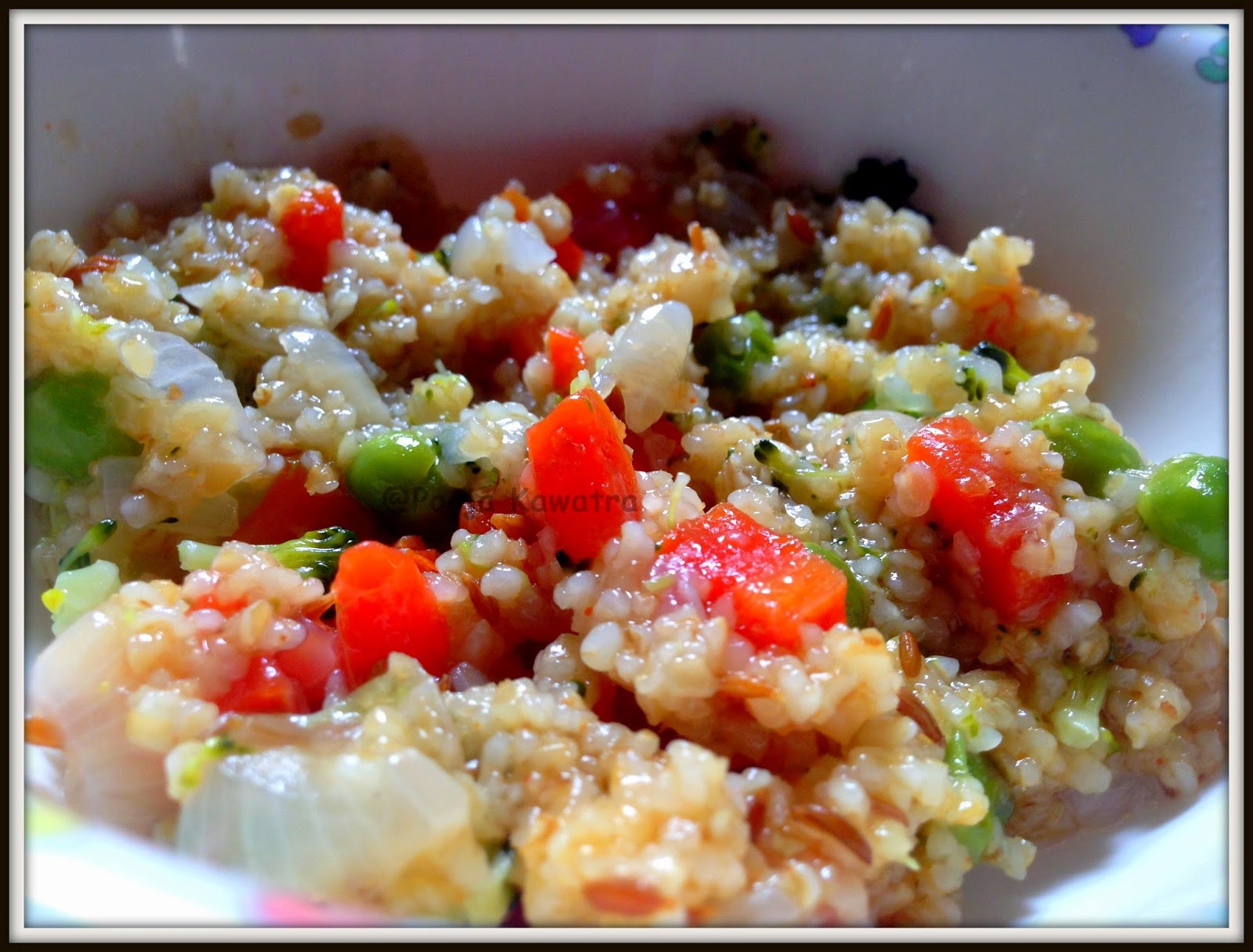 Daliya or broken wheat is full of fiber, protein, vitamins and minerals. In terms of nutrition it is better than the white rice.
Since it is easy to digest you can introduce it to your baby when they are around 7-8 months. Gently mash the vegetables with a spoon and usually babies around 10 months can eat it without mashing.
It is commonly cooked as a breakfast either sweet or salty and in the texture it is quite similar to couscous. This is one of the easiest and healthy breakfast which can be prepared in 15 minutes.
I usually prepare for all of us in the same way with slightly more spices.
Ingredients
( 1 portion)
Daliya- Handful
Onion- 1 chopped
Carrot- 1/2 diced
Peas- 1/4 cup
Potato-1 diced
Chicken/ vegetable stock/ water- 1/2 -1 cup
Oil/ butter- 1 tbsp
Cumin seed- a pinch
Asafoetida
salt
chilli powder- optional
Method
Dry roast the daliya in a pan until it is brown in colour and aromatic.
In a pressure cooker take butter add cumin seeds when it started to splutter put in asafoetida.
Now add chopped onion roast it until golden brown in colour.Add rest of the vegetables to it and stir for another 5 minutes.
Add daliya and stir it for 2-3 minutes followed by chicken/vegetable stock.
Lastly add salt and other spices.
Close the lid and pressure cook for 2-3 whistles( 5-7 minutes approx).
Open it only after steam is released. If it hss still got water then on the low flame cook it for some more time.