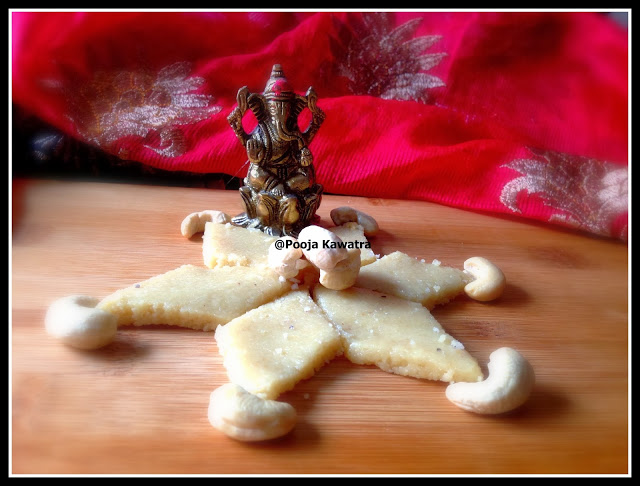 Kaju Katli or Kaju Barfi is one Indian sweet which is loved by everyone, especially during the festive season when the home is full with sweets aroma Kaju katli will be the first to get finished.
This Diwali I thought to give a try preparing it at home and it came out really well for my first attempt and I was so engrossed cooking it that totally forgot to click photos of every step here.
Kaju Katli recipe
Ingredients
Cashew- 1 cup
Sugar- 1/2 cup
Water-7-8 spoon
Ghee-2 tbsp
Method
1. Grind cashew into powder and check if it is done properly.You can sieve it as well.
* If you keep cashew in refrigerator, avoid using them straight out of refrigerator.Take cashews at room temperature otherwise they become like a paste rather than powder.
2. In a non-stick pan take water and sugar to prepare sugar syrup with a thick consistency. Keep it on low flame.
3. When sugar is completely dissolved add cashew powder to this syrup and stir it for 5-7 minutes. If any lumps just break it and stir, the mixture will start thickening and come together.
4. Just add 1 tbsp to it and mix it gently, it should start looking like a dough. Now take it out on a plain surface and let it cool for few minutes.
5. Take some ghee on your palm and form a dough and flatten it with hands. Later roll it with a rolling pin.
6. Once completely cooled, cut it in the diamond shape.
Enjoy your festival with this lovely sweet. You can store it in an airtight container for a week or more in a refrigerator.