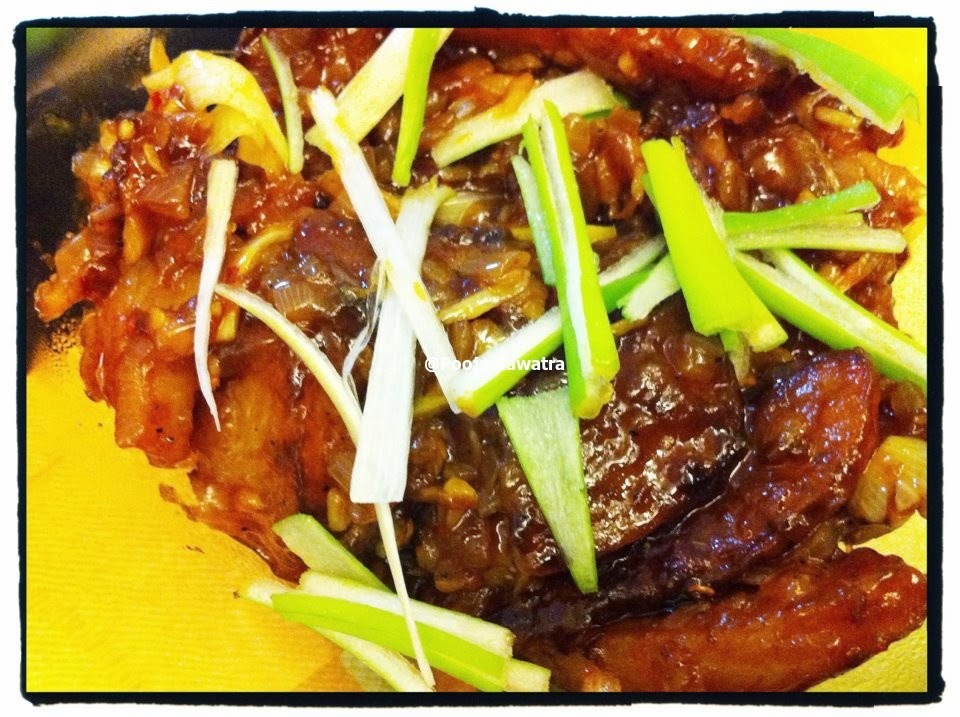 Delhi is all time famous for variety of food you
get to eat there , right from the roadside gol gappas to famous Karim's..
yummy !
Everytime I go to delhi , I wish to try all the
variety food but could only get lucky to try few of them .
This time I have visited this chinese
restaurant"Bercos" and loved the food there specially "spicy
potatoes sichuan style" so thought of trying it at home but was not sure
to get the similar taste but luckily I saw this recipe at Sanjeev Kapoor's
website
Servings : 4
Ingredients
Potatoes 4-5
medium
Salt to taste
Cornflour/ corn starch 2 teaspoons
Vegetable stock or Water 1/2 cup or more
Oil 1 tablespoon
Garlic-sliced 5-6 cloves
Onion – sliced 1 medium
Red chilli flakes( Can take the broken dry
chillies)- 1/4 teaspoon
Red chilli paste( Red chilli Ketchup) 1 teaspoon
Soy sauce 1 teaspoon
Sugar 1/2 teaspoon

For Garnish
Lemon juice 1 tablespoon
Spring onion greens, chopped 1 stalk

Method
1.Peel and cut potatoes into eight to twelve
thick wedges.

2.Heat water in a pan ,add a little salt ,potato wedges and boil till almost
done

3.Blend cornflour in one fourth cup of vegetable stock.
4. Heat oil in a wok,add garlic and sauté till lightly browned. Add onions and
continue to sauté.
5. Add red chilli flakes and red chilli paste and stir.

6. Drain the potato wedges and add to the wok and toss well.

7. Now add soy sauce, sugar and toss. Add the remaining vegetable stock , the
cornflour mixture and mix.

8.Adjust salt ,add lemon juice and spring onion greens.

Mix well and serve hot.
Enjoy Cooking !