Our very first parenting story is from our star of the week "Pradha" mom Sridevi..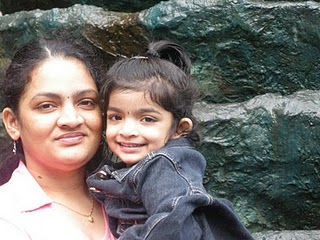 She wants to share few of the moments with Mums&Babies when she was pregnant with Pradha and how she has tackled her tough pregnancy
Sridevi and Ramji got married back in 2004 and she was just 20 years
 old at the time of her marriage With the first time pregnancy they both felt very happy like all the parents and talked a lot about it.As they were staying all alone she wants to gain more knowledge and to keep herself updated on the pregnancies queries though her parents & in –laws were staying in the same city but being a first time parent she had her set of questions what would be the best for my precious angel, so she kept herself engaged buying lot of books.
Sridevi says " During one of my checkup in 5 month of pregnancy I got to know that I had so much of water around the baby and in my body .So doctor has advised me to go for a complete bed rest and we just waited for the D-day to come when we were blessed with our little princess " Vasupradha" .We use to call her Achu… But she loves everybody to call her like Pradha..
She says that "Time management is the only factor which I faced like an unforeseen challenge after becoming a parent.". yes.. up to 5 months I was like very depressed to take care of child alone with out any support. Though for initial 2 months my mother took care of us & after that I moved back to my house… Morning's are always hectic time to cook, packing lunch for my hubby & to take care of the baby.. that time only she cries a lot..  Some how those 6 months went away!!
She was very happy to share with us the beautiful growing years of her daughter when "Pradha made a greeting card by herself for lovely mom on her birthday last year!!! That was one of the most special moments!!"
Sridevi is a full time mom taking care of her two kids, her first preference is the baby & then only everything else.. She reminisced one of the old wives tales
"If a women who is pregnant & having a girl baby will looks very beautiful.. in my case it was like opposite.. I was very ugly during my pregnancy for Pradha & i looked beautiful during my pregnancy for my younger son Abhi.."
She also emphasized that all the mums should take care of their health also, so that they can take good care of the kids.
"A parent's love is whole no matter how many times divided"- Robert Brault
Love !
Mums&Babies