I have heard about BRAND'S ® Collagen Drink but actually never tried it before because I am more of fruit and salad person who loves to eat food than taking supplements in any form. These days Collagen is such a buzz word which everyone is talking about when it comes to skin whether collagen mask, capsules, supplements and so on. A few years back, I have received some collagen capsules which smells like fish and I couldn't even try them.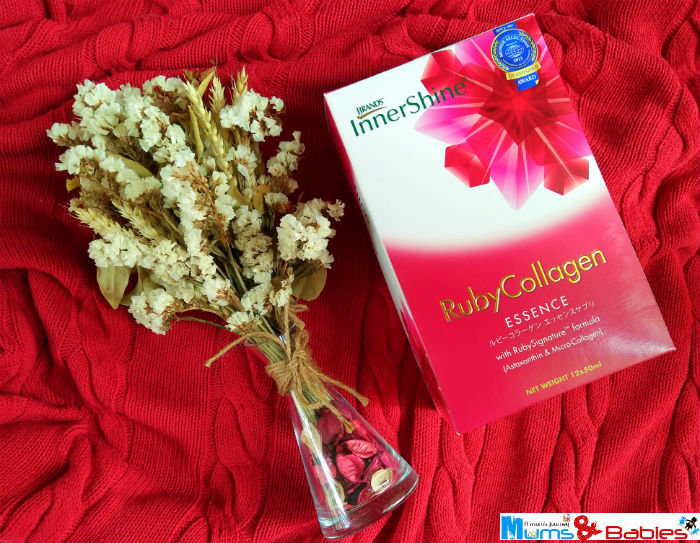 What is Collagen?
Collagen is necessary to support the skin's structural foundation to improve firmness and elasticity for the youthful and supple skin.
Unlike normal collagen, RubySignature™ formula is created with a unique and precious blend of ingredients derived from natural sources. It contains micro-collagen and one of mother nature's most powerful antioxidants, astaxanthin (micro-algae extract). Scientifically proven, its anti-oxidant power is 6000 times more powerful than Vitamin C, 800 times more powerful than CoQ10 and 500 times more powerful than Vitamin E.
Astaxanthin serves as the perfect complement by acting as a natural shield against the collagen-depleting procedure. In containing both micro-collagen and astaxanthin, RubySignature™ formula defies the ageing process by performing a vital triple-action of supplying collagen, protecting against collagen degradation and delivering collagen effectively to skin cells. Designed to complement your topical skincare routine, in 6 weeks experience skin-rejuvenating power with BRAND'S® InnerShine®RubyCollagen Essence Drink.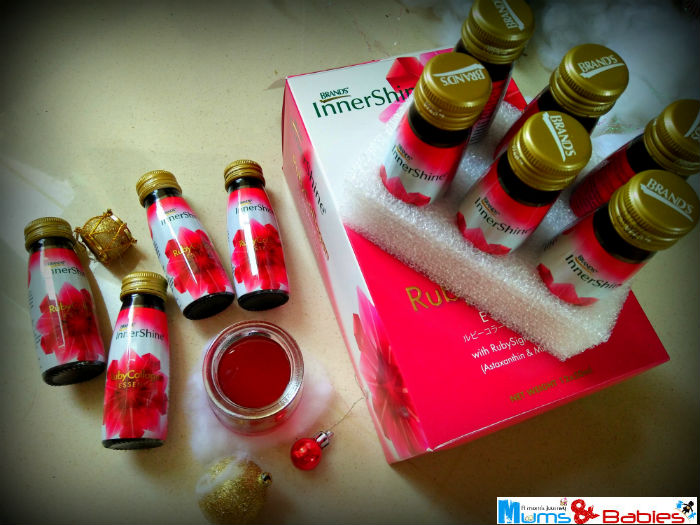 I didn't know what to expect (taste wise) when I have received BRAND'S® InnerShine®RubyCollagen Essence Drink 12 bottles pack ( 12* 50ml) which is latest addition to the BRAND'S® InnerShine® portfolio of oral supplements that promote beauty from within, the RubyCollagen Essence lineup marks a significant milestone as the company's first dedicated anti-aging supplement series and opens up a new dimension in the world of anti-aging skin care.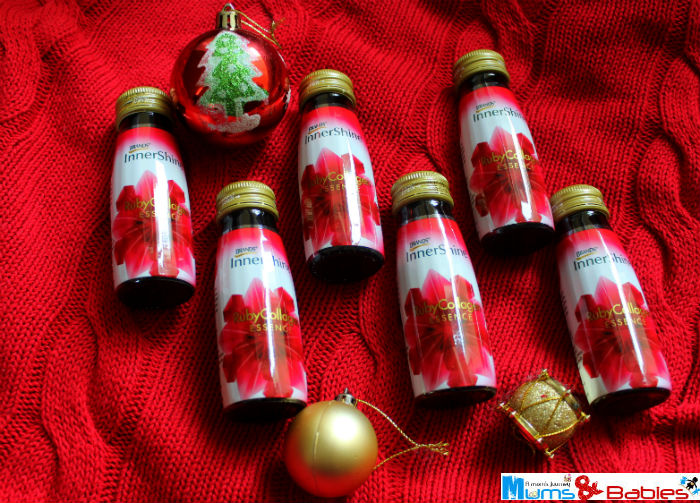 Turn back the clock and reveal younger-looking skin with the new RubyCollagen Essence range by BRAND'S® InnerShine®. Specially formulated for Asian skin, get ready to prevent your skin age and enjoy more supple, vibrant skin in just 6 weeks* with nature's best-kept anti-aging secret. With lifestyle and environmental factors like stress, smoking, ultraviolet (UV) rays the collagen loss accelerate and as we age, collagen levels in our skin continually dip as its ability to synthesize new collagen begins to diminish.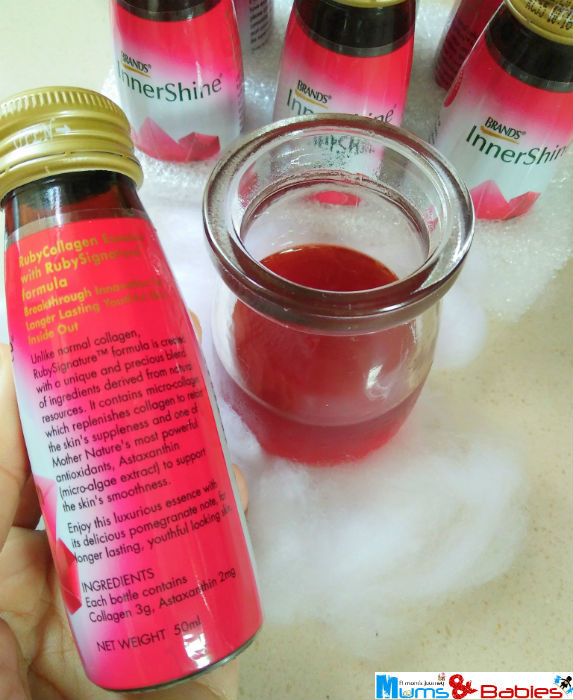 You can read the exact contents mentioned on each bottle! In order to fend of the visual signs of aging, it is necessary to not only replenish lost collagen, but also prevent further collagen degradation in the skin from occurring. It is recommended to have 1-2 bottles every day but to start with I am sticking with 1 bottle each day.
Infused with natural pomegranate juice, BRAND'S® InnerShine® RubyCollagen makes for a truly delicious treat and an indispensable beauty oral supplement that addresses the heightened needs of aging skin.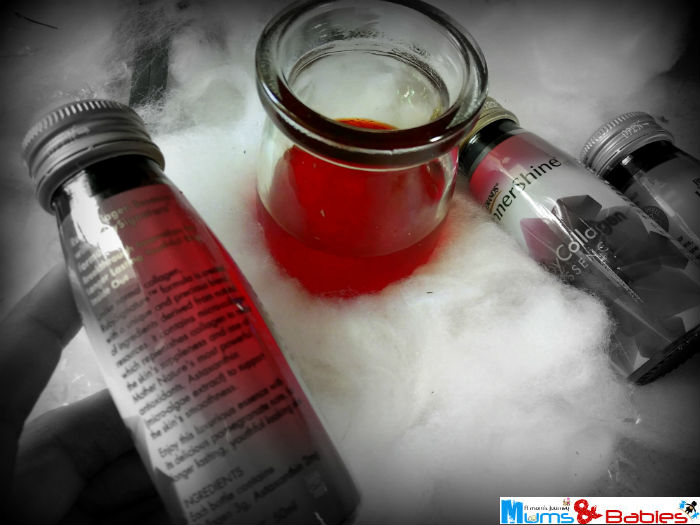 This is the quantity in each bottle and it is up to your taste to take it at room temperature or chilled. I find it taste more like grape and pomegranate juice when taken chilled.  I have a pretty dry skin, it helps in retaining that smoothness in my skin though 12 bottles will not be sufficient to see results overnight but you will start finding the difference in your skin.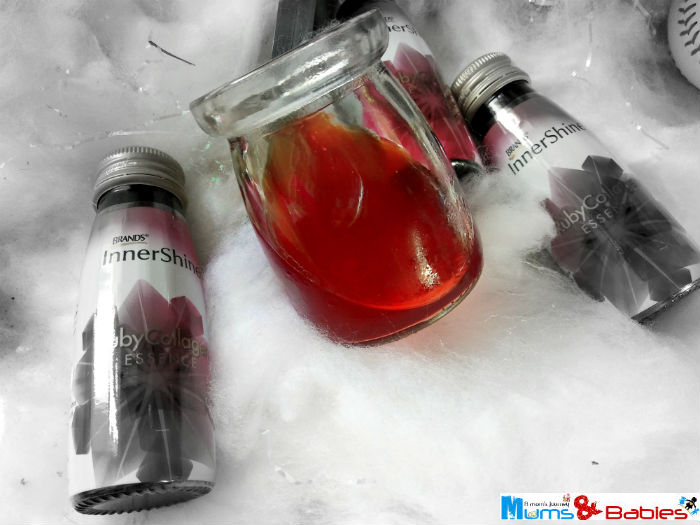 For optimum efficacy, it is recommended that BRAND'S® InnerShine® RubyCollagen be consumed twice daily to experience the difference in 6 weeks. Results may vary from individual to individual.
You can buy now on e-store  or find out more info on Rubycollagen on e-store.
There are 2 formats to RubyCollagen:
1. BRAND'S® InnerShine® RubyCollagen Essence Drink
2. BRAND'S® InnerShine® RubyCollagen Essence strip
Price List:
BRAND'S® InnerShine®  RubyCollagen Essence (50ml x 12):   SGD $62.90
BRAND'S® InnerShine®  RubyCollagen Essence Strip (15g x 10): SGD $36.00