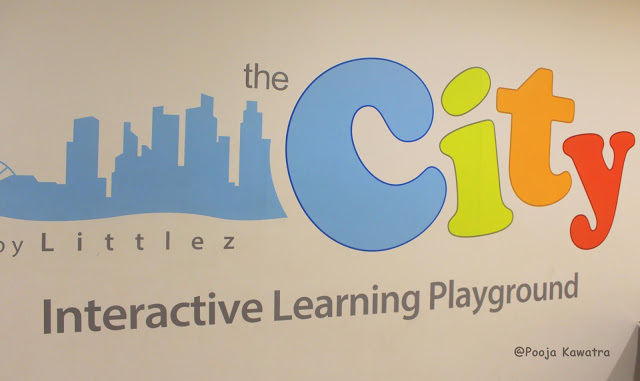 Here are the yummy snacks and cupcakes to celebrate the day. It was a private event with my other fellow parent bloggers and we forgot to click our photos.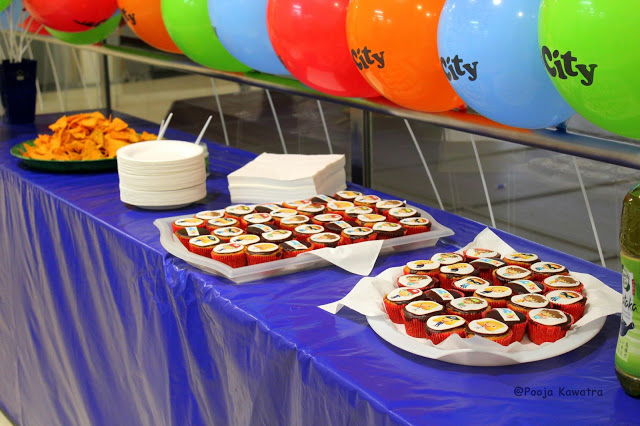 Loved the cupcake presentation and it was just going right with that personalised touch.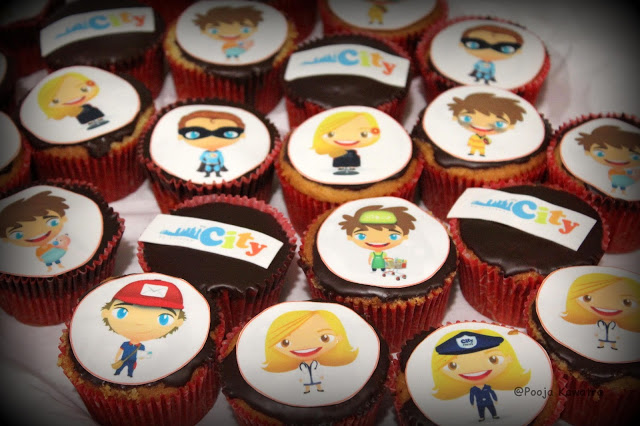 It is designed for two to eight year old kids and my kids just fit into that bracket. I will say that it is not those usual kind of playground with slides or ball pool etc but fair enough to keep your kids occupied with various learning stations-  Road and Traffic Police, Supermarket, Clinic, Cafe, Nursery, Post Office, Beauty Salon, Classroom and The Heroes.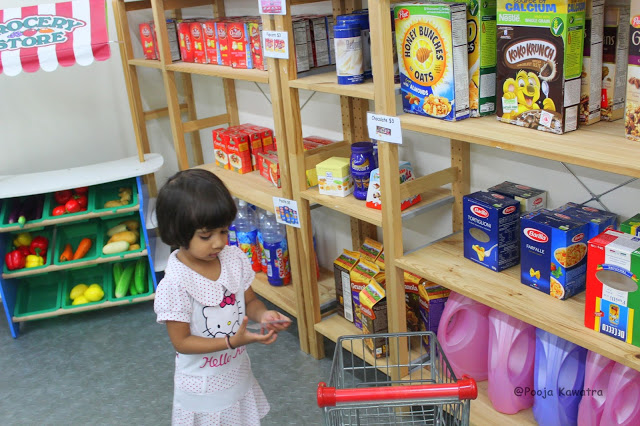 This was the round 2 when big brother shopped for everything and she wants to sit at the counter for billing. I was impressed the way she used hand scanner for scanning everything and that shows how many times mumma make her visit to supermarket.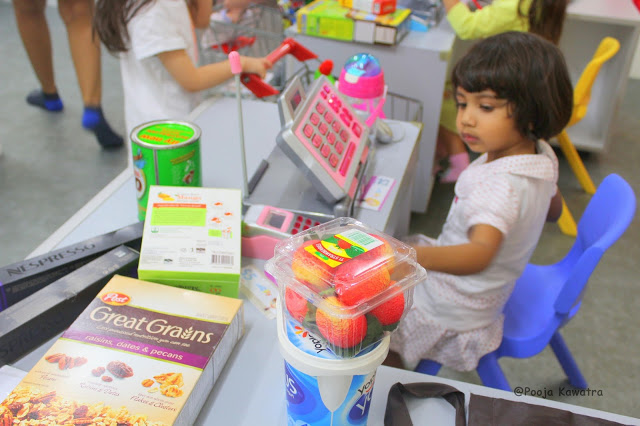 A beautiful little kitchen island for all your cooking and baking needs. Our Cafe for the day and menu is on the table.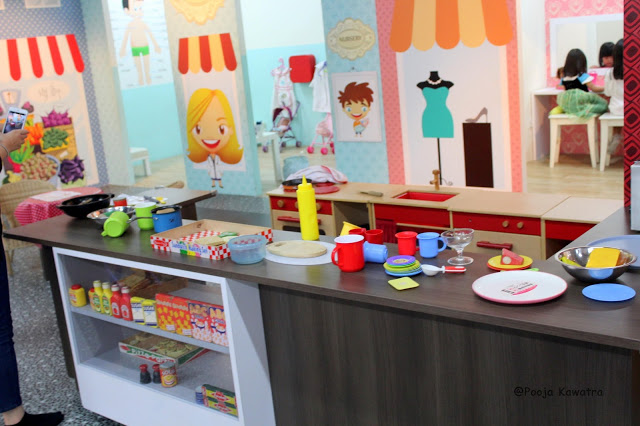 My Cutie little Master Chef all dressed up to cook a yummy meal. These outfits were really good for little one to enjoy and pretend.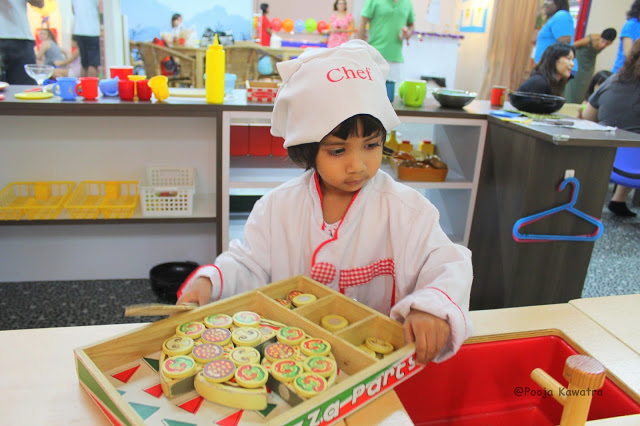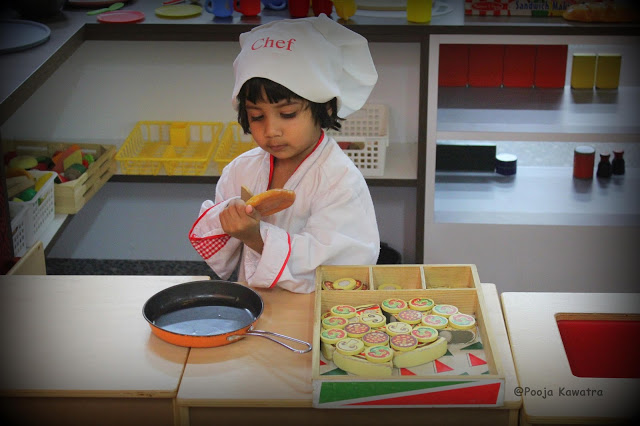 While little sis was busy in the kitchen big bro was with his superheroes. Just finished one task assigned to him, now wait and watch for the super hero….
 Super hero in making………….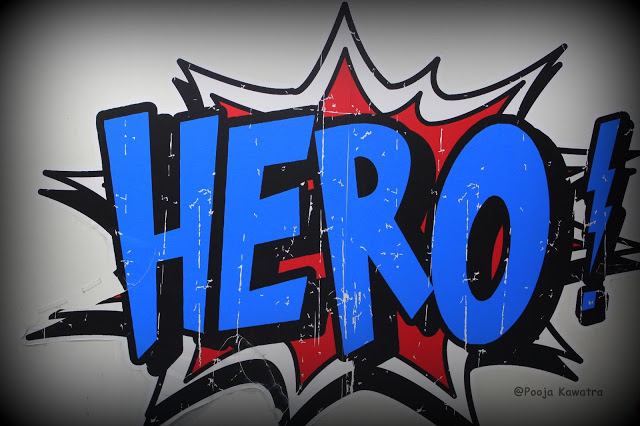 Spider-man is bringing someone your way !
He loved this costume and perfect to pose as a superhero!
She thought if Aayan is super hero, why not I can be! Let's climb this one.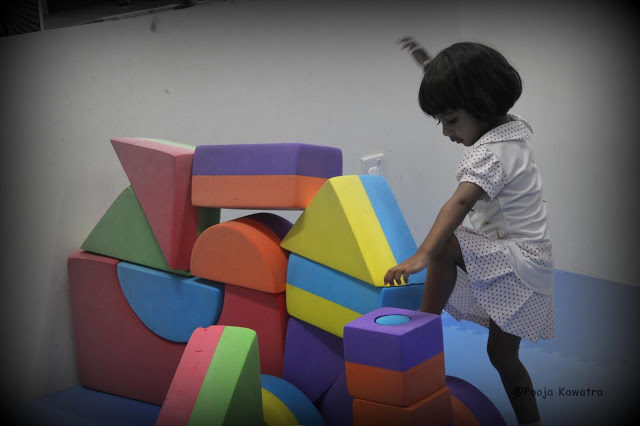 They have got nice costume for both boys and girls but Kaira was least interested to try anyone except frozen which all the girls out there had an eye on! No worries at all as I can admire myself in the mirror too with my Hello Kitty dress.
Girls will be girls and we head to Beauty Salon and pamper ourselves!
Do you think I should try some other hair colour?
Can I try this hair colour, mom??
My big boy was not keen to get any photo and got few friends to enjoy the fast rides.
Post office Station was quite interesting with various stamps on the wall. To replicate the post office theme this wooden box was there to place your post, kids got the paper, pen and even stamps on paste on their letter so that later they can post it.
Our own specialist for the day checking her doll whether she is doing fine today.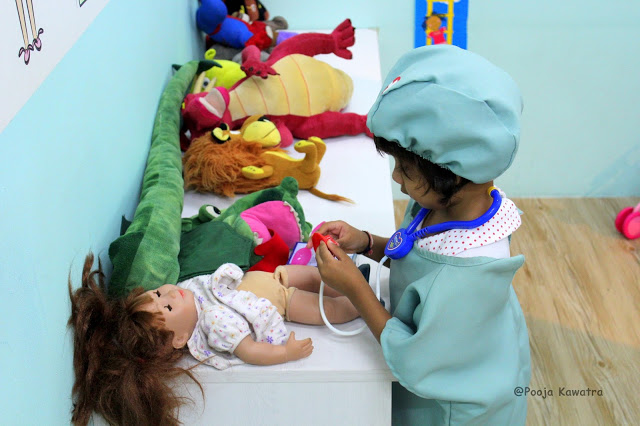 But that doesn't seems to be so interesting, so why not try on my papa! Breathe in, Breathe out..
Actually Health clinic and nursery are together. She was pretending to be a big girl here.
We enjoyed the place though few points to note that there is no washroom inside and you need to park your stroller outside it. They have got parent lounge to sit down and watch your kids. You can organise a birthday party for your kids or school trips.
You can find them-
The City @Liang Court
Address: #03-04A Liang Court, 177 River valley road, Singapore 179030
Admission (Unlimited on weekdays and Weekends for 2 hours) : $22 for 2 years and above, Under 2 years, $18. Babies under 1 year, Free (if accompanied by a paid sibling)
Operating hours : 10am – 7pm
Membership
* Socks are mandatory for all the guests