Motherhood is a wonderful journey where we learn every single day and knowing that all days are not the same!  Being a mom is not just about playing the role of a mom but many different roles at the same time. It is such a beautiful phase of every woman's life to experience motherhood and how it has changed us!
Hop on this Blog train series with other 60 amazing moms who have come together to share their journey on "HOW MOTHERHOOD HAS CHANGED ME?" in our Blog part 1 and part 2 series.
Be right here to read the heartfelt and true stories by a mom for moms!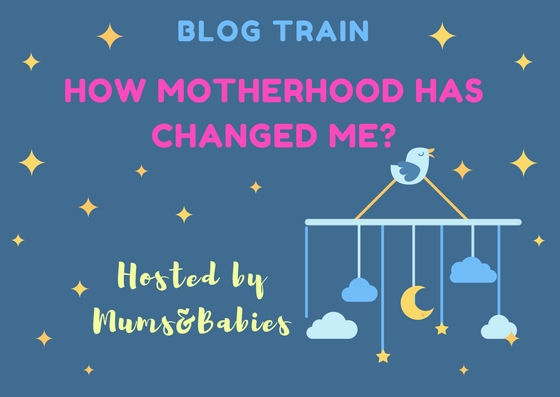 21st Sep- Pooja K (www.themumsandbabies.com)
22nd Sep- Shweta @TimesofAmma
23rd Sep -Sush @Beachwalkmuse
24th Sep- Nayantra @mommyingbabyt
25th Sep- Akansha @mummyandrayaan
26th Sep- Aesha @aboutparentandkid
27th Sep-Richa @allthatsmom
28th Sep-Karuna @nameplaceanimalthing
29th Sep- Misha @freshlybakedhead
30th Sep- Neha  @Sharingourexperiences
1st Oct- Udita  @WithloveZuzu
2nd Oct- Shubhreet @raisingkarma
3rd Oct- Prisha @Mummasaurus
4th Oct-Preetjyot @mylittlemuffin
5th Oct- Veena @thereadingmonster
6th Oct-Mahak @babyandbeyond
7th Oct-Pranita @merogandmom
8th Oct-Danisha @lovethatyoucanbuy
9th Oct-Charu ( www.themomsagas.com)
10th Oct-Alpana (www.mothersgurukul.com)
11th Oct-Shalu (www.thedreamermum.com)
12th Oct-Rakhi (www.lifethrumyeyes.com )
13th Oct-Vaishali @ammatoday
14th Oct-Smita @averagemom
15th Oct-Vasantha Vivek @mysweetnothings
16th Oct- Lata Tokhi (www.FabulousMomLife.com)
17th Oct- Meiling (www.universalscribbles.com)
18th Oct- Ashlyn (www.ashlynthia.blogspot.sg)
19th Oct- Little Miss honey (www.littlemisshoney.com)
20th Oct- Sharvi @startmoms
21st Oct- Tamanna @tamannabavishi
22nd Oct-Madhavi (www.wackywe.com)
23rd Oct- Richa Tiwari @urbanmantra
24th Oct- Jasmeet (www.mommyvoyage.com)
25th Oct- May Liang @mmlittle
26th Oct- Soumya @pinkdazzleblog
27th Oct- Harshala ( www.aweekinlife.com)
28th Oct-  Priyadarshini ( www.rattlebabblebattle.wordpress.com)
29th Oct-Rashmi @ajithsmostyle
30th Oct-Menaka (www.simpleindianmom.in)
31st Oct- Jamie @karmie080808
Blog Train Part 2
7th Nov – Nandita @thatimperfectmom
8th Nov – Rashmi @notjustmommying
9th Nov – Anisha @momzdiary
10th Nov _ Mamatha @allaboutmommying
11th Nov  – Dhanya @DhanyaSuresh
12th Nov – Disha  @hashtagdisha
13th Nov – Sonia @peachyfuzzycuties
14th Nov – Haajra @haajra
15th Nov – Pradnya @mummyingainteasy
16th Nov – Gayathri  @Chirpytales
18th Nov – Sanjivini @@motherhoodunpluggedweb
19th Nov – Sumira @Cuckoosnest
20th Nov – Ranjani  @mumblebumblesite
21st Nov – Elina @momfunda
22nd Nov -Surbhi @prettymummasays
23rd Nov – Moina @mommymojo
24th Nov – Minakshi @mommystimeline
25th Nov  – Nupur @PracticalMum
26th Nov- Cheni @Mamamusing