Holidays are always fun to spend quality and relaxing time together doing the activities which we otherwise find difficult to do during the school term. We headed to Montigo Resorts, Nongsa for a short retreat with the family.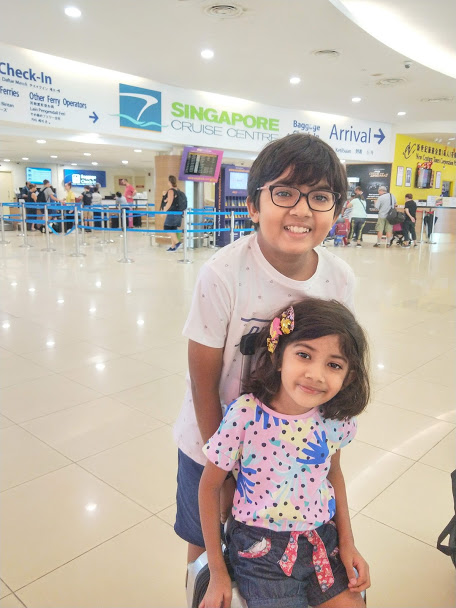 We boarded a ferry from Tanah Merah Ferry terminal to Nongsapura and it is just 30-minute ferry ride to this resort. Since it is the nearest point in Indonesia from Singapore so it didn't take much time to reach.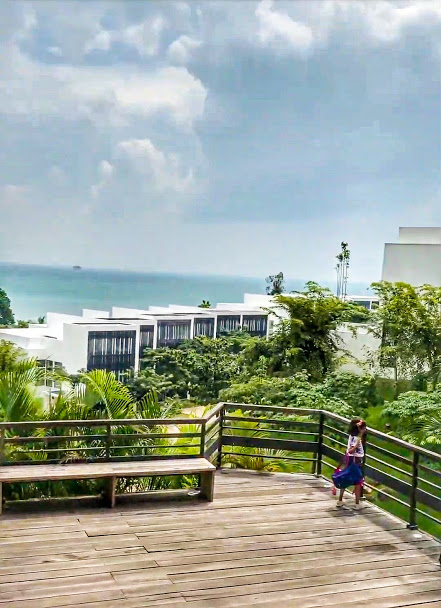 We were welcomed by the Montigo Resorts, Nongsa staff after we came out from the ferry terminal and drove to the resort in a private car. You can check with the resort while making the booking for a transfer from the ferry terminal to Montigo Resorts, Nongsa by shuttle bus or private car.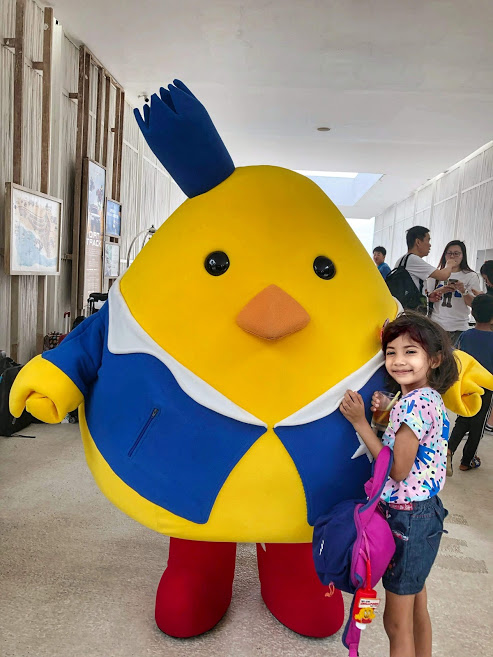 The weather was pretty hot as we reached around 12 noon and the refreshing Lemongrass Welcome Drink was just perfect. Kids were super happy to get greeted by Tilo.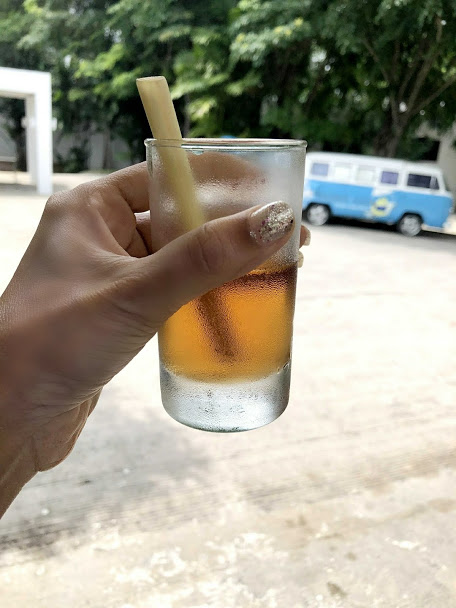 Loved the friendly staff at the resort as we reached early so they took us in the buggy (that is the free service across the resort) to travel around the resort showing us the various villas from 1 bedroom, 2 bedroom to 5 bedroom villas for the bigger group/families. We got to see a few of the activities within the resort, Aayan and Kaira already made their mind to try out the activities like Archery, airsoft, ATV etc. The room check- in is around 3 pm so we decided to go for Lunch.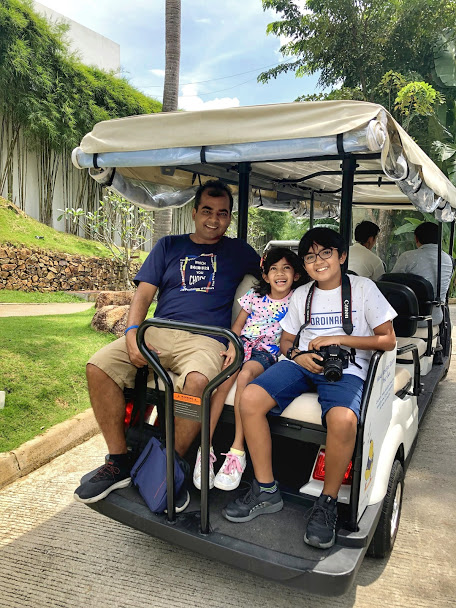 We headed to Tadd's restaurant for our lunch and it has got a beautiful outdoor sitting facing the sea so it looks gorgeous in the morning and evenings but it was pretty hot to sit outside for lunch so we sat in the adjacent Cafe Montigo.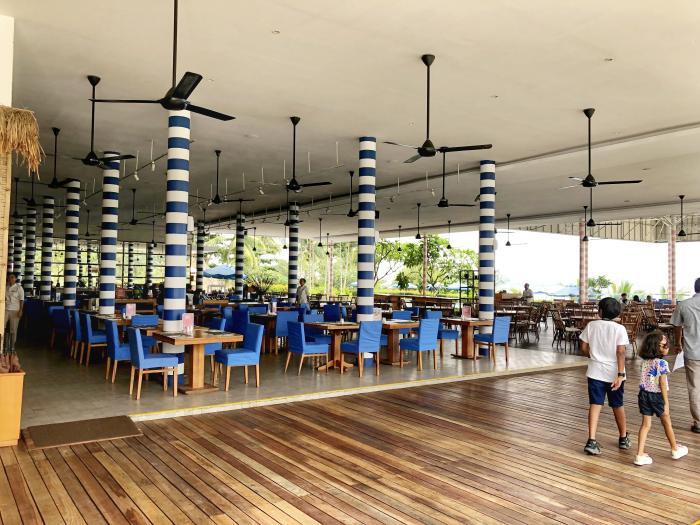 Had a quick lunch as kids were pretty excited to see the villa. They are ample of choices to order the food from proper Indonesian to western food. The coconut was huge to finish but very refreshing.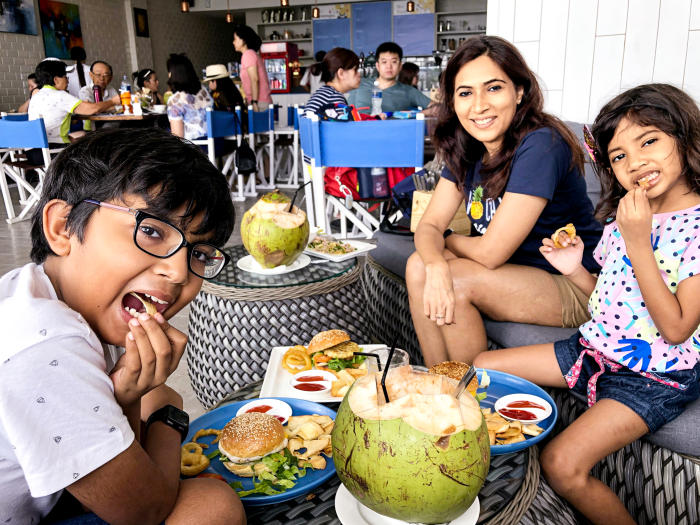 Some of the things we have ordered for our lunch from salad, Burger, satay, Indian curry.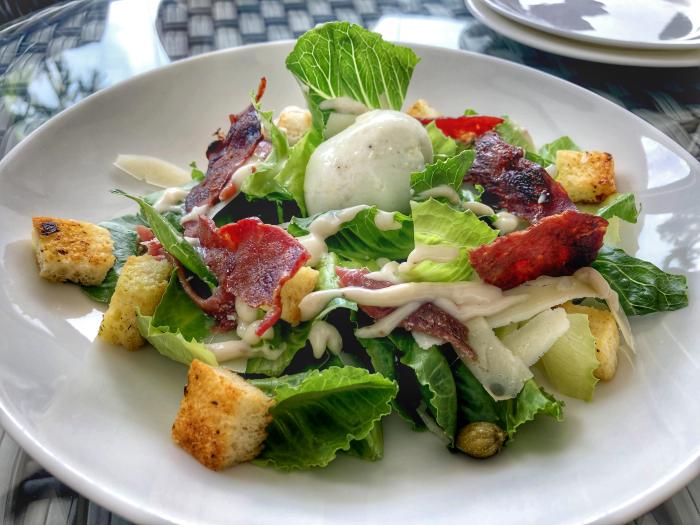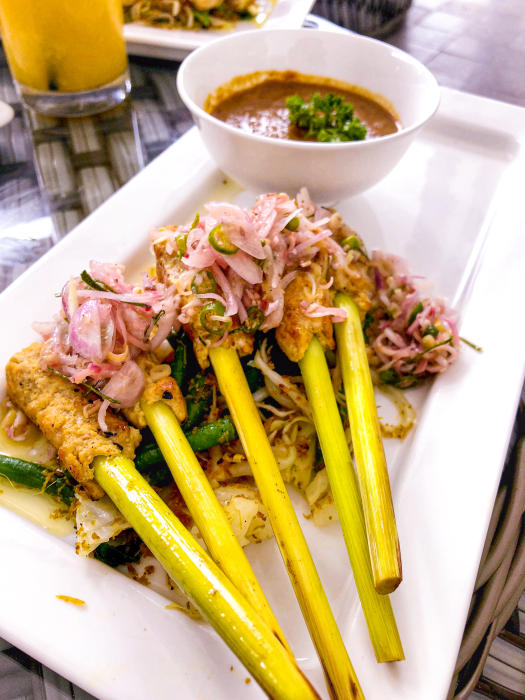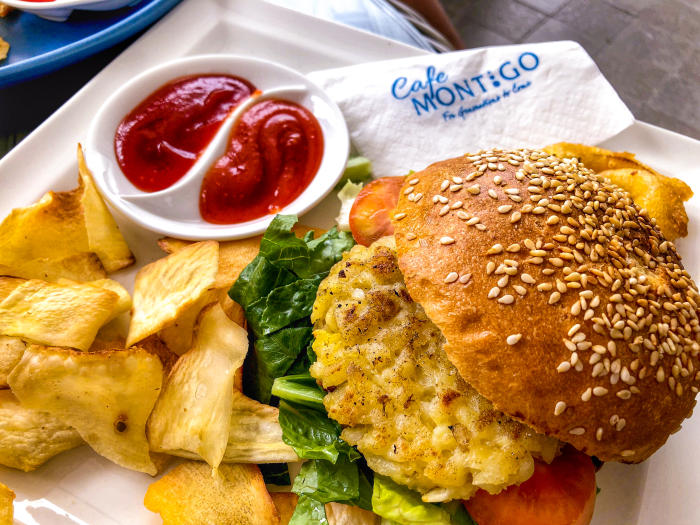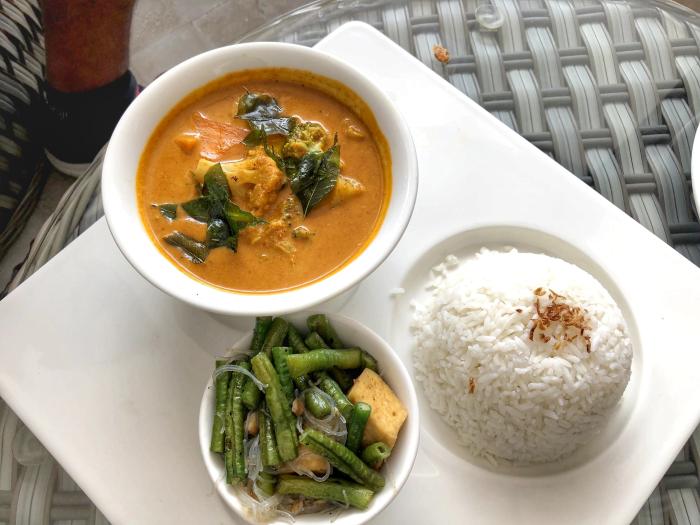 We headed to our 3 level villa which was huge and kids love going up and down the villa. It was not like the usual hotel stay where you have one room to yourself. We got different rooms, living area with kitchen (if you wish to cook), private pool, terrace with the sitting area facing the sea.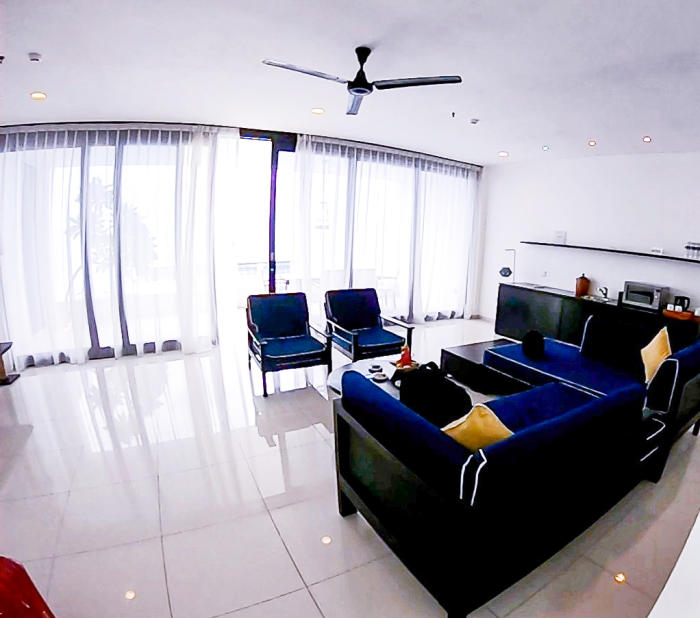 PRIVATE POOL
Our own private pool to dip in anytime and enjoy the family time.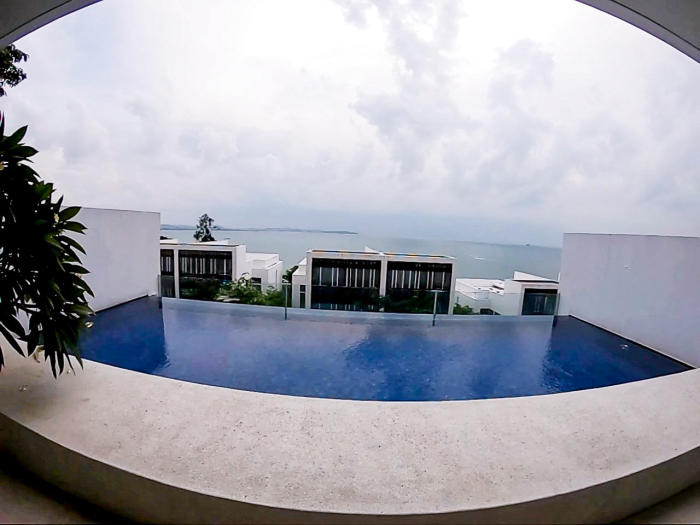 You can dine in here as well and call for a private BBQ outside.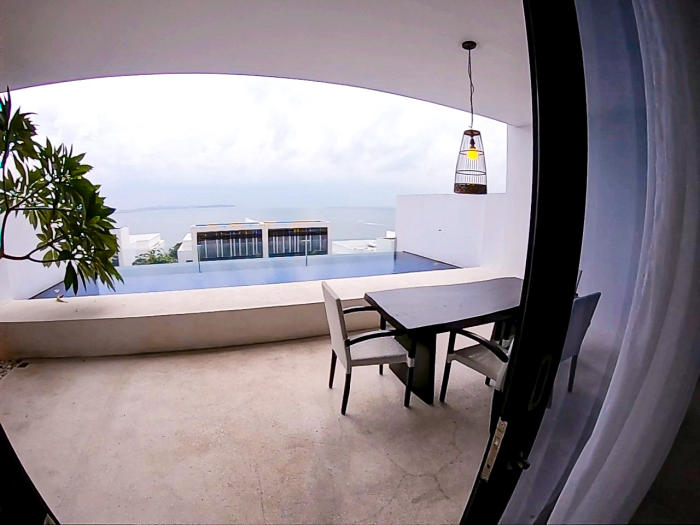 Our bedrooms were on level 2 of the villa and they were pretty spacious.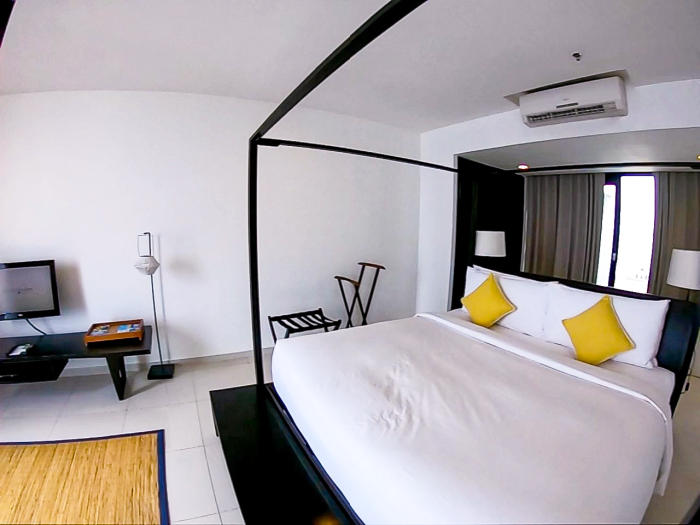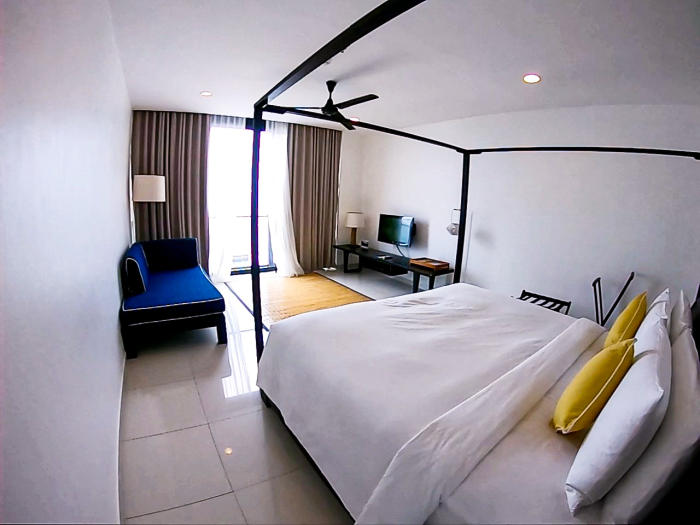 The bath area was pretty big with a bathtub and separate shower.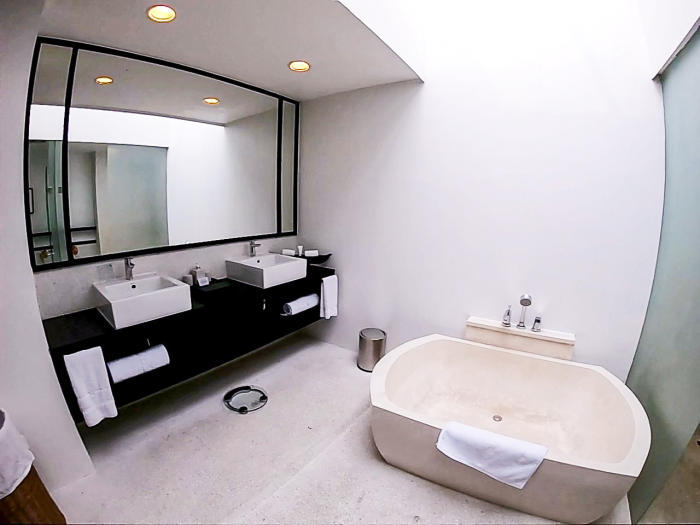 Here is the kids' room with two separate beds and got another separate toilet attached to it.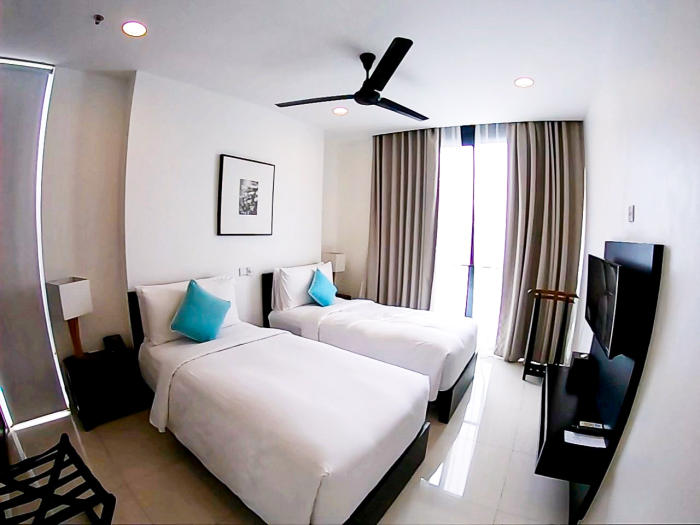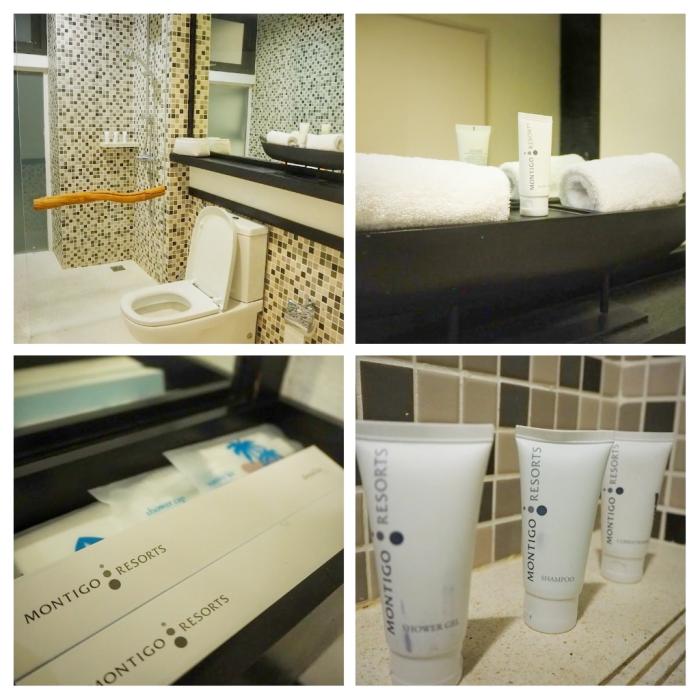 I really want to highlight the things which were inside the room as I couldn't find them listed anywhere when reading the review.
ROOM AMENITIES
*Iron, Hair Dryer, Mosquito cream, mosquito spray
*Cutlery is provided in the kitchen and it comes with an electric hotplate, microwave and rice cooker. You can request for the utensils as well.
This was the view from our room.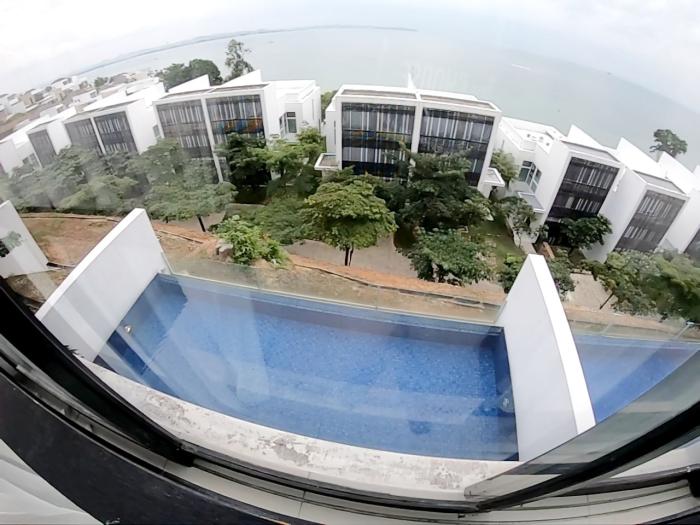 Aayan and Kaira went for a quick dip in the pool, suddenly the weather changed to cloudy and stormy. We were supposed to explore the resort and check for the activities. With a change in our plan, we went for their traditional Indonesian massage.
MONTIGO SPA
Such a beautiful view outside the spa room and so relaxing.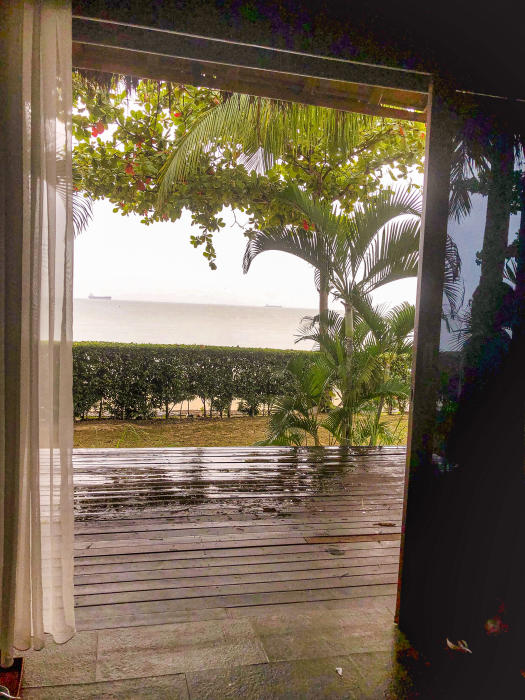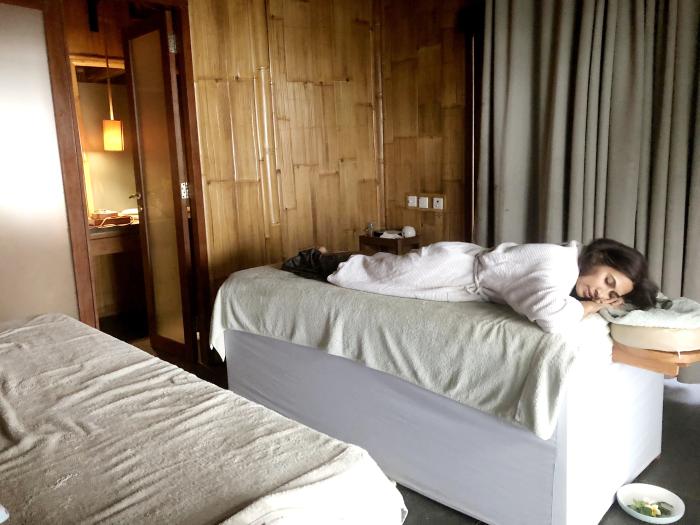 Wonderful that both of us got to have a relaxing massage and kids entertained themselves.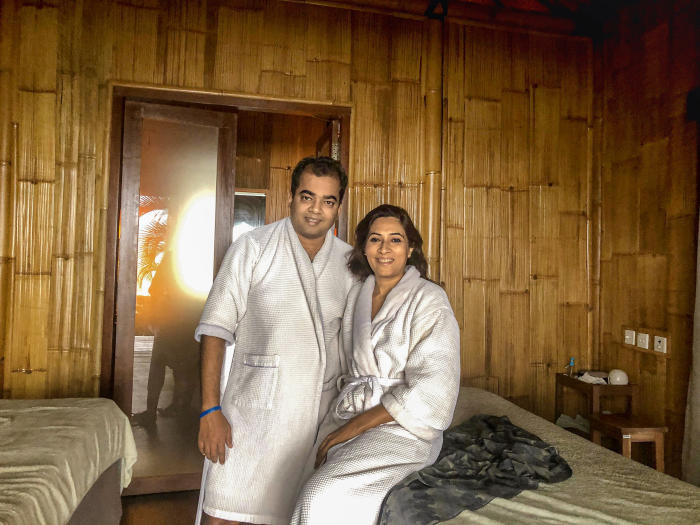 Lovely hot tea, fruits and super loved the locally produced honey. The weather was perfect raining, cold, thatched cottage, warm tea to relax.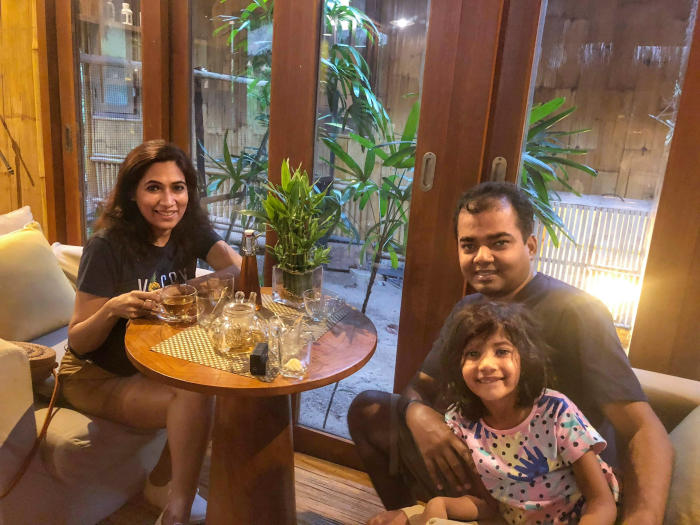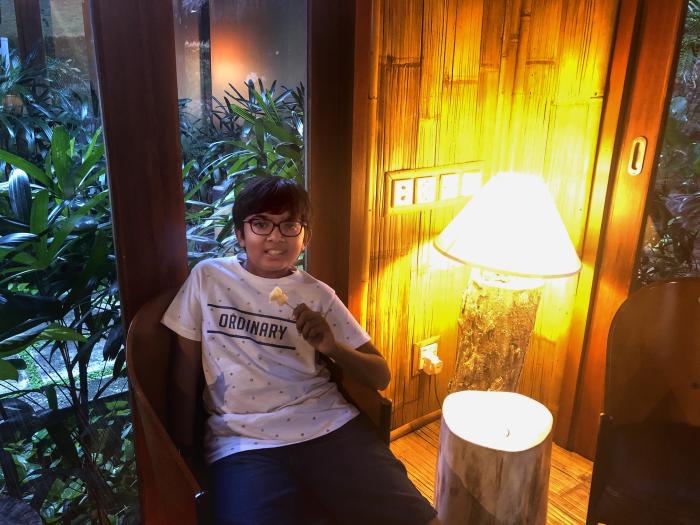 Tilo Kids Club
You can leave your kids at Tilo kids club to play on their own if you want to head for spa, massage. They have a supervisor to take care of the kids.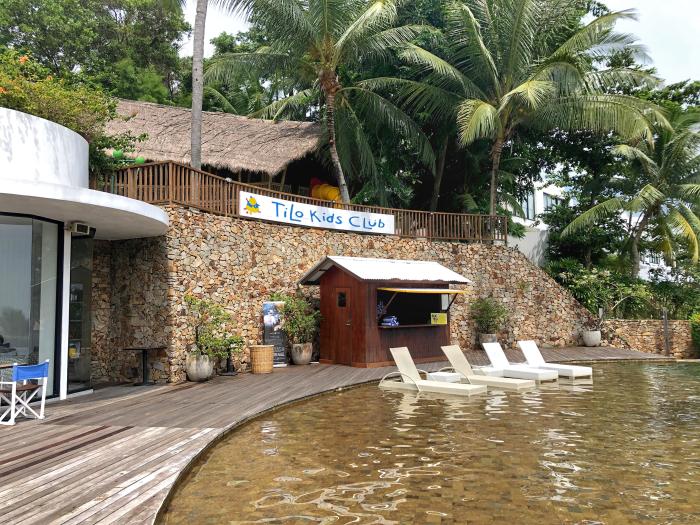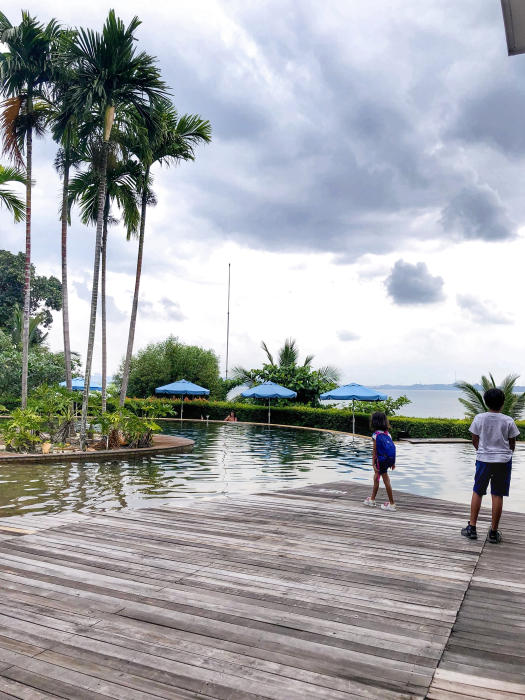 Dinner at Pantai Restaurant
This restaurant was more like private dining in Kelong style offering the yummy and fresh seafood. We had Spring rolls, Baby corn soup with black fungus, Snapper. I don't eat fish but Nikhil said that snapper was super fresh and delicious. Loved the chicken with Mango, lime, Wok-fried veggies.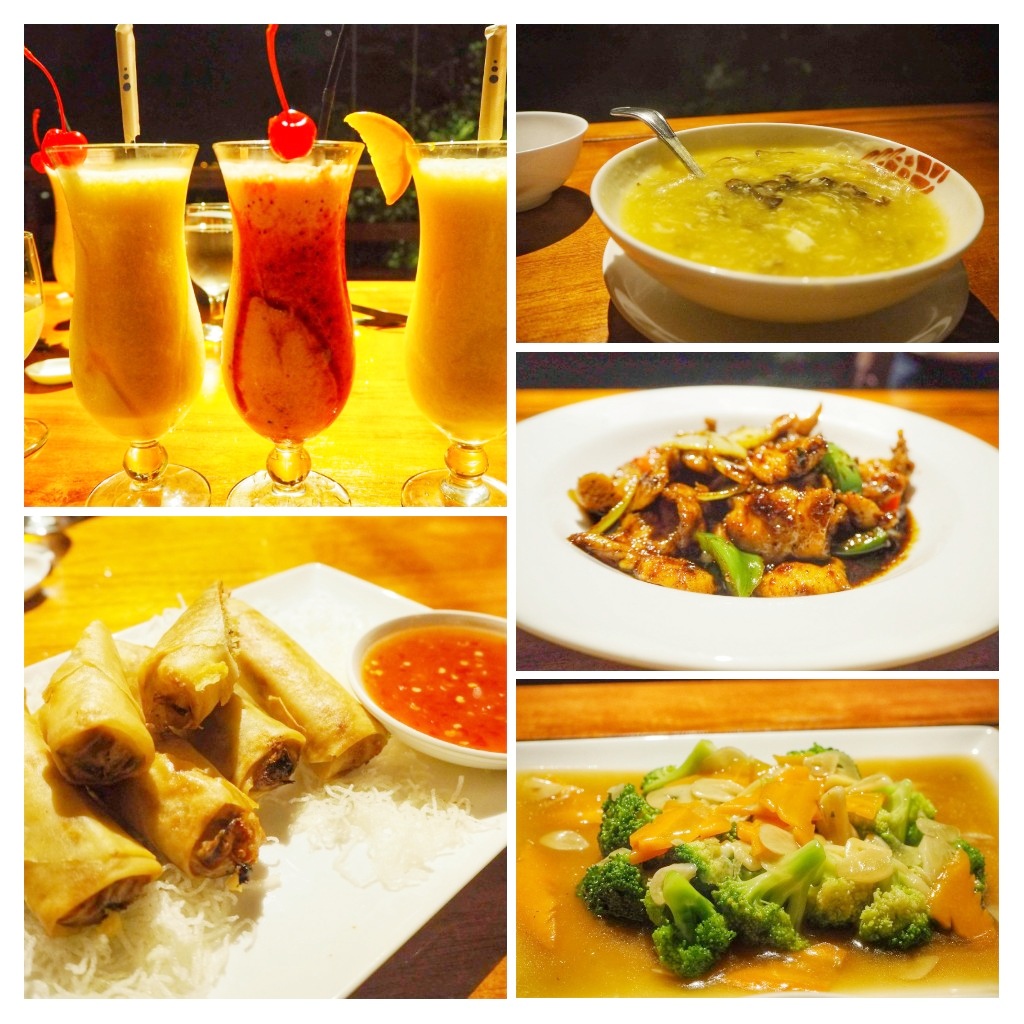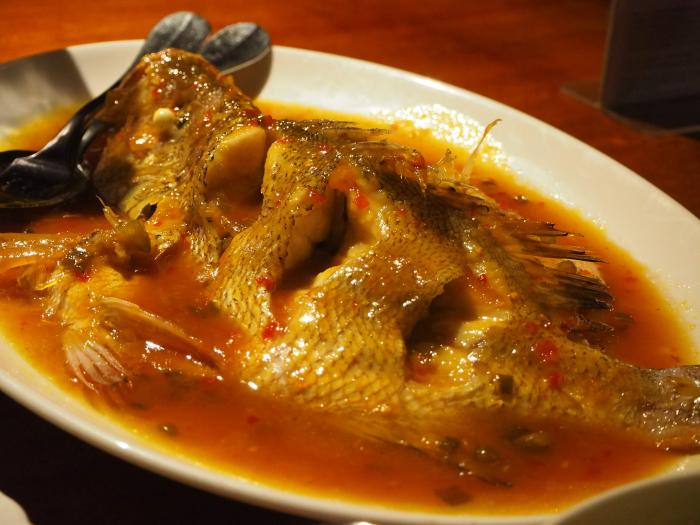 Breakfast – Tadd's Restaurant
Do you agree that vacations are meant to eat sleep relax and eat again? We are back here again to have our breakfast and there was a great variety with even local delicacies.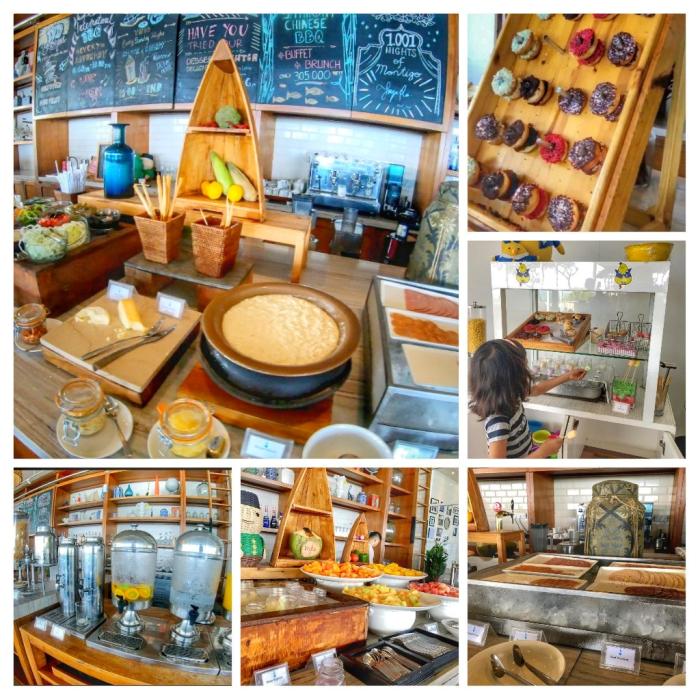 They have a separate kids corner and candy floss too.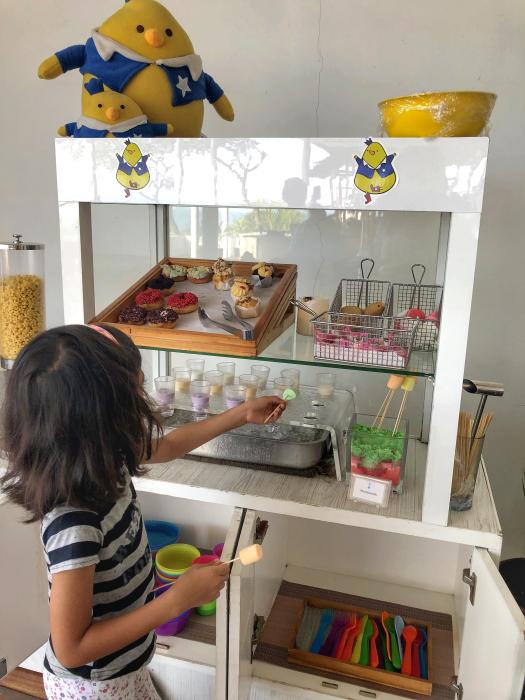 We were back to our villa for a dip.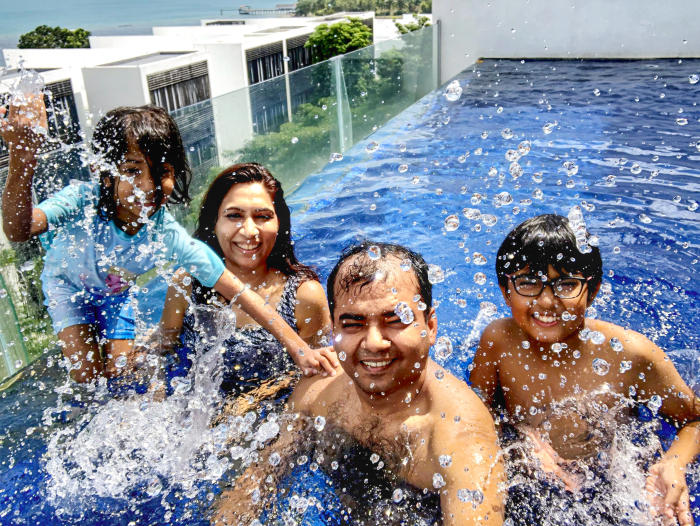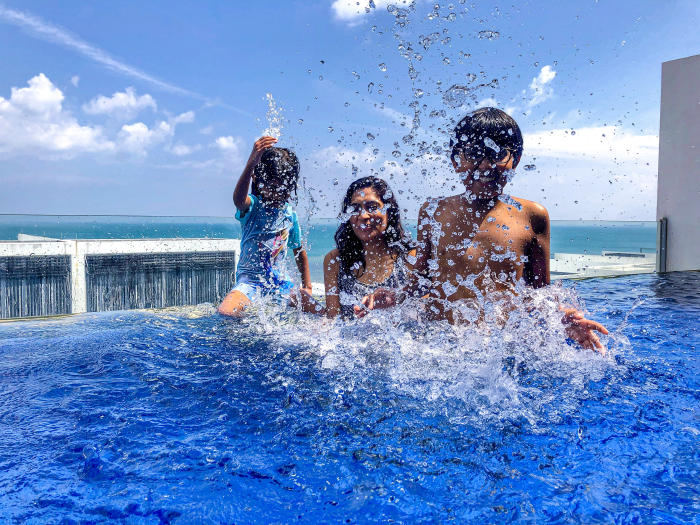 Mini Zoo
We love the activities and places designed especially for kids so that they have so much to explore.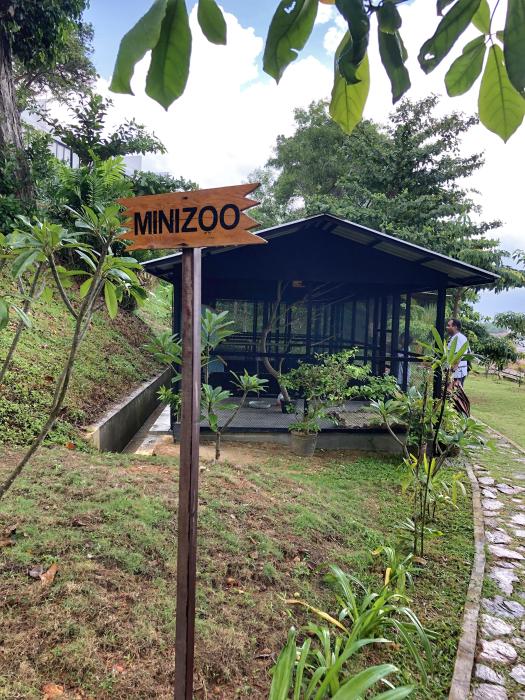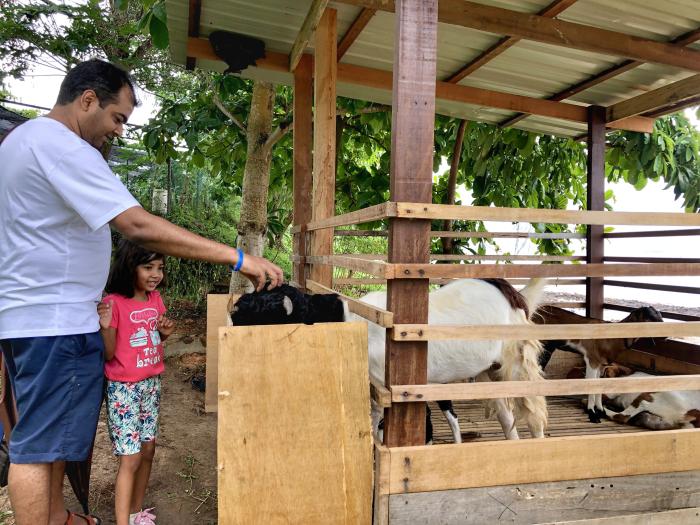 Let's go for some adventure time and yes it is All Terrain Vehicle (ATV) so rough driving and gets muddy, dirty.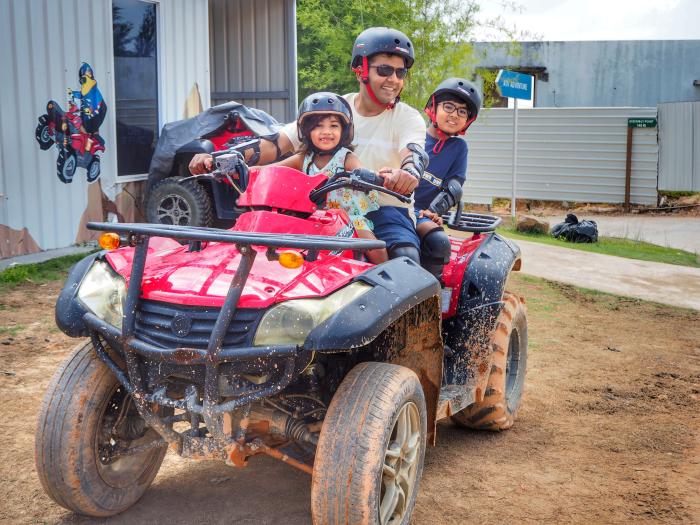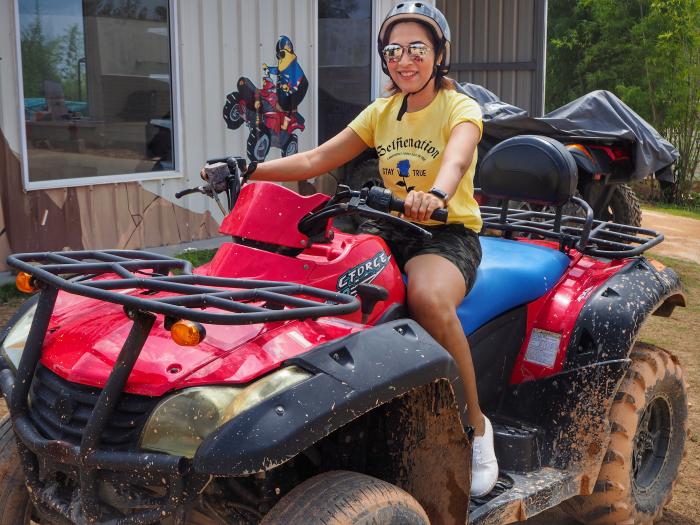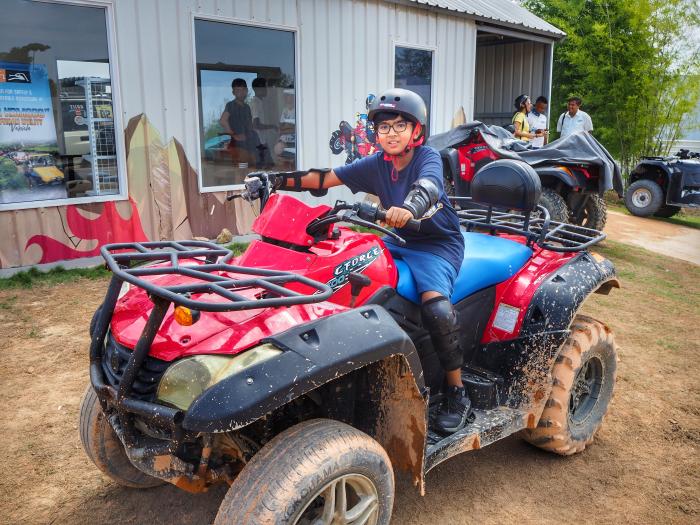 Here we go on a speed ride… vroom!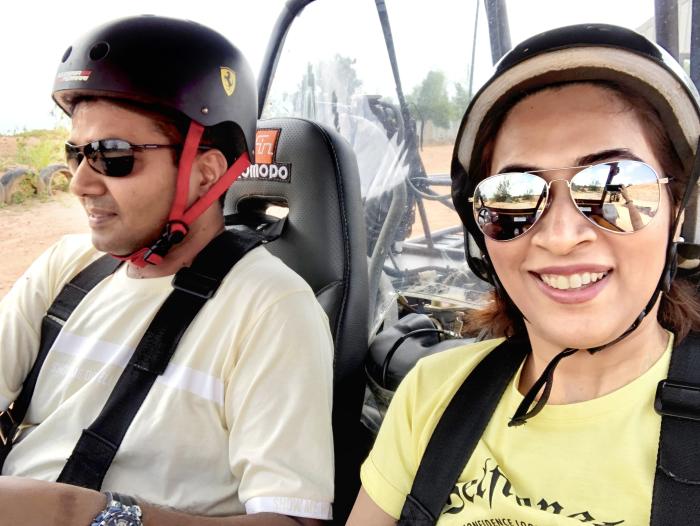 This was the first time we tried and if you are here don't miss out on this one. You have to manoeuvre your ATV thru the dirt track jumping and bumping. One good thing is all four of us are always in for outdoors getting dirty.
Lunch at Tadd's Restaurant
It was a clear sky so we enjoyed outside on the pier.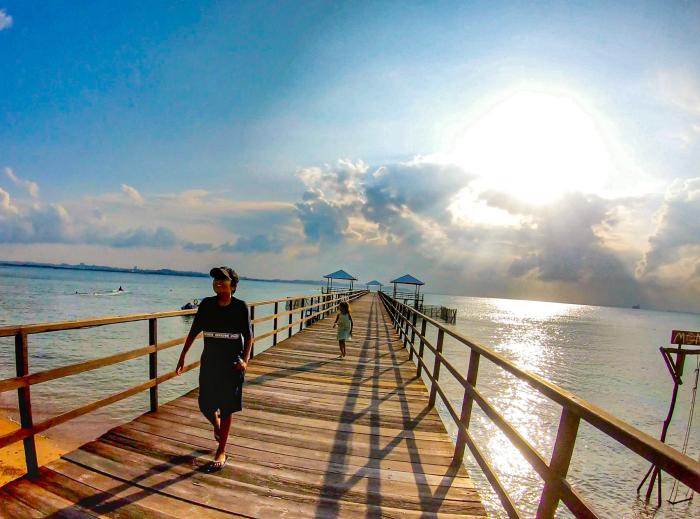 This was the much-awaited activity on our list. Standing there I was still deciding whether to go for it or not. I have water phobia and even though it looks fun but down there I was scared. Finally, Nikhil and I decided to go together and so glad we did it.
ONE ACTIVITY OFF OUR THINGS TO DO!!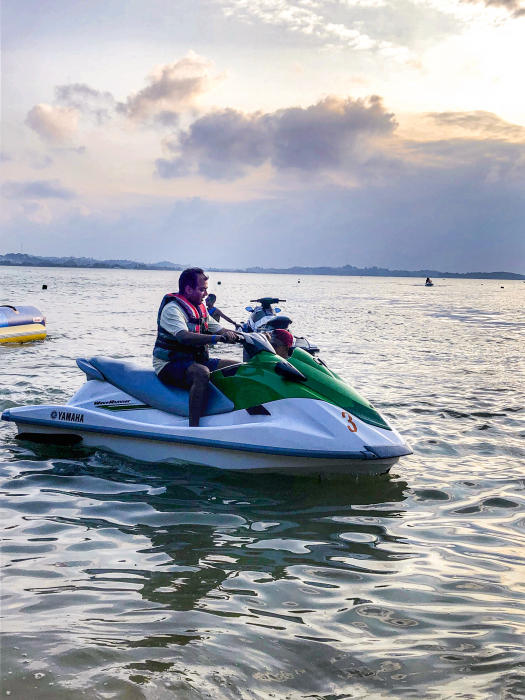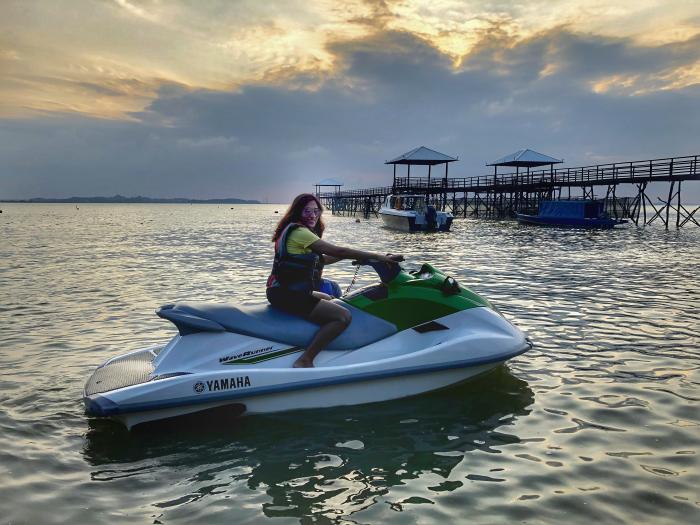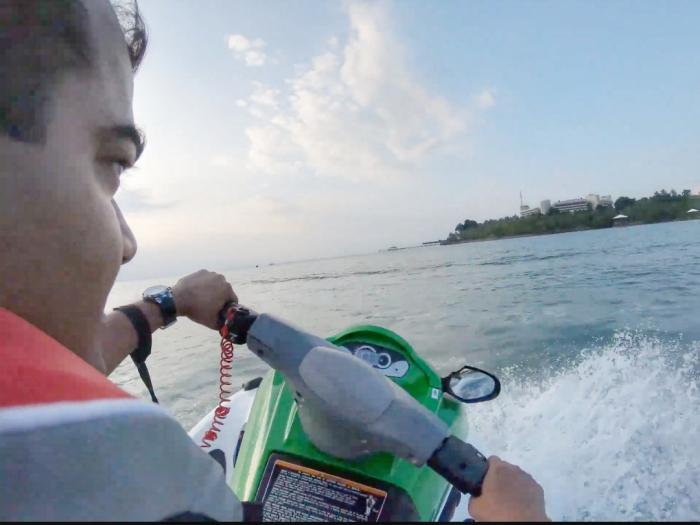 Kids were under age so couldn't do. You can also go for Banana Boat ride as well.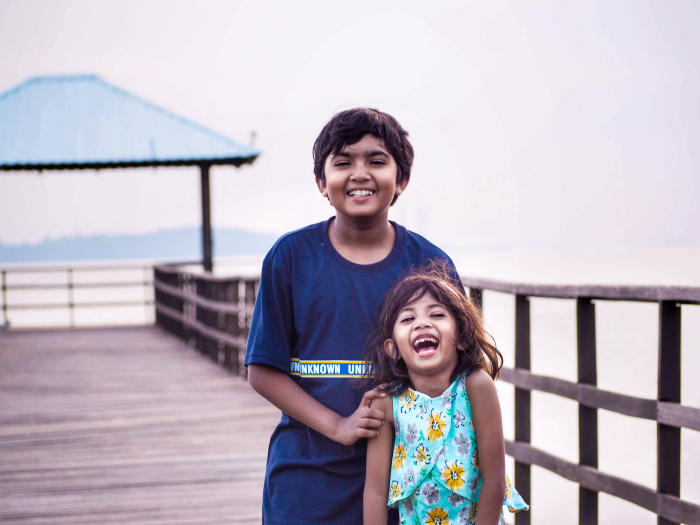 They have their own ways to keep them entertained and occupied. We spent close to three hours playing with sand and making sand castles. Isn't this the beautiful part of childhood?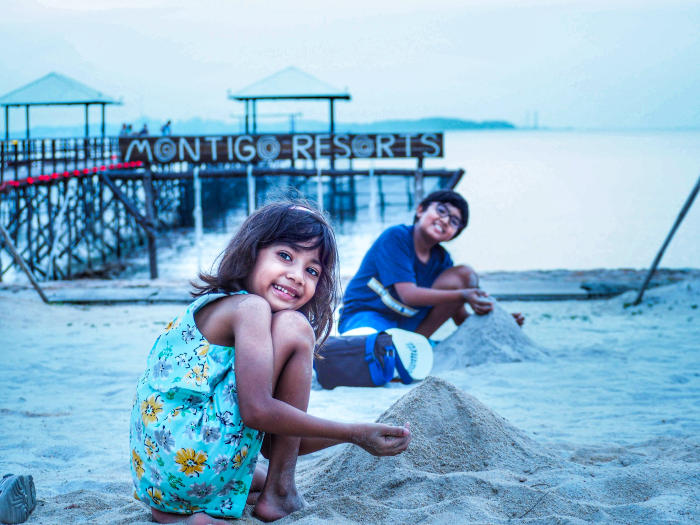 I love Rojak so tried this one here which was super yummy especially the tamarind chutney which was sour and spicy to dip your fruits and veggies. Another one this molten lava cake was melt in mouth.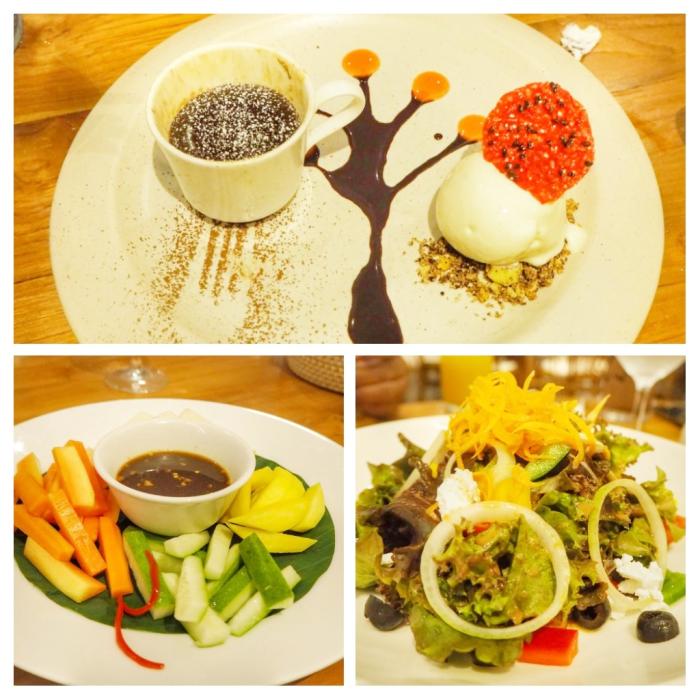 We got up early morning to catch the sunrise but the weather was dark and gloomy. Aayan wanted to go for Airsoft and Archery activities.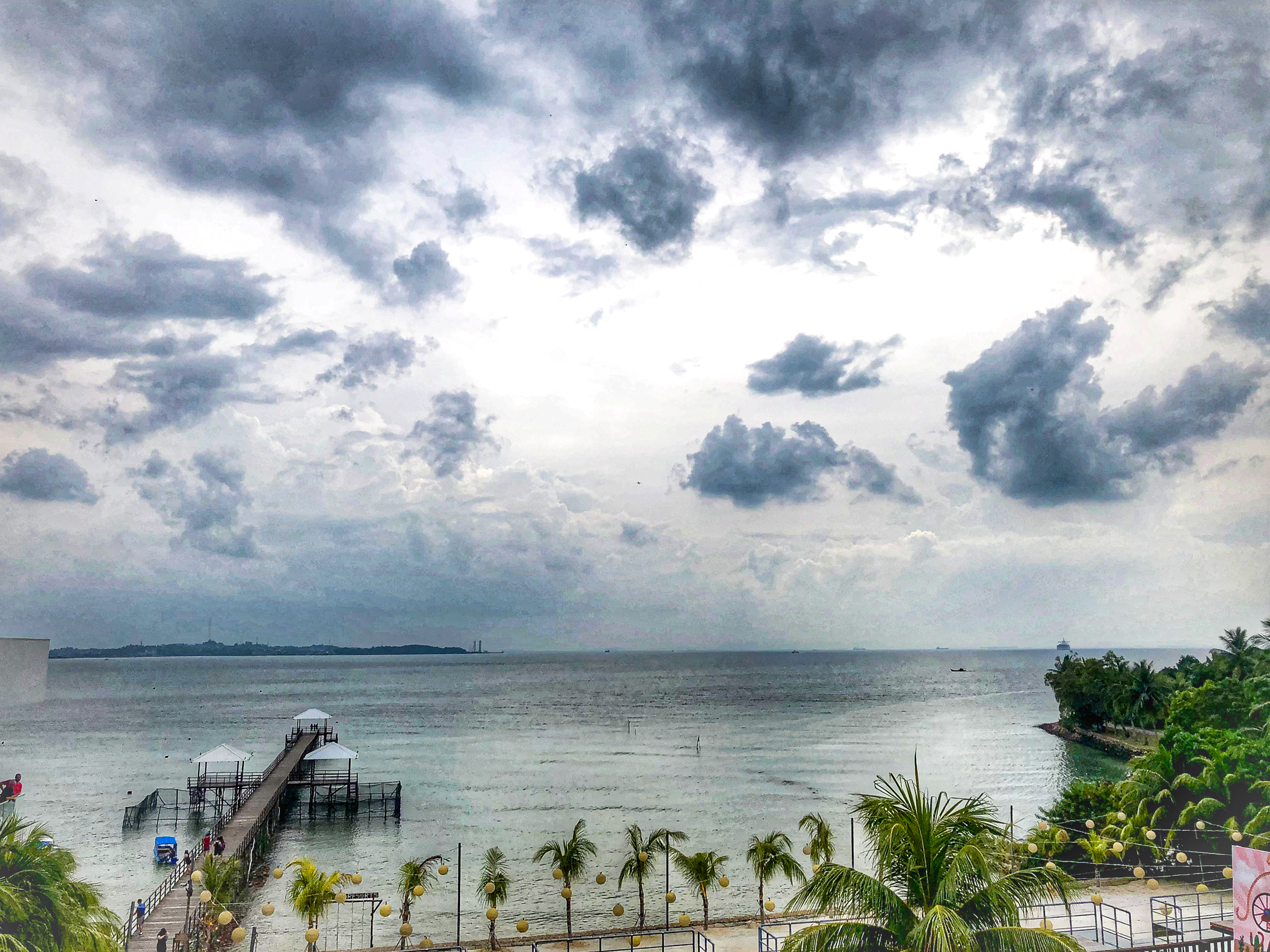 But we only managed to do airsoft as it started raining heavily and he really enjoyed it.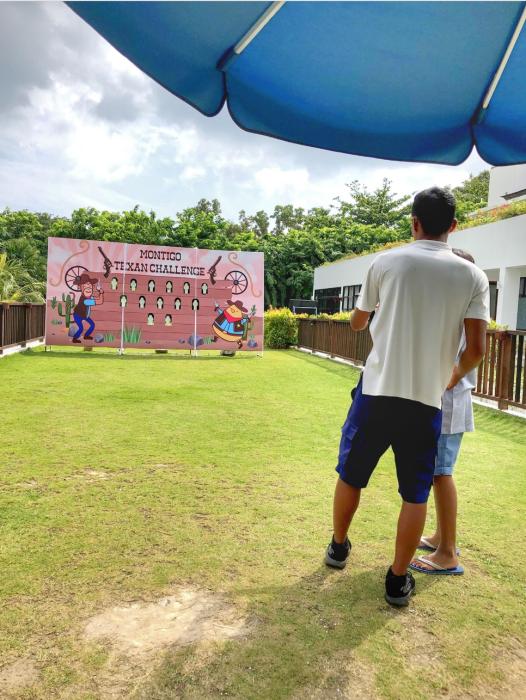 We had a wonderful stay at Montigo Resorts, Nongsa and would love to come back another time for a relaxing and quality family time.