Recently got to know this new Baby spa in the town from "Beauty Mums&babies" (wow name sounds so similar as if we are sister concern)- BB Spa. Once you will see on your own, you don't want to miss giving it a try like us. Located in Paragon mall in one of those cosy corners just perfect for babies.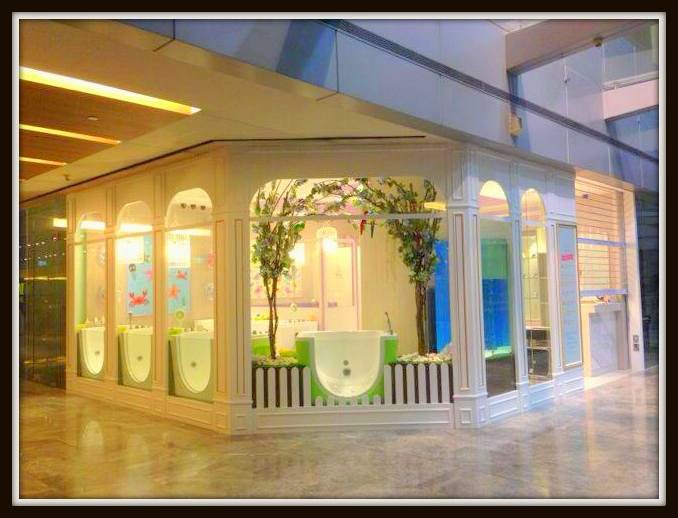 With our two lovely kids there isn't a single chance that we have not explored the kids level in the shopping mall and one thing which surely will caught our eyes are those blooming baby spa. Everytime we walk past these baby spa, I will say to my hubby." how cute these babies look floating in the tub !"Surely who don't love to get pampered and these lucky babies are getting it right away.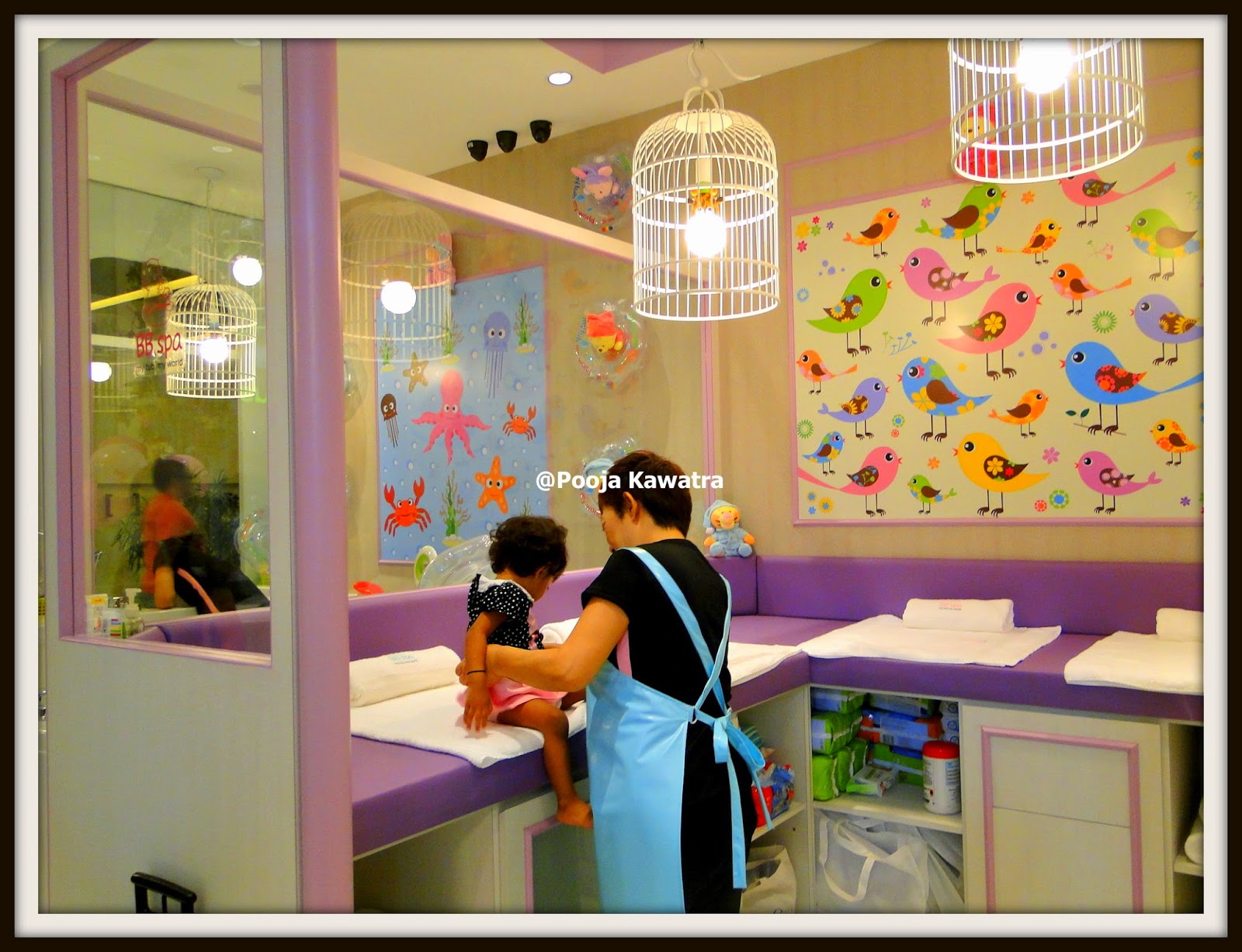 Trust me I have never tried any of the baby spas for my elder one, the reason being he got a sensitive skin and I afraid that he will have an itchy or dry skin ( I am sure all the parents have this kind of worries and no one want to see the little one scratching themselves).
She happily got herself clicked before enjoying the baby spa and to enjoy this spa you don't need to bring anything. They will change baby's diaper for floating in the water.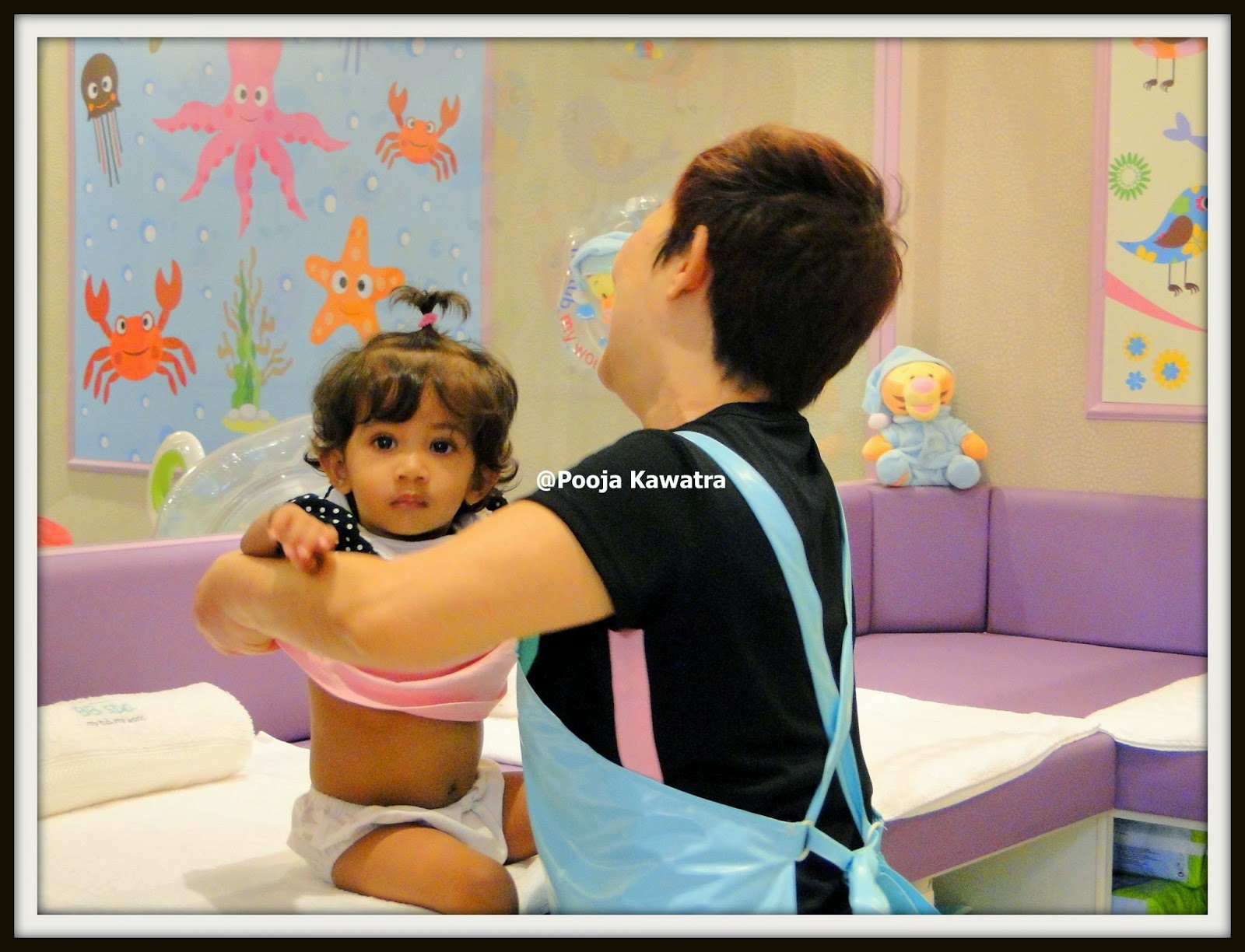 Theme inside the baby spa is so lively and colourful with little birdies, cage, soothing lights and quite a few stuff toys on the shelf.
My little birdie" Kaira" would have thought, where am I today? When the attendant carried her and made her sit on the table, she looked around the place to explore it.
One thing I really liked about them was that they did all this without pushing her as she took some time to settle down and both the attendants entertained her so she won't cry and enjoy herself.(plus point from my side).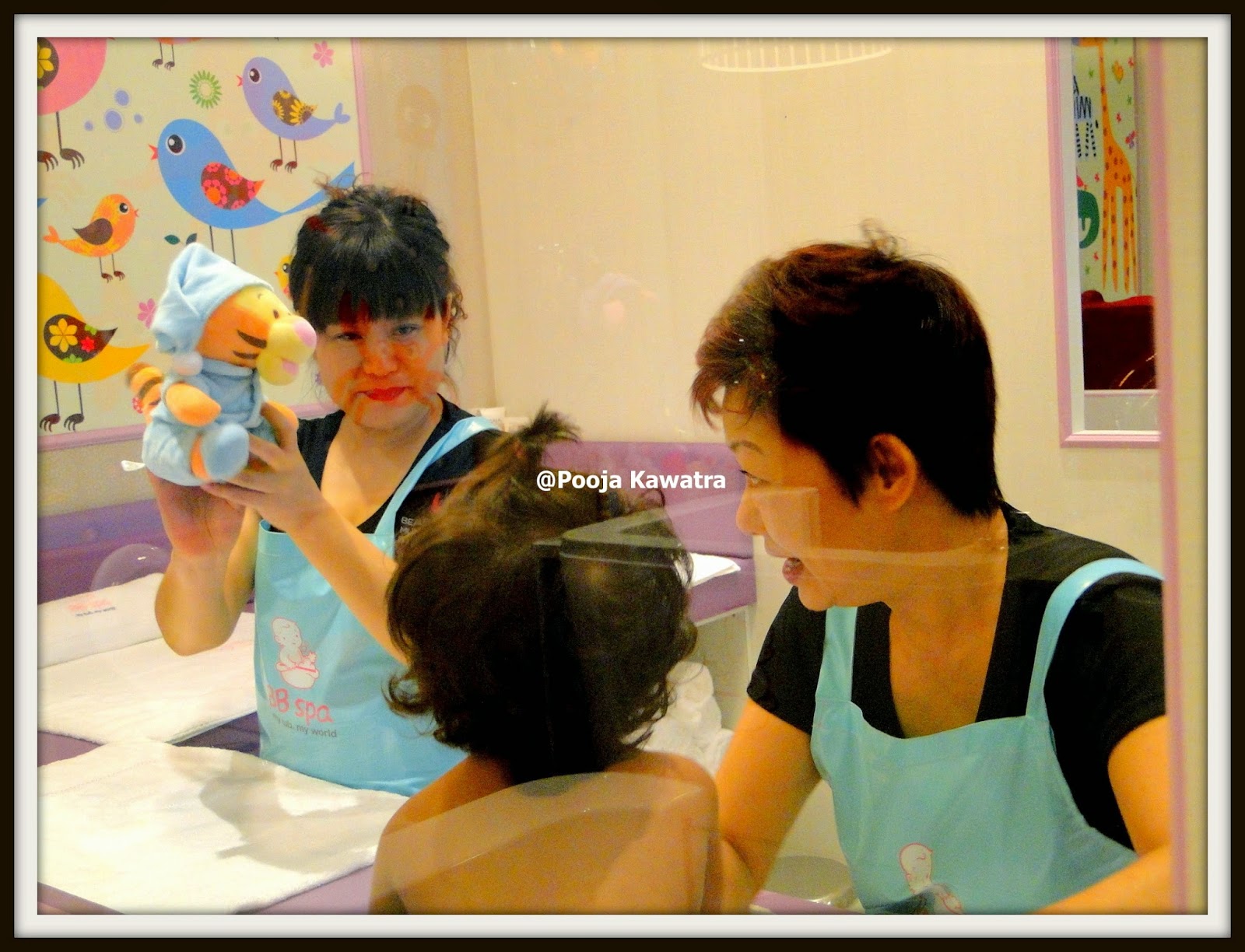 Few of the points as a parent we all want to know before heading to any of the baby spa – specially the water used in the tub, I was happy with my decision to go for it as they are the first one in the singapore to use Japanese spring water with 26 different beneficial minerals and no chlorine or harmful chemical( how much I wish that there was a wonderful spa at the time of Aayan, so that he could have enjoyed it as well).
If you are worried about dry skin, chlorine in the water at other places then this is the right one for you.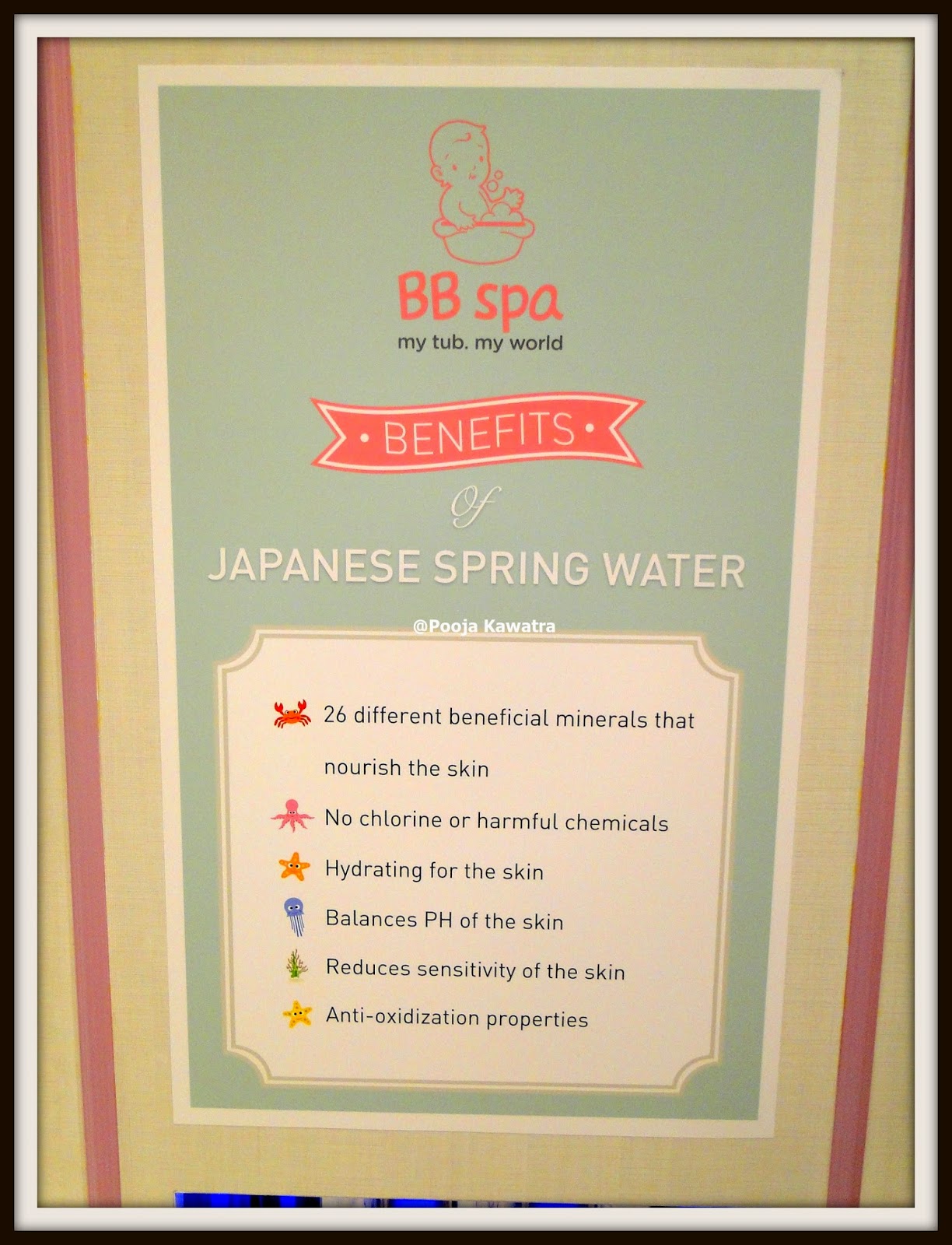 Kaira's water tub was getting ready with tepid water for her to enjoy. Here she took her spa but again as she loves to explore the places, she didn't enjoy the head support to float. Even though we tried initially for sometime but then attendant noticed that and prefer to hold her hand. Doting brother standing and keeping an eye on little sister.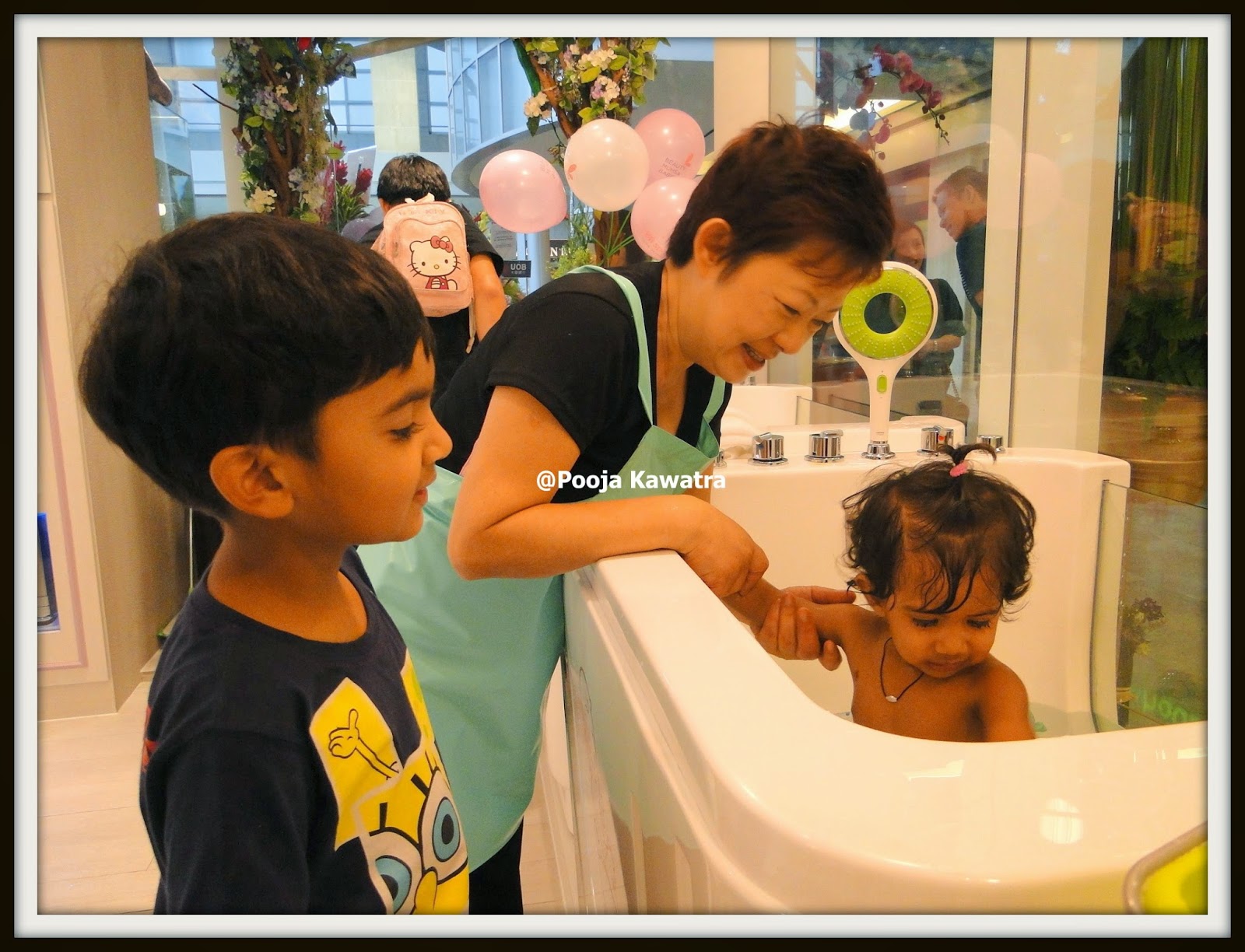 My little birdie started walking in the tub.We even reduced the water level for her to enjoy this way only and later nicely wrapped in the fresh towel took her to the table to enjoy the heavenly massage( all the products used were from GAIA).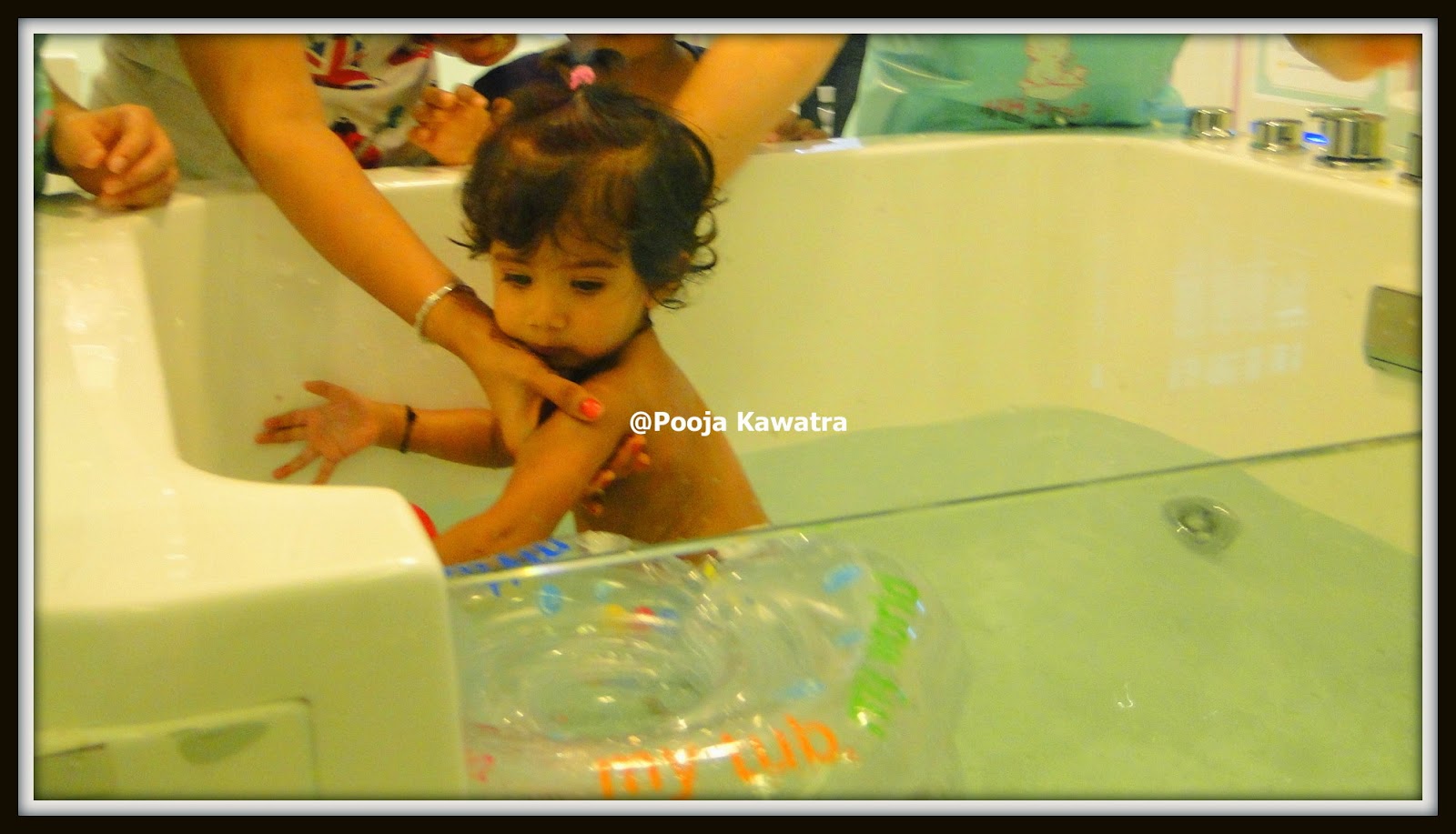 Difficult to keep her occupied while massaging her as she was jumping looking at the balloons and humming one of her favourite" Twinkle twinkle little stars" along with music in the background. Even I was singing along, all baby poems are my favourite these days.They even told me few massage steps to try at home so that baby can relax and sleep well.
She has thoroughly enjoyed her water spa and massage time, there are quite more services apart from spa, baby massage, acupressure massage, haircut and nail care.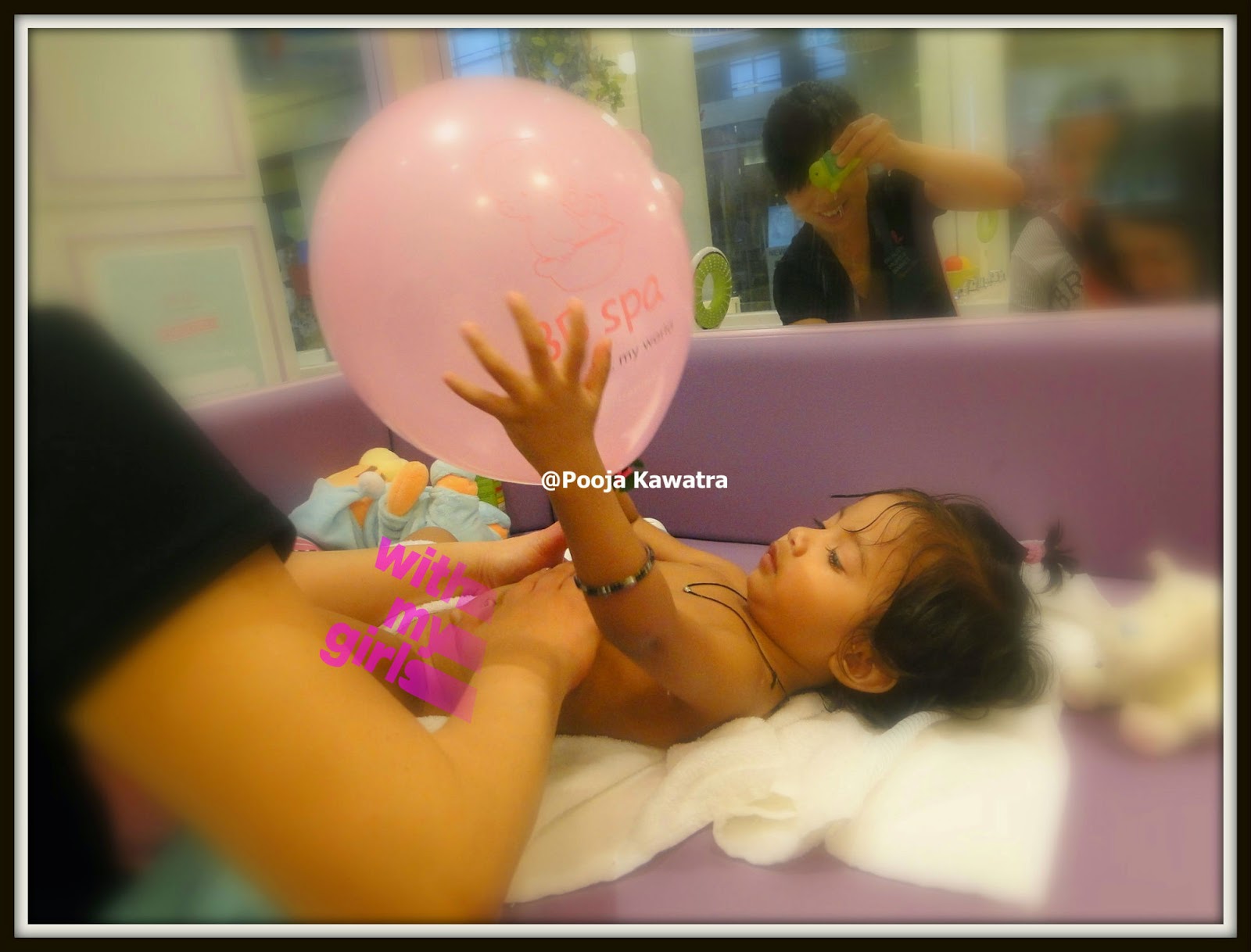 It was so reassuring to see the trusted brands by parents on the shelf, these are initial few and more will be on the display soon in coming months. Parents can enjoy the variety of product under one roof to purchase while baby is enjoying( GAIA, Wel B, Moo moo ).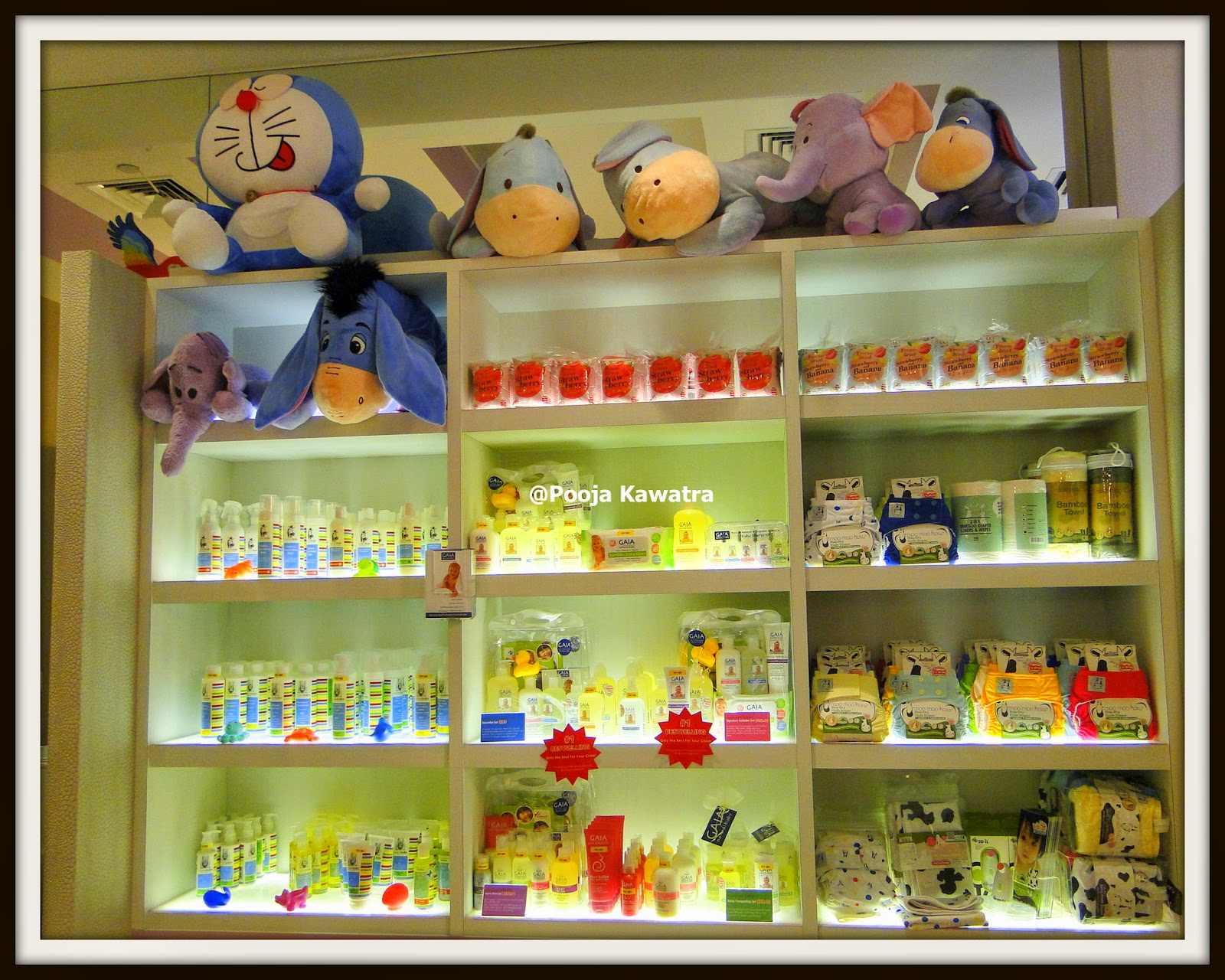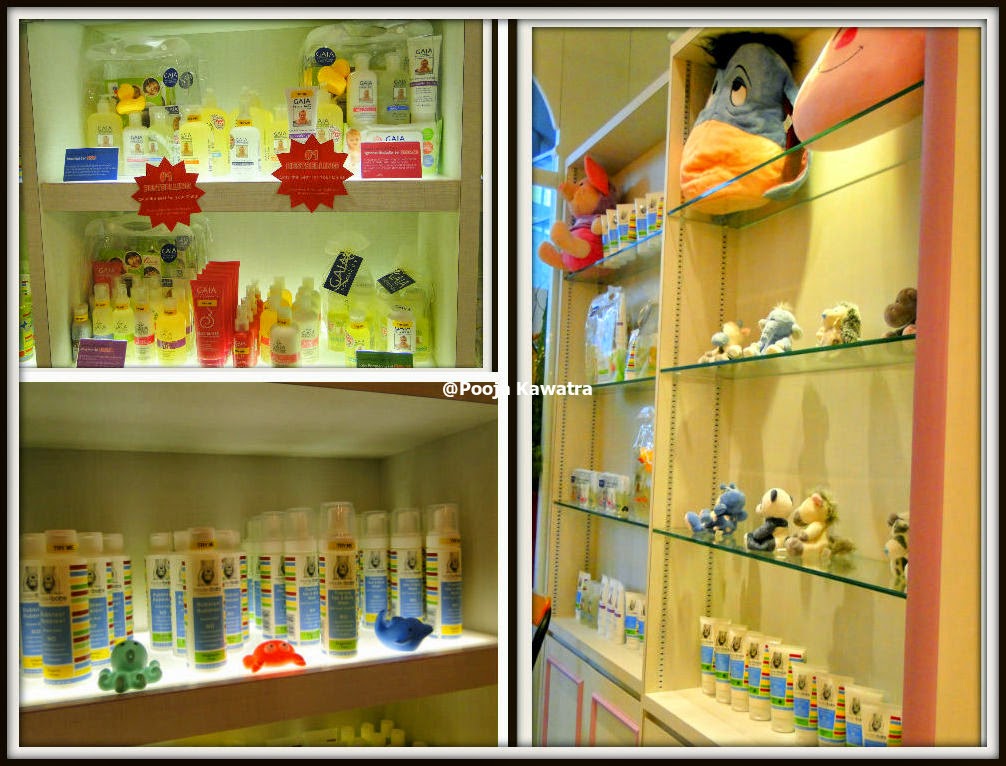 This is a beautiful gesture from their side to make a collage of babies visiting and putting them on this lovely board( I personally loved it).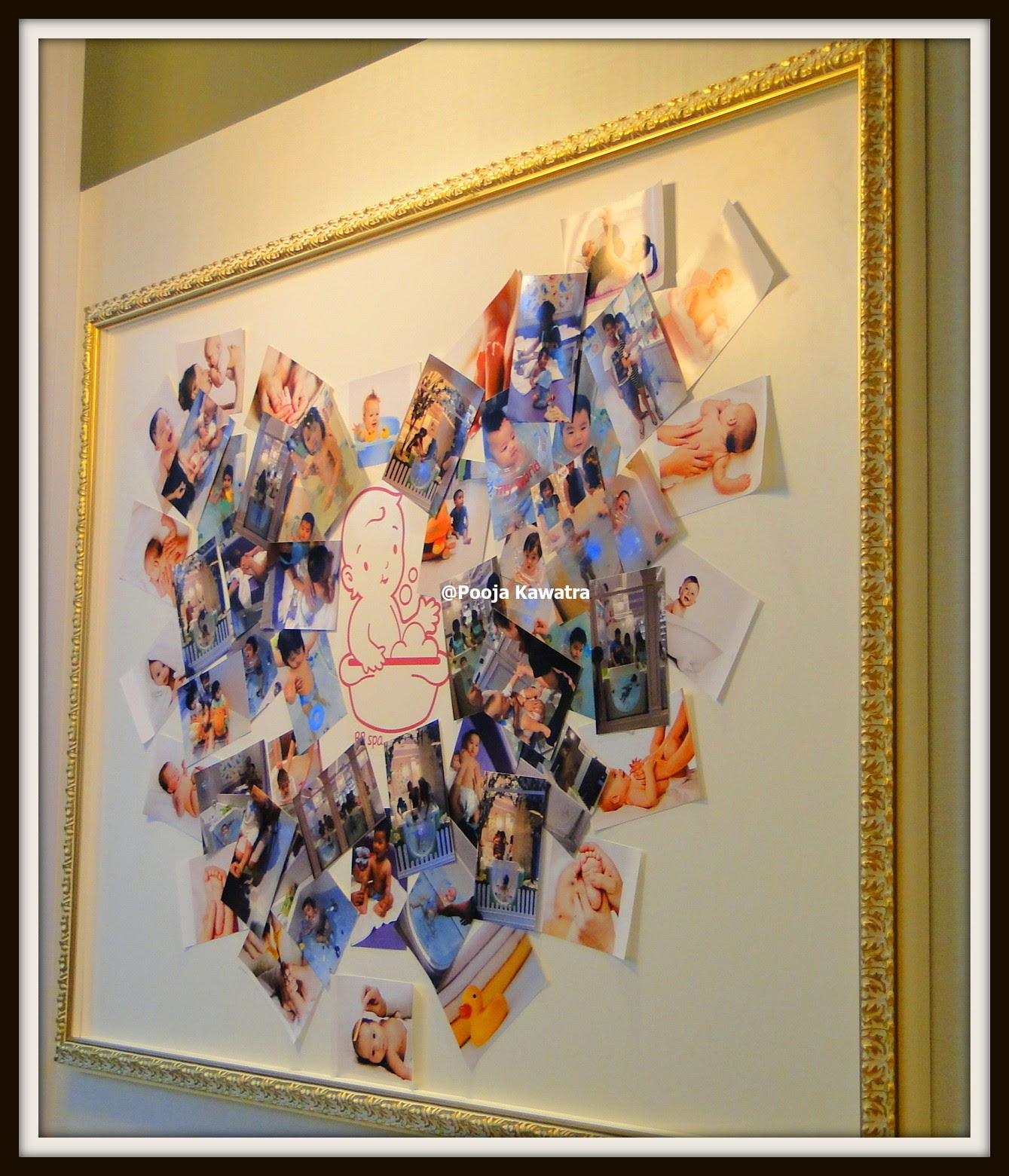 Before Kaira doze off to sleep as she was yawning, we had a wonderful experience at BB Spa and our entire family made a visit. A quick happy family click to enjoy this lovely moment here.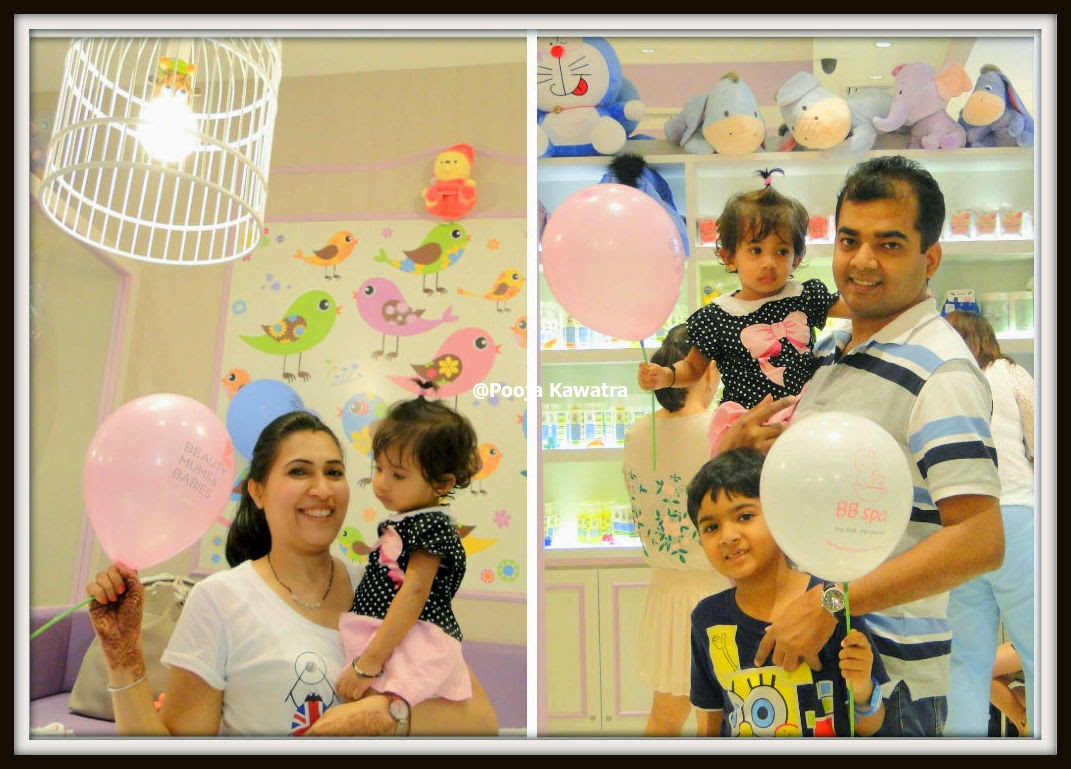 Thanks to my dear friend Carolynne for inviting us to this soothing BB Spa !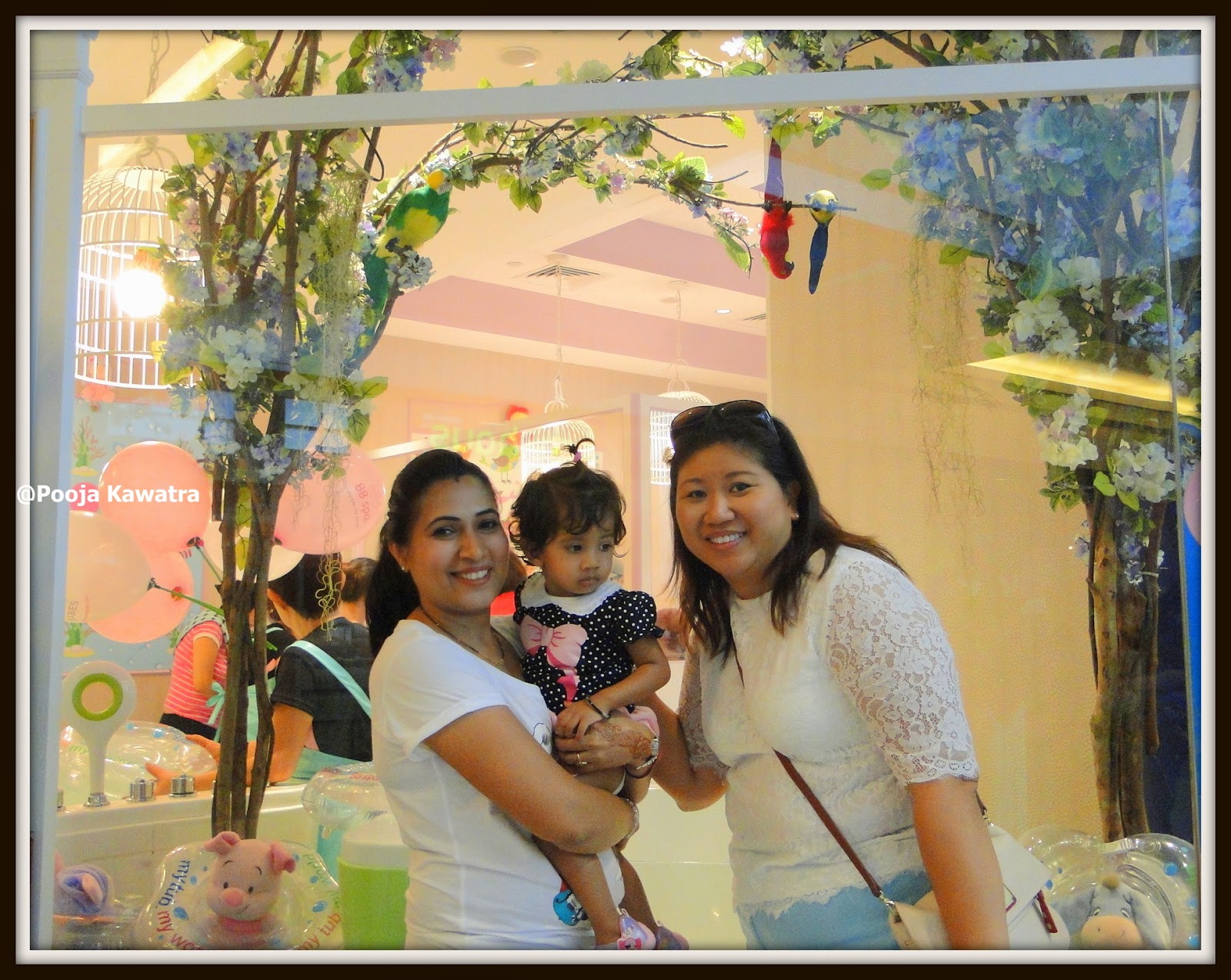 Don't miss this wonderful place and make an appointment with them!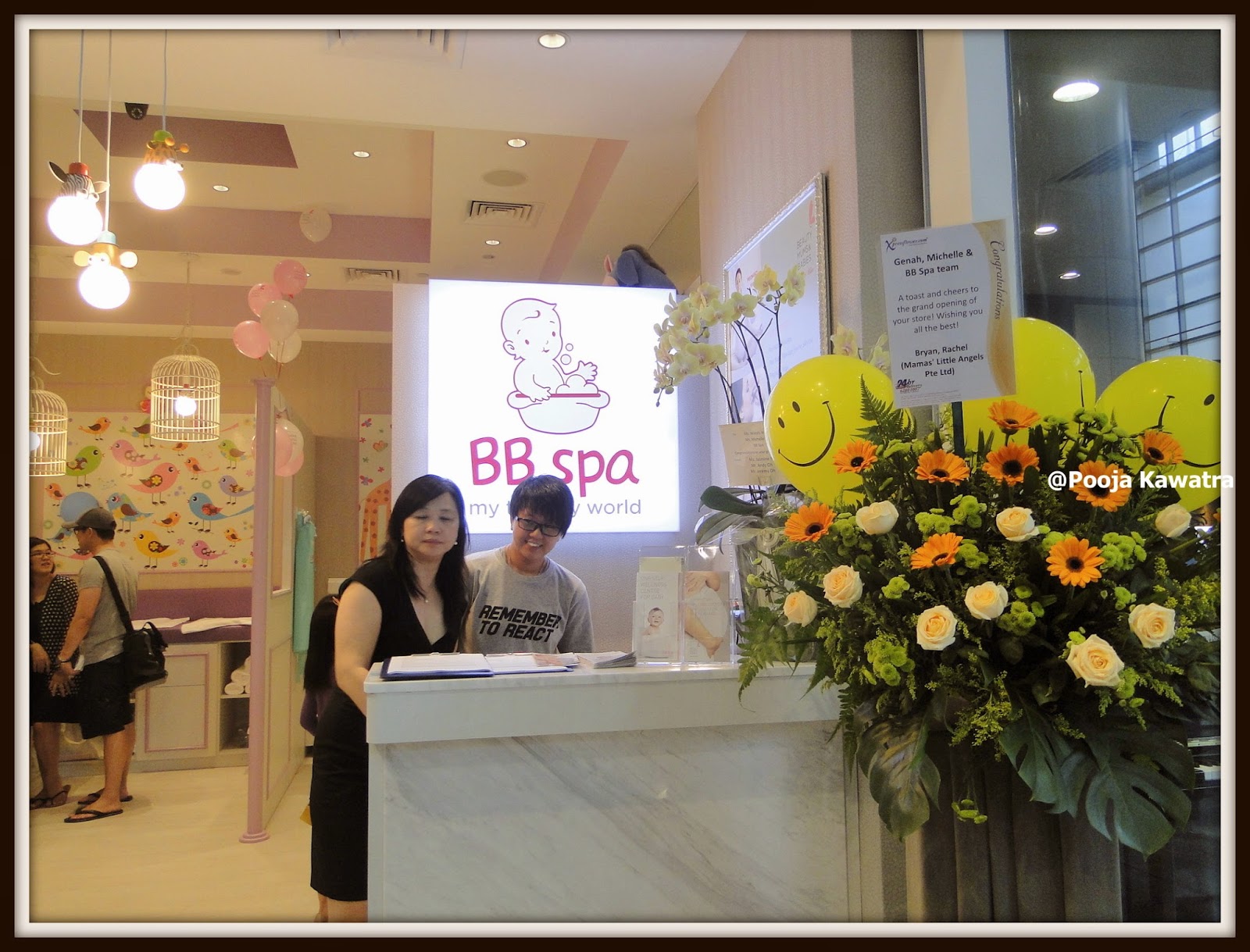 Location: Paragon Mall Level #05-02, Orchard Road
Nearest MRT: Orchard MRT
Timing : 10am- 8 pm
Website: http://bbspaforbabies.com/index.html
Facebook Page: Beauty Mums&babies