When you are a parent with young kids, you need to have good time management skills to manage a house. You can decide to leave some things aside, but something like chores and laundry can't wait. I was invited to the LG TWINWash #TakeALoadOff event launch in Singapore recently and was impressed with how a machine can help to take an extra load off our shoulders.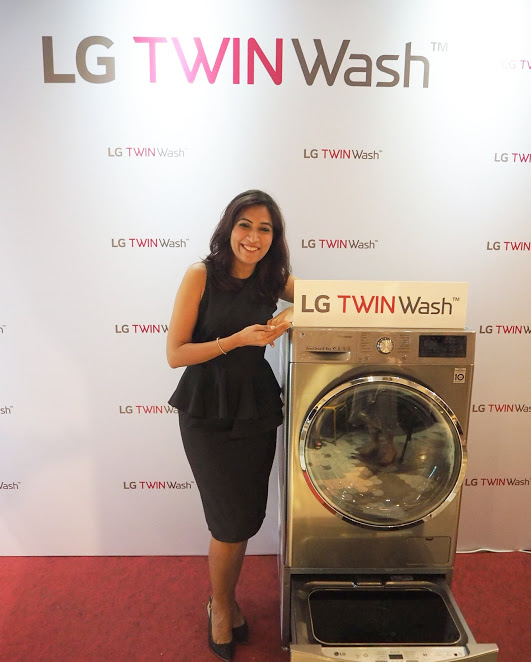 Happy Mumma means happy family too!! How many of you don't like doing laundry?
First of all, I really don't like doing laundry because of the long process of waiting between each wash cycle. Weekends are usually my laundry days, and I sometimes do up to 3 loads. Having to wait for each cycle to finish before I can put in my next load is really annoying. I have always wished there would be a quicker process that would also allow me to spend more time with my kids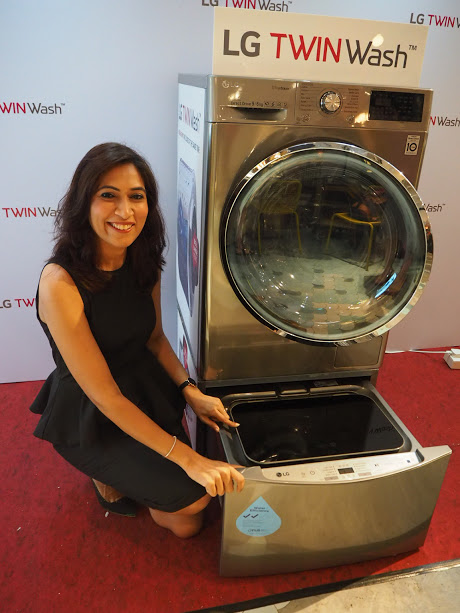 Now with the LG TWINWash, you can wash #TwoLoadsAtOnce!
LG TWINWash, as the name suggests, is two washing machines in one! The dual front load washer comes with a main washer and a mini washer which operates as another washing machine for delicates and small loads. The good part is that now you can easily separate your colours, delicates or even baby clothes and wash them at the same time.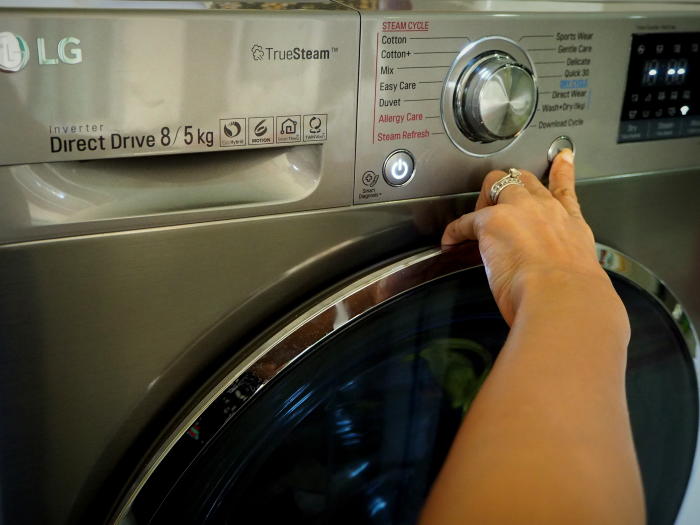 The stainless steel washing machine comes with a dial and full touch control panel. You can even set your own preferred cycle in the option "Download cycle" for your denims or dryer function. There is also an 'Add item' function and 'child lock' which is so essential for families with young kids.
Here's 8 reasons why I can no longer imagine my life without LG TWINwash: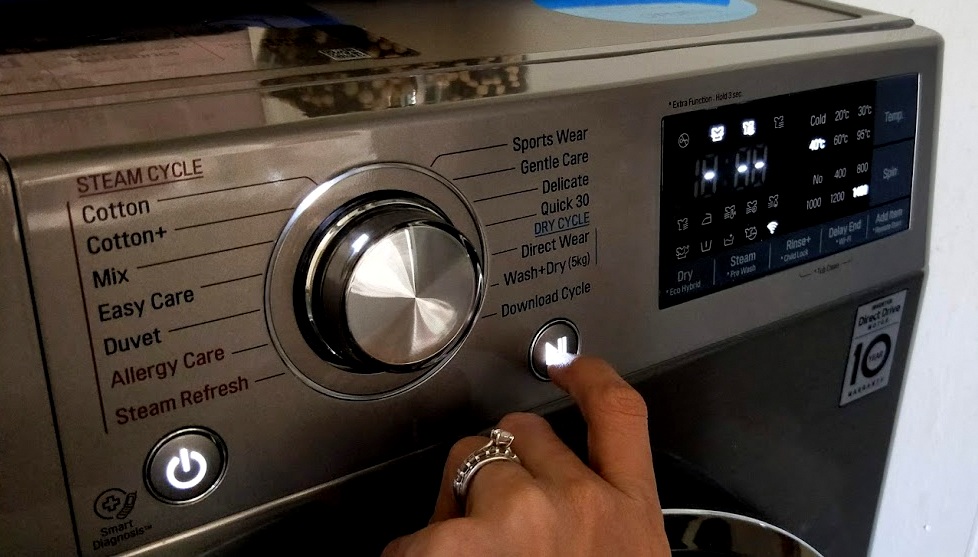 1. Saves time: The washing machine has settings that allow for two loads to be done in under an hour which really helps to save time for busy families. You can better utilize that time doing other household chores or spend quality time with your family. Since I manage without a helper, involving kids from a young age is a great way to start teaching them to be independent. My little girl has so far enjoyed the experience of putting in the laundry, especially in the mini washer.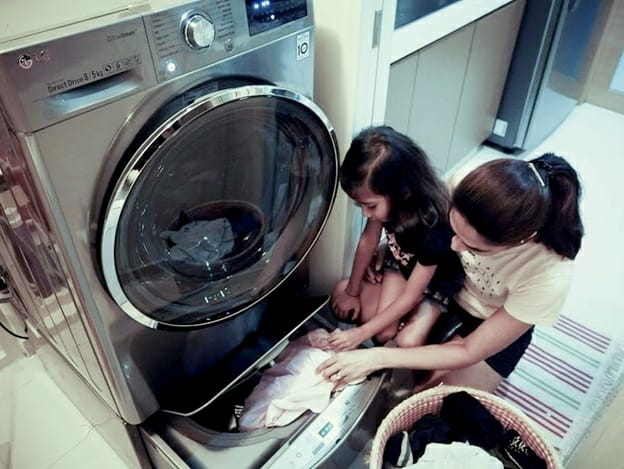 2. Separate wash: You can use both the washers individually as well when you don't need to run a full load cycle. We know some clothes can't wait as we need to use them every day. This includes gym wear, baby clothes, delicates and even lightly soiled clothes which you might need again the next day – the mini washer works well for this purpose.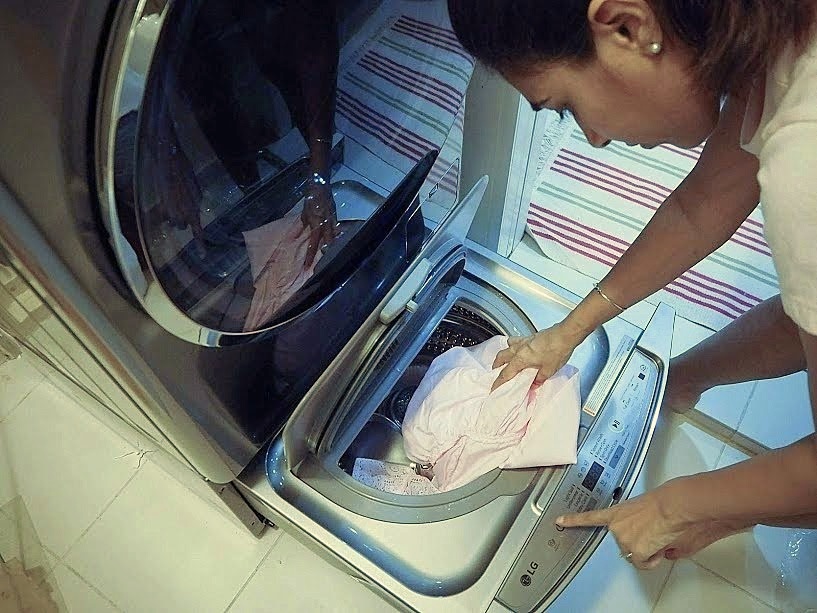 3. Add items to your existing cycle: This is one of the brilliant features which I did not have in my previous front load washing machine. Once a wash cycle begins, I can't throw in additional clothing I missed out on earlier which means I would either have to hand wash or wait for my next cycle. Now with LG TWINWash, it provides the convenience of pausing to throw in the extra pieces missed, as many times as needed.
4. Effective cleaning: The main washer comes with TrueSteamTM technology which activates Allergy Care and Steam Refresh, helping to eliminate 99.9% of allergens, wrinkles and odours. It works well for my family since I am quite prone to dust allergies. In addition, the in-built 6 Motion Direct Drive technology mimics a hand-washing motion, giving fabrics the proper gentle care needed using a unique combination of six motions without compromising on the cleanliness of your clothes after a wash.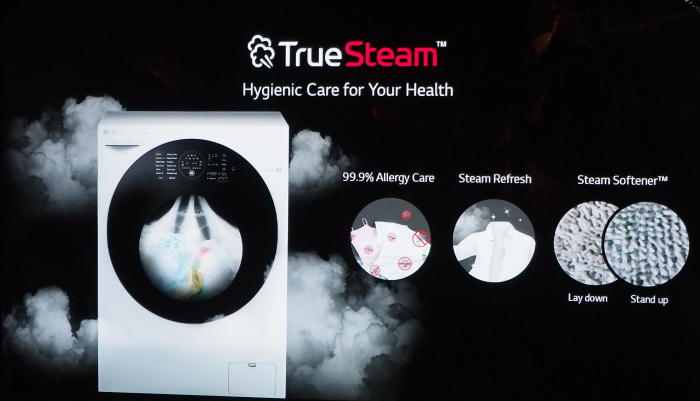 5. Save space: LG 2 in 1 washer- dryers makes it ideal for small space of new apartments where utility area is not very spacious but it gives you the convenience of both washer as well as dryer. So again it is doing two loads at one time. You have an option to choose wash+dry together or you can choose later on as well.
6. Save water with EcoHybrid technology: I recently learnt that front load washers use less water than the traditional top loaders, which have to fill up entirely for the wash and rinse cycle. LGTWINwash comes with EcoHybrid technology which again helps to save more water or even shortens the drying cycle.
7. Dryer function: Using a dryer is a personal choice but with Singapore's weather where you never know when it starts raining and your laundry is not dry to wear or iron you can use the dryer function from 30 minutes to 120 minutes according to your preference.
8. SmartThinQ ™: Another wonderful feature for a smarter home is WIFI which lets you operate or monitor your laundry from anywhere, anytime. It will display the time remaining as well can track energy consumption.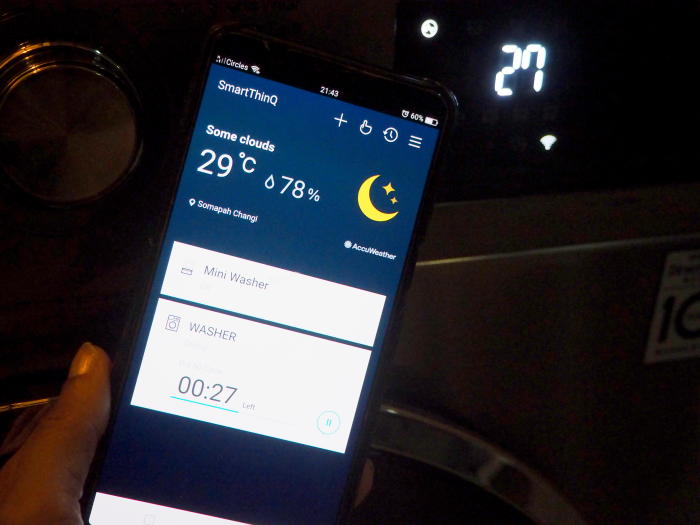 LG TWINWash has done wonders for my family. As a mom with young kids, I need all the help I can get and features as such have been such a lifesaver.
Model no: LG TWINWash 2 in 1 Washer Dryer, TWC1408H3E, 8kgs (Wash capacity) and 5kgs (Dry capacity), and Mini Washer, TC2402NTWV
Washing Program: Cotton, Cotton+, Mix, Easy Care, Duvet, Allergy Care, Steam Refresh, Gentle Care, Sports Wear, Download Cycle (Default Rinse+Spin), Direct Wear, Wash+Dry, Delicate, Quick 30
You can find more details about this product on LG Website.
Disclaimer: This product is sponsored by LG Singapore but all the opinions shared are personal.