I have been sharing the fun activities we do both indoor and outdoor with kids but often our home is behind the scene. When you have young kids and have to manage it without any help you totally have to rely on all the gadgets. We have to assign all the tasks at home and let them be hands-on with these gadgets to keep the home running.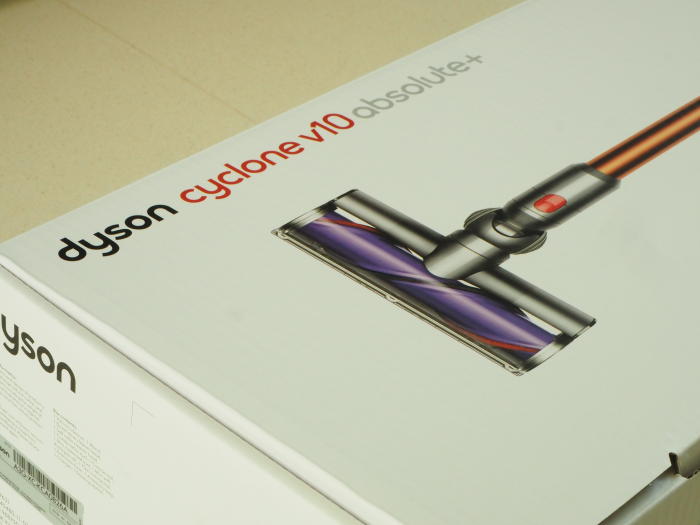 We have added new Dyson cyclone V10 Absolute+ to our gadget collection. A month back, I have attended the media launch of Dyson V10 vacuum cleaners and loved how wonderfully it works.
A lifesaver for every family!
The Dyson Cyclone V10TM cord-free vacuum is Dyson's latest powerful stick vacuum.
It is designed in a new in-line format for linear airflow path and equipped with a 'point and shoot' bin emptying mechanism for ease of use.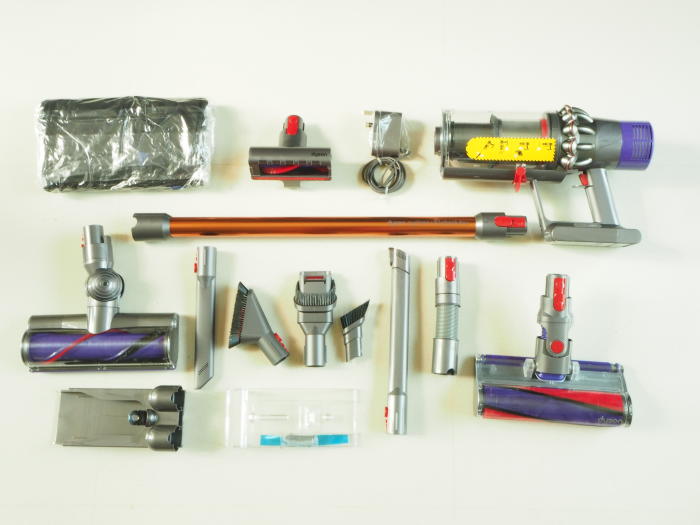 You will have a sparkling clean home in minutes and anyone can do the job (wink not mum's job anymore).  It is Dyson's fastest and most power-dense digital vacuum motor – spinning at up to125,000 rpm.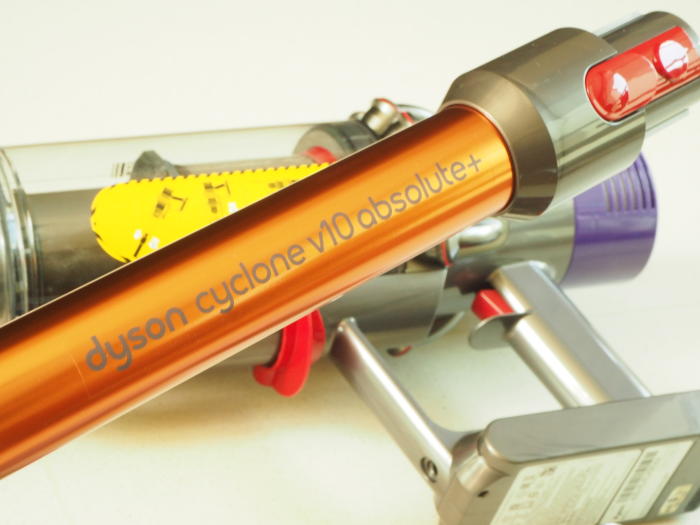 Dyson V10 in Action
My kids insisted to have one video to show how much they work at home. It is super easy to assemble that even my son could it. I have been using another vacuum cleaner which comes with a cord and quite bulky, most of the time we find it so cumbersome to take that out and moving it around the home especially the corners.
Some of the best features of Dyson Cyclone V10:
Up to 60 minutes runtime
Fully sealed filtration system trapping 99.97% particles as small as 0.3 microns
Dyson digital motor V10 is smaller and lighter and has 20%2 more suction than the previous model
Hygienic "point and shoot" bin emptying
Transforms to a handheld
Built using Dyson digital motor V10, Dyson's fastest digital motor ever and spins 2,000 times a second.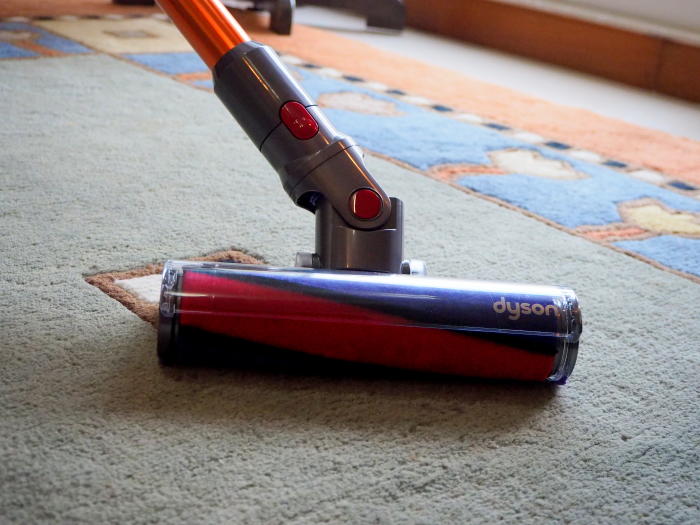 Even though we regularly clean our carpet but loved the suction and the small particles on the carpet and one of the reasons I don't like carpets because of these hidden germs.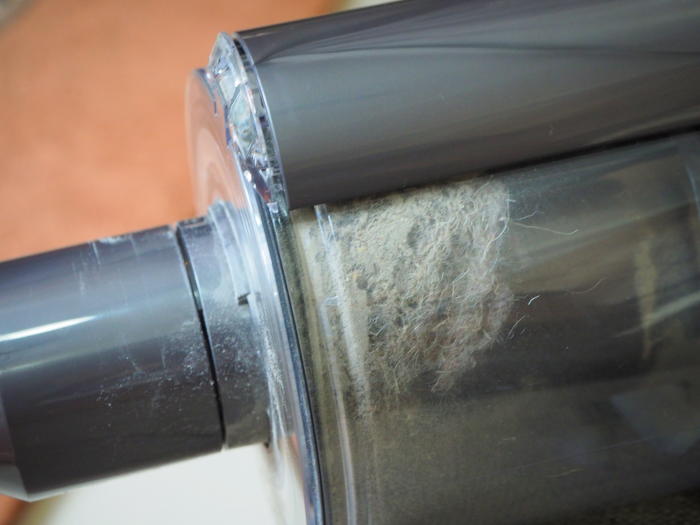 I always find it difficult to clean every layer of my wooden blinds and especially cleaning every layer but still somehow miss on one part or other.
Aayan took this attachment and did cleaning on his own, we find suction was really strong.
I thought of using for my photo frames but you need to adjust the suction to the least if you are trying for those delicate frames on the wall.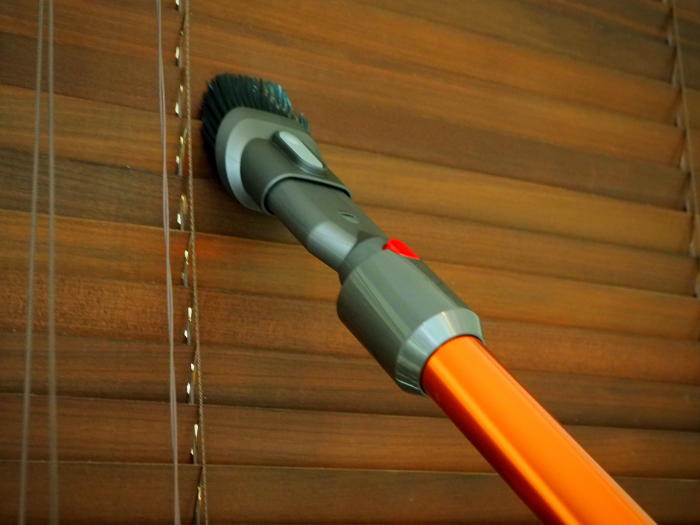 This long extension is really helpful for the places where you can't clean every day, especially under the sofa and bed.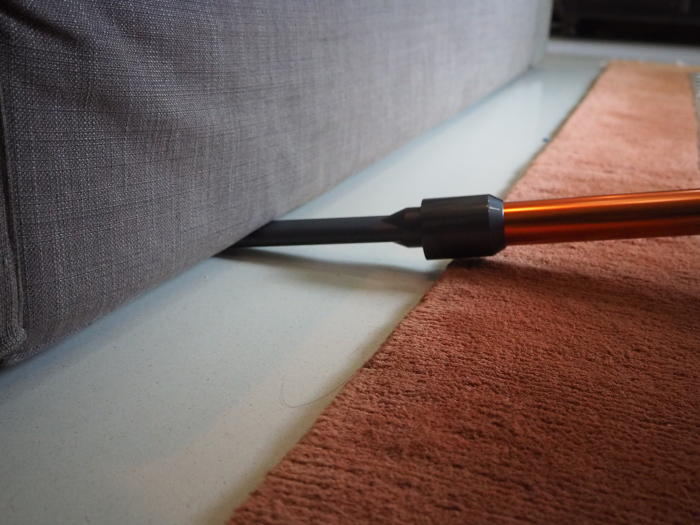 We love our bookshelf so much that it is always flooded with books and cleaning it is a big task but with this attachment, it is convenient to clean between the books. Kaira was also keen to try it out but it is a bit heavy for her hands to balance it.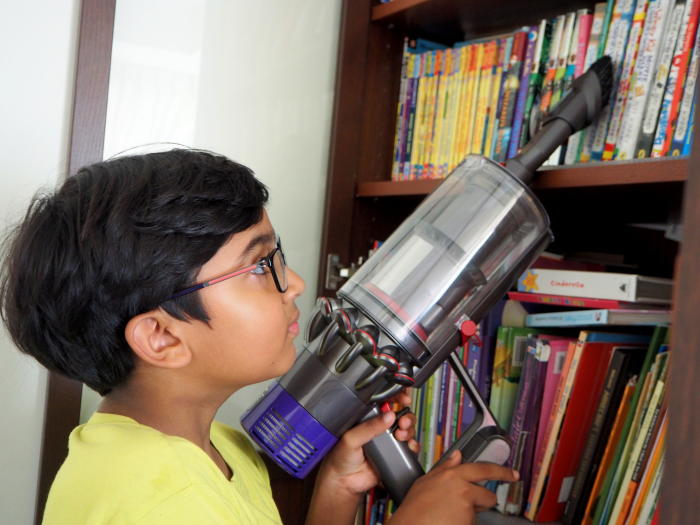 Some of the things you realise when you are the one who is managing it and one of them is cleaning these corners and not even ends which I always find hard to clean.
The only option left is to use a wet cloth to clean these corners but it is easy doing it, Dyson.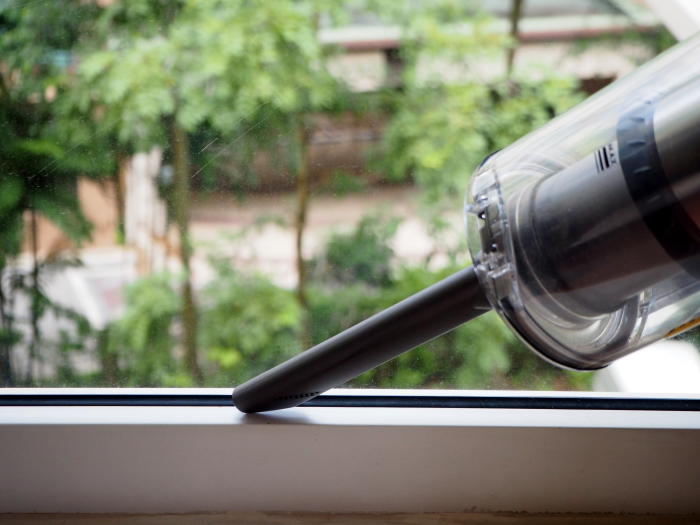 Another feature which I really like since I am very much allergic to dust so even vacuuming makes me sneeze badly. This vacuum has a pressurized rubber seal around the filter which prevents dust, allergens and bacteria from leaking back into the air. All these features make them perfect for the people with allergies.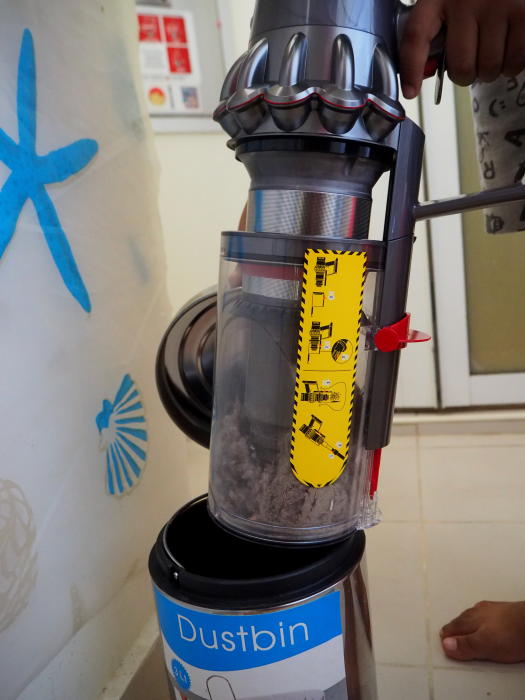 Dyson Cyclone V10 Absolute + attachments 
You will get a bag to keep all these attachments safely.
I will recommend Dyson vacuum over those bulky full-fledged vacuum cleaners which are not convenient to use on an everyday basis. It is so compact with all the features in one and without a cord too.
Happy Cleaning!