As much as we love outdoor play we include many activities to keep ourselves entertained with indoor play when I see Aayan & Kaira into their own world of pretend play. Pretend or Role play may seem like a very simple activity at home but for young children, they are learning much more than just playing. The best part of it is that they can run their imagination anywhere keeping them busy.
Well, What is a pretend play? An imaginative play where kids are into role-playing or acting out something which they really like doing. You will notice that kids not only enjoy it but it builds up their confidence as well. Kids learn from experience as what is happening around them and at the same time they practise to develop their social skills too. I feel on an everyday basis there are so many things kids observe and absorb which they use playing on their own.
Encourages Imagination
Kids create their own world which is full of excitement and fun. They can find creativity in anything be it an empty box, a gift wrapper, lego or a cushion. I have seen my kids seeing these objects from a different point of view when they make a blanket for their toys from a gift wrapper or using a cushion to make a house of their own. This is an old pic I found other day where kids were camping at home.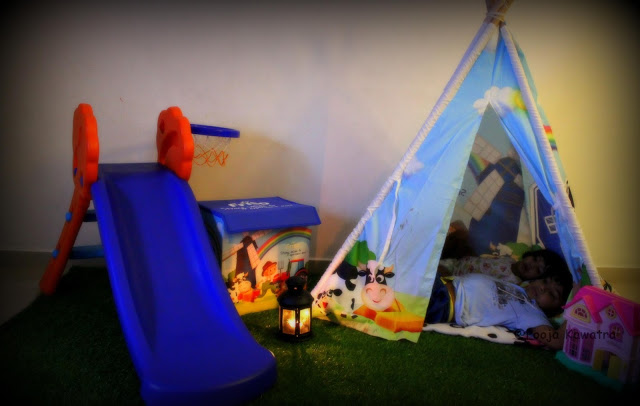 2.  Develop Language skills: One of the greatest benefits of pretend play is the language development for kids at an early age. Kids really pick up so well listening to others and then pretending on their own. These days Kaira has learnt to express her ideas and she can do a short storytelling as well. It is also helping her to develop speaking a proper sentence or putting up a question whether in her school or at home. Also, get to improve her vocabulary as she keeps on asking the words she is using while playing.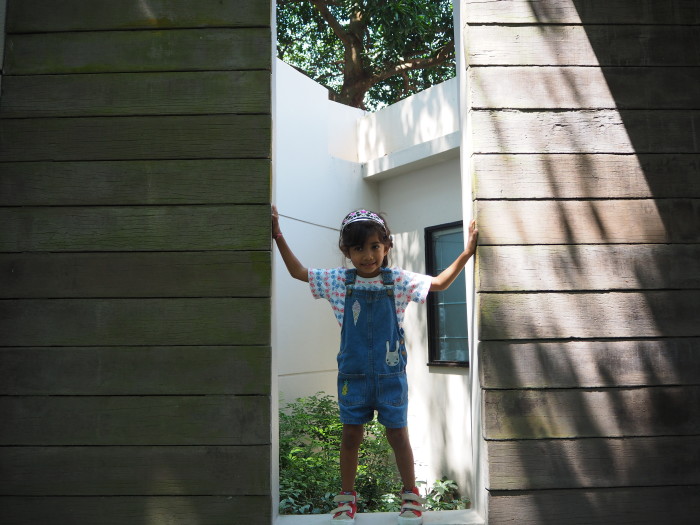 3. Improves Social Skills
When kids are really engaged in pretend play with their friends or siblings, they develop important social skills of sharing and be patient. You will notice that most of the time all of them have a favourite character and with the same age group everyone want to be that one character but when they are playing together, it is teamwork and cooperation also which they will learn. They will learn that they will not always get what they want and which is very important for them.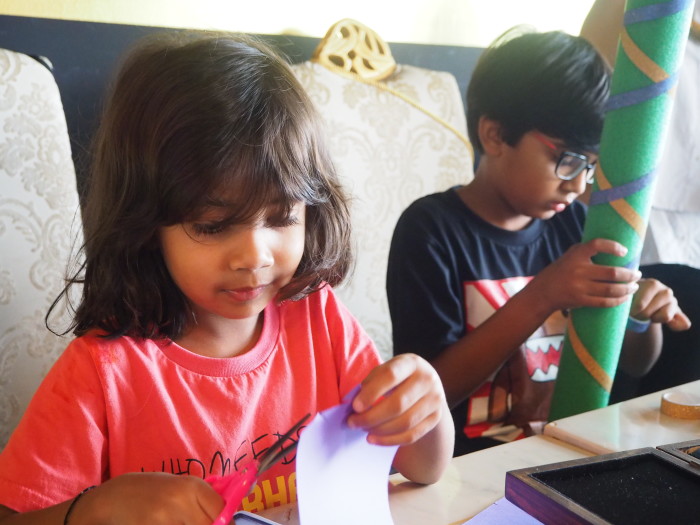 4. Problem Solving
Another skill which kids learn while pretend play is that they came across a lot of problems to solve. Sometimes while playing some of the parts are missing or they just need to figure out the right away to make it work. In that entire mess finding out the right one itself needs patience and how to solve your problem. Kids will use their thinking skills that will surely help him/her in every aspect of life.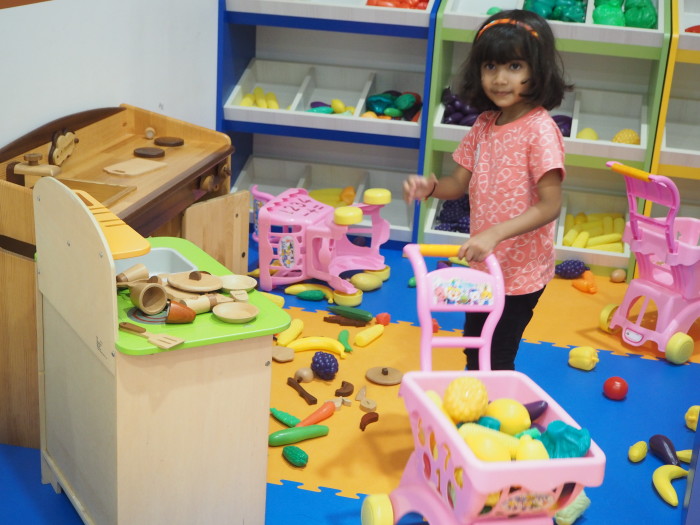 5.  Leadership skills
Pretend play does help kids to open up to share their ideas and view as they have already learnt that art of storytelling.You will notice that when they are into any particular role of their choice it suddenly boost their morale and you will see a different kid altogether. My kids enjoy baking with me most of the time and they want to take the front seat when it comes to baking their favourite cake, pizza or chicken. This way not only kids are enhancing their leadership skills to take a lead and learn from their shortcomings but also encourages cooperation and understanding of the entire step.  I love to see their confidence when they serve this on the dinner table.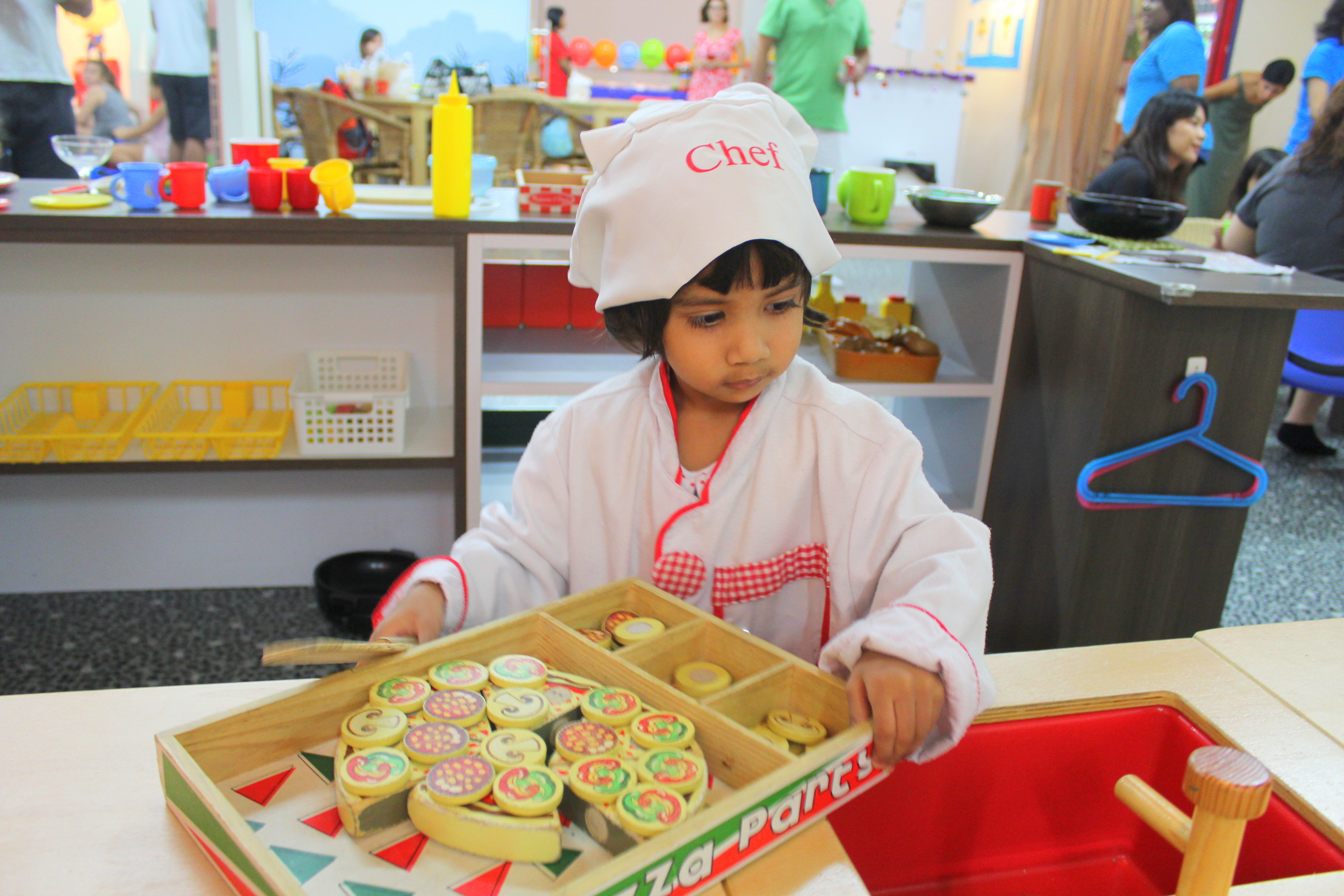 A play is an essential part of kids growing years and not just the entertainment but a lot to learn from it everyday. Next time even when you are busy just pretend to call them for a home delivery or prepare a tea or food for you.
"Kids learn from experiences whether big or small, good or bad. That's why Friso provides the right nutrition for your child to be strong inside to take on challenges."
Read more about Learning and Experiences here. For more information on Friso, check our their Facebook page or Instagram.
#frisostronginside #frisosg #frisoexperience
You may like:
Happy Pretending!