In August this year, POSB has officially launched the POSB Smart Buddy programme in 19 primary schools. It is basically using a watch to teach students about how to save and spend wisely by helping them track their savings and spending habits digitally. Love the way Government keep on taking new initiatives to make things easier for parents.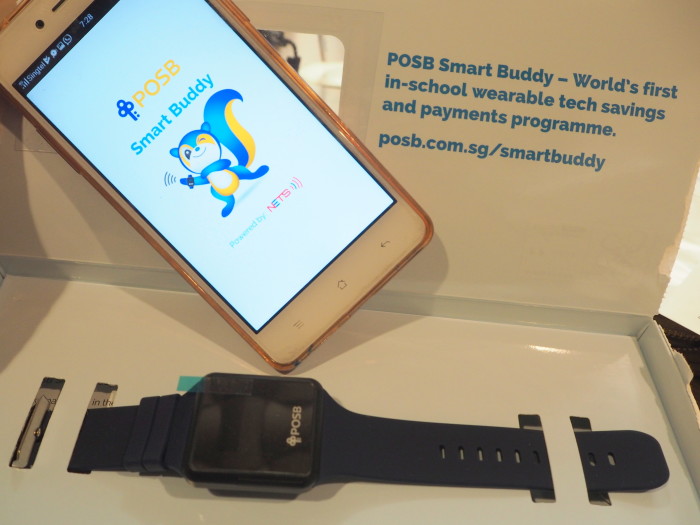 We have received our POSB smart buddy at the recent media invite to understand and learn how it works. The watch helps children take an early step towards digital payments and also monitors their activity levels. At first, I was a bit skeptical about this watch since it is connected to my savings account so what if my kid will lose this watch.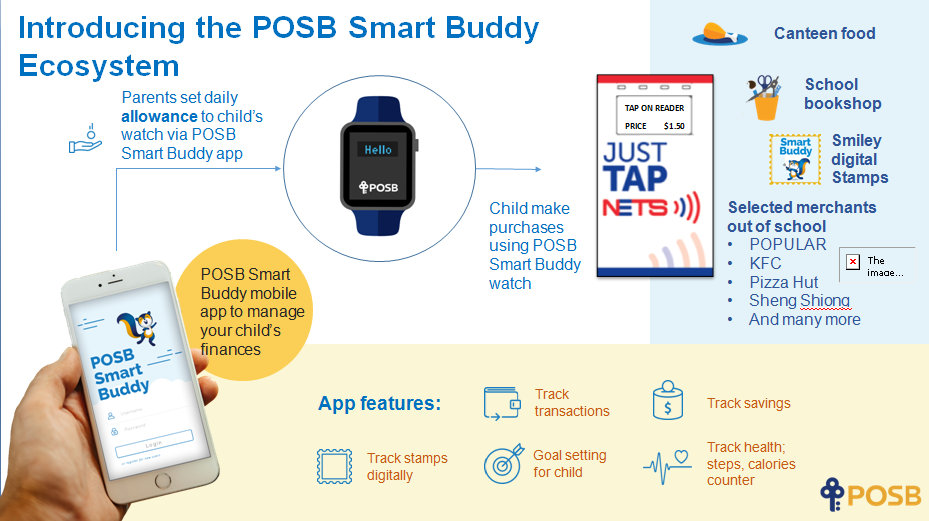 Basically, it is a cash free environment for kids within the school where the school's canteens and bookstores are set up with digital payment terminals. Students can simply tap and pay with their POSB Smart Buddy watches. Kiosks are also set up on school grounds, allowing students to scan their watches so they can instantly check on their remaining allowance for the day.
Some of the prominent app features:
Parents can set a daily allowance upto SGD$ 1oo
Track your kid's transactions and able to know what is your kid eating or buying
Track health steps, calories counter
Use this watch at school canteen or bookshop and can also be used at Popular Bookstores, KFC, Pizza Hut, Sheng Shiong and more.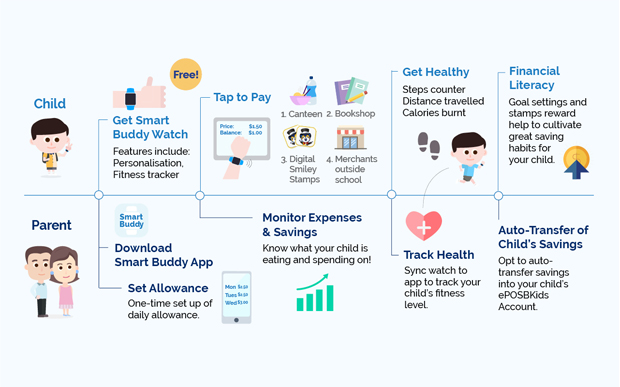 As a part of POSB National Schools Savings Campaign, the POSB Smart Buddy programme is designed for the new tech-savvy generation and some of the benefits:
Helping Kids how to save and manage expenses: All the transactions are tracked on the POSB Smart Buddy app ( with a three-month transaction history provided) so both parents and kids can monitor savings and spending patterns over time.
Savings goal: Kids can create their own savings goals on the app, with completed goals recorded as badges. They can also buy digital Smiley Stamps at 50 cents each at their school bookstore to complete their digital stamp savings card. Once the card is complete, the savings will be automatically transferred to their POSBkids savings account.
Convenient for Parents:  Parents can link their savings account with the POSB Smart Buddy app and effectively manage their child's spending by setting a daily allowance limit. They can also view their child's purchases in real-time, and increase the daily allowance limit remotely for emergency spending money. Accumulated savings can be automatically transferred into their child's POSBkids account. If the child loses their watch, parents can remotely disable the devices in an instant.
Fitness and Health Tracking:  The POSB Smart Buddy watch also doubles as a fitness tracker and can track students' daily steps.
Financial Assistance Scheme (FAS) Support:  Working with schools, the programme automatically credits students on FAS with their subsidies and allowances – replacing the usual coupons or vouchers. Support is therefore provided discreetly to needy students.
Location Tracker and Biometric Feature (Upcoming feature) : The programme may soon feature an in-school locator, which allows parents to track their child's location within the school compound (canteen, library, classroom, etc.), and a school bus locator where parents can track the real-time location of the bus and be notified when their child boards or alights from the school bus.
For parents, you need to have a new/existing POSB Savings or DBS Savings/Current Account, which will be tagged to your child's watch. You're also encouraged to register your child's ePOSBkidsaccount for the auto-transfer of monthly savings. You will receive a pack in which there will a watch and this chip.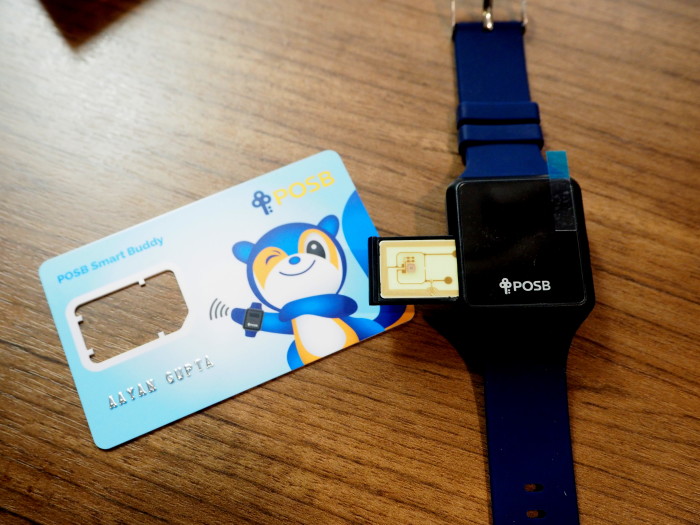 This is how your kid's account will look on your phone where you can track their savings, spending etc.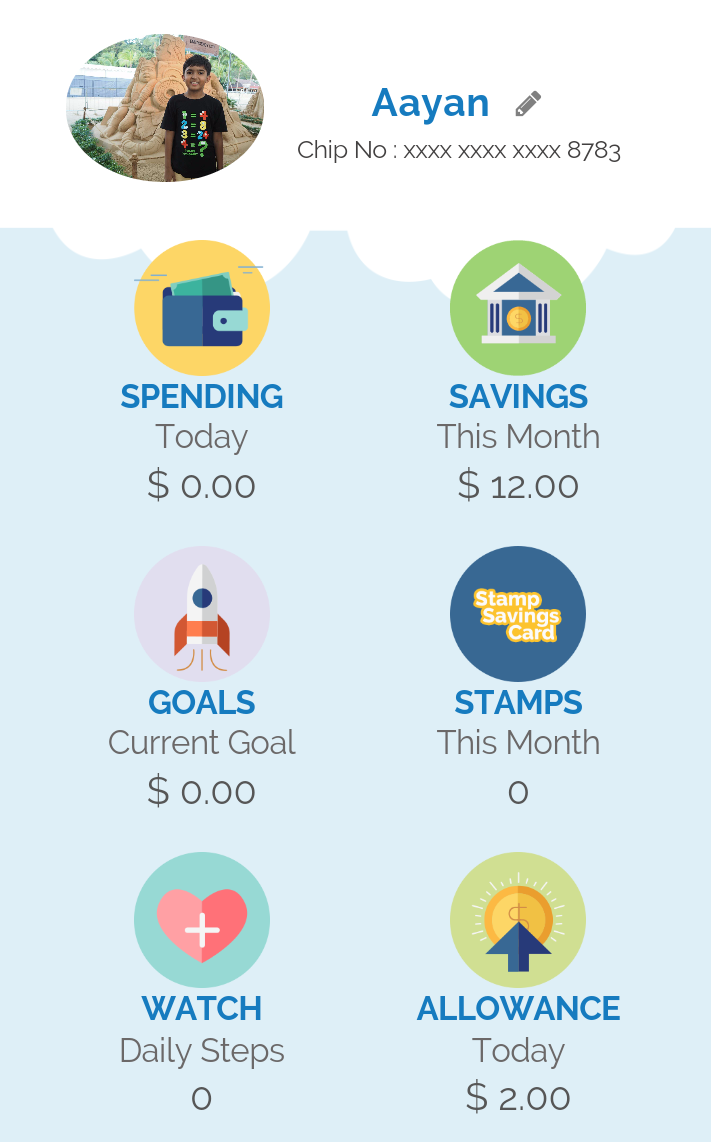 This is how it will be installed at the canteen or bookshop where your kid will choose and pay.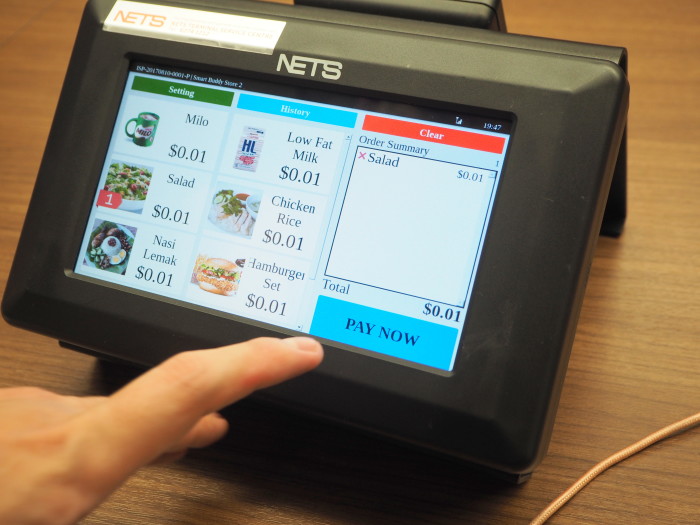 Just Tap with POSB Smart buddy watch to pay the amount and it will reflect on your transaction.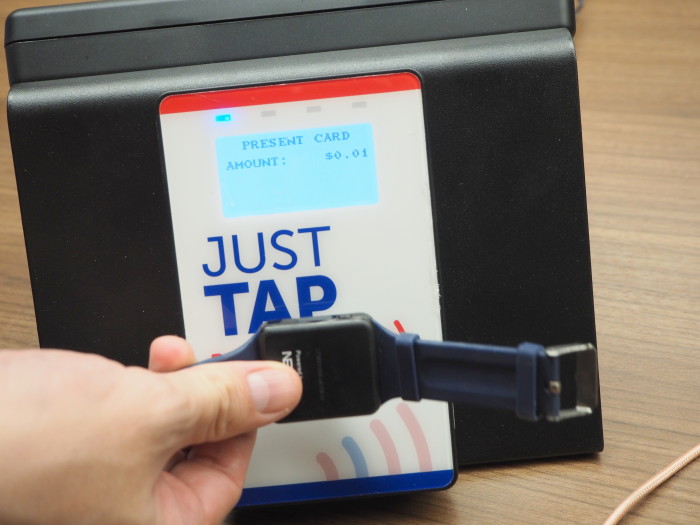 Smart Buddy is only available for Primary school. If successful, there are even plans to bring it to secondary school and never know they can extend for parents too.
I think like me this one would have come to your mind too that such usage would erode the child's ability to use physical cash. We do think this concern can be addressed by allowing the child to use cash in other occasions or even delay the introduction of Smart Buddy till the child is Primary 3. Nonetheless, with Singapore moving towards a cashless nation, this is a baby step in the right direction. If this concept takes off, it could help the young ones embrace the concept and prepare them for the next leap in a smart nation.
Schools or parents who wish to find out more about the POSB Smart Buddy programme can visit www.posb.com.sg/smartbuddy  or email
[email protected].