Mom's life is really very interesting and experiencing every stage of her kids is so amazing. A couple of months back, Aayan's school introduced a few new activities to learn and cooking was one of them! It was so memorable when I saw my big boy entered the kitchen for the first time… it took me back down memory lane when I had just started feeding my little baby. Cooking is one of the most important life skills which every child should learn. I want both my kids to learn irrespective of their gender.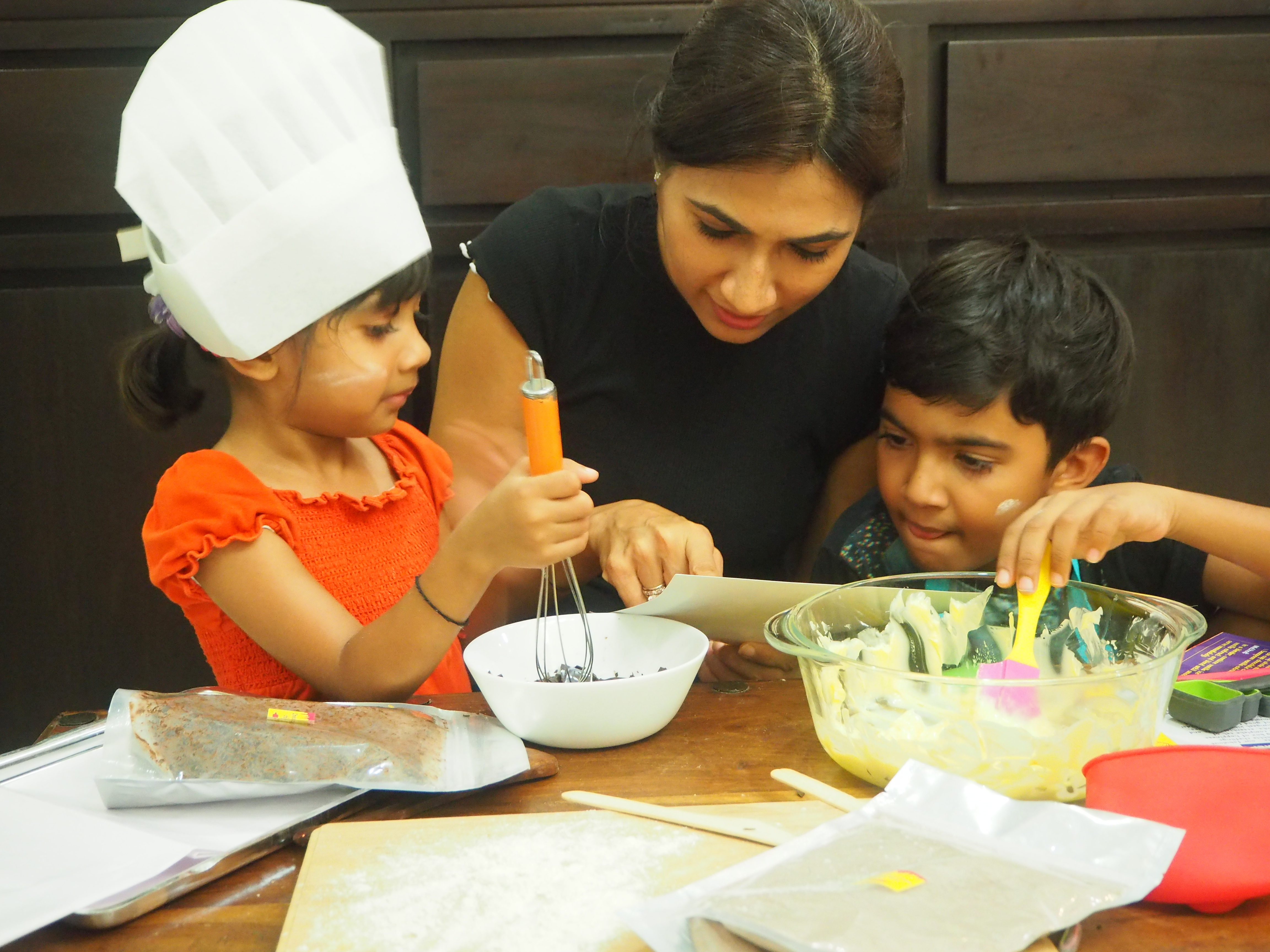 I am one of those moms who love to do everything homemade with love, it is time-consuming but you know what exactly is going into your food and if you can teach this important skill to your kids with the right knowledge of nutrition, food preparation, and appropriate eating habits, it will be so valuable.
We started baking for fun when they turned 2 years old. It could be something as simple as cracking an egg, mixing the flour or adding extra chocolates to the batter and unmolding. This really boosted their confidence and made them feel like they have achieved something!
Want to get your kids to join you in the kitchen as well?
Simple tips for Cooking with kids:
Choosing a recipe:When you are involving your kids in cooking, you can start with a simple yet interesting recipe for them to enjoy. It will help them learn about food preparation and in a way, you're also inculcating patience in your kids at the same time. Let them decide on a recipe and make them find the ingredients required for it. The best part of this tip? They get to eat the food they've cooked!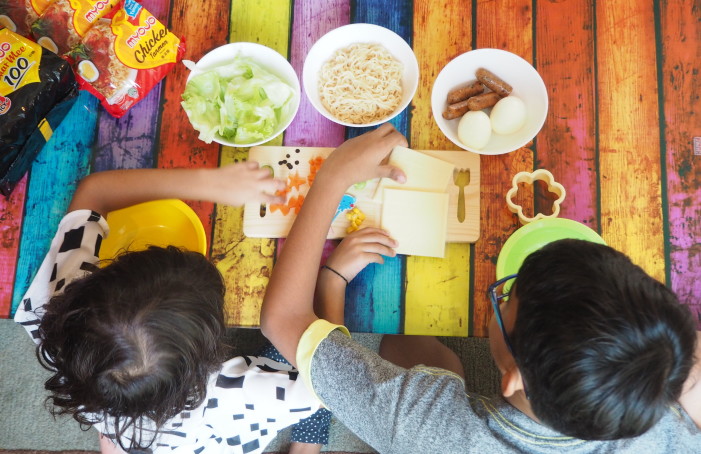 Let them take the lead: Kids get really excited when you tell them today they will be preparing something, so don't hold them back. This excitement is the driving force for them to learn and the first step of building confidence. Trust me, sometimes I get some brilliant ideas where we mix and match to come up with something really creative and interesting. This way kids can't say No also since they have decided for the meal and we too will get to try out new recipes.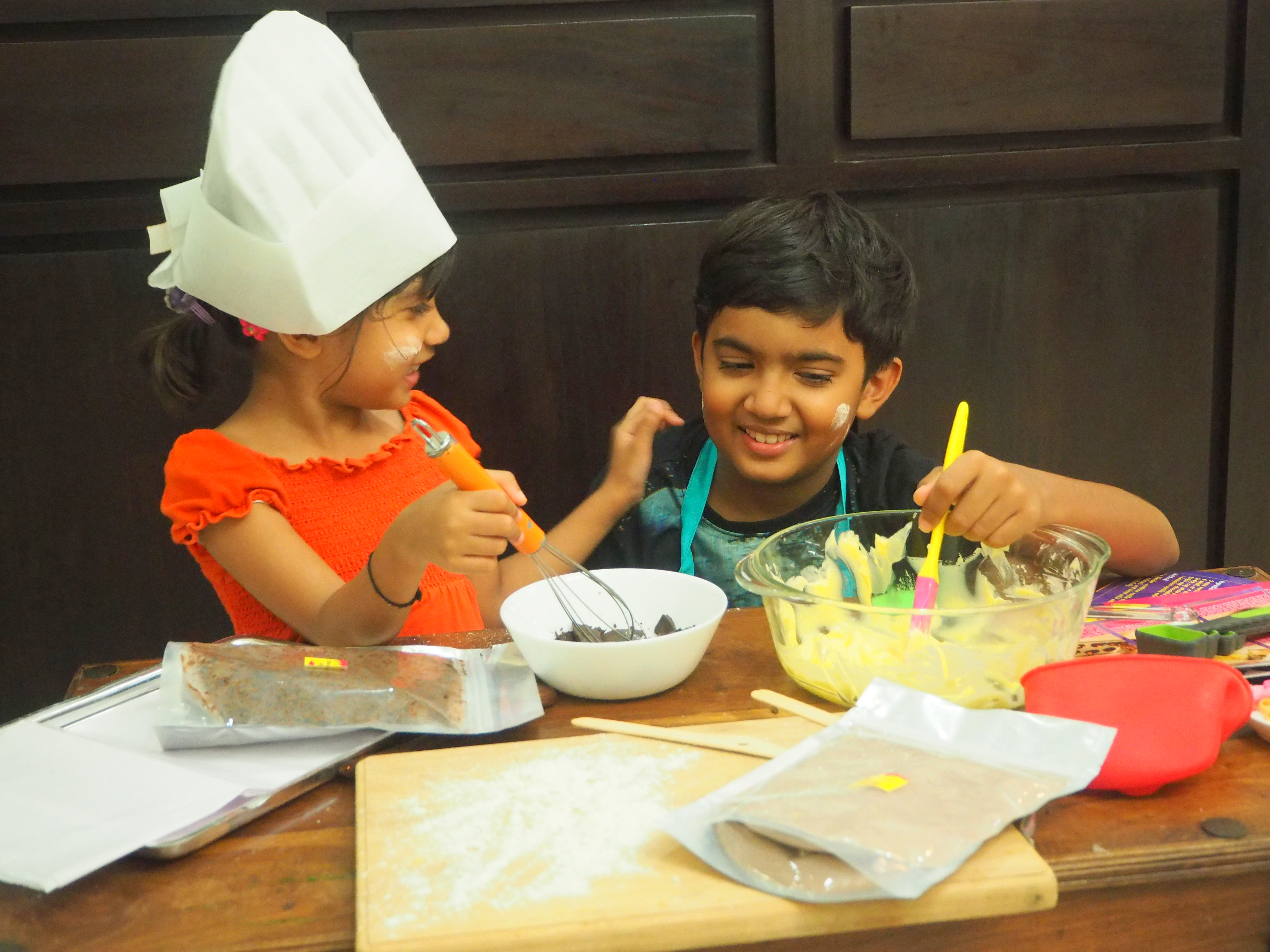 Use kids friendly cutlery:  I have given them the cutlery which is not sharp and very kid friendly so that they will get a grip of holding and using it. Let them practice with that cutlery initially and late can introduce the usual cutlery but always supervise. We all have to be safe and cautious in the kitchen at the same time.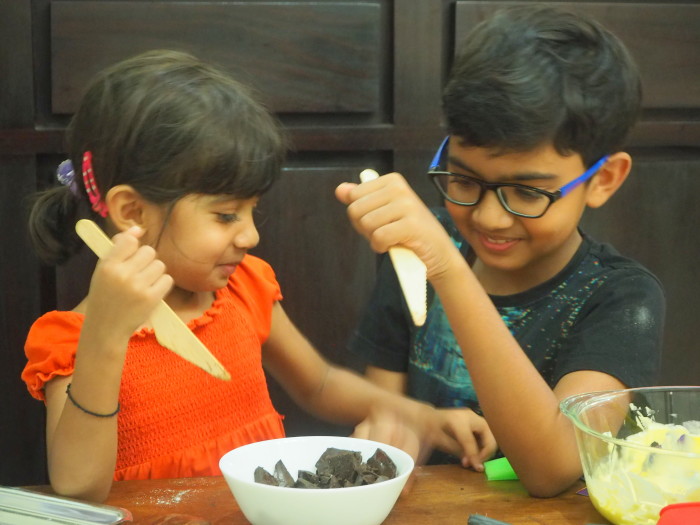 Be prepared for a messy kitchen: Do not fret over a messy kitchen as that is the way to learn and what better way than getting a hands-on demo from their mom. It might be messy and be like this for a while but if you see the bigger picture, we are giving the kids an opportunity to learn life skills. I am sure these messy moments are the treasured moments of childhood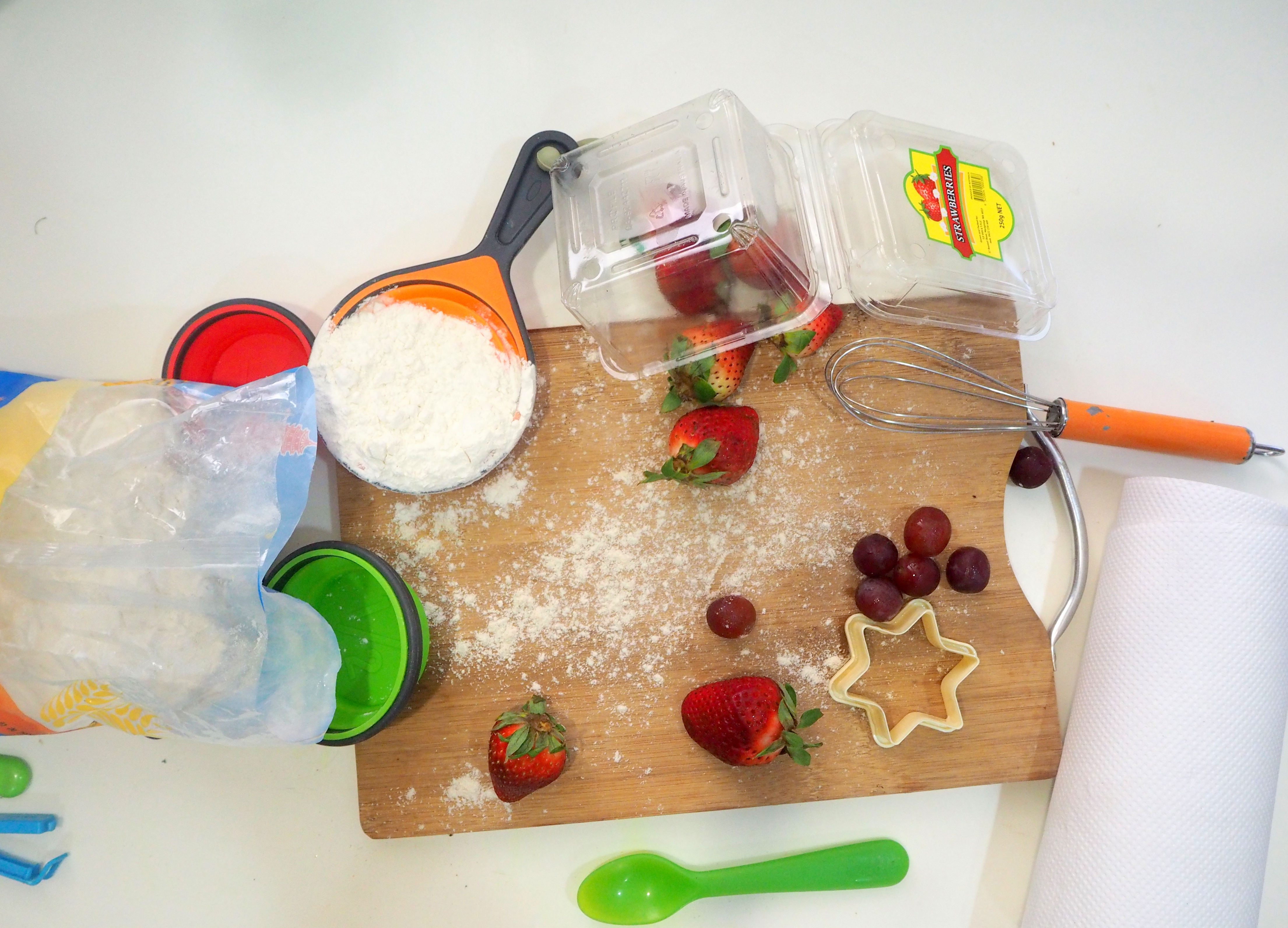 Appreciate their effort: Always make sure to appreciate all the efforts they have made to help in the kitchen even the tiniest of the efforts. This will help them to understand the importance of gratitude for taking out the time to do everything for them and they themselves would learn to appreciate. First time when Aayan has used the gas top for cooking as recently in his school he has learned to cook "Maggi" (under life skills training) but at home, he wants to try cooking in the kitchen. He told me next time if I can teach him how to make roti.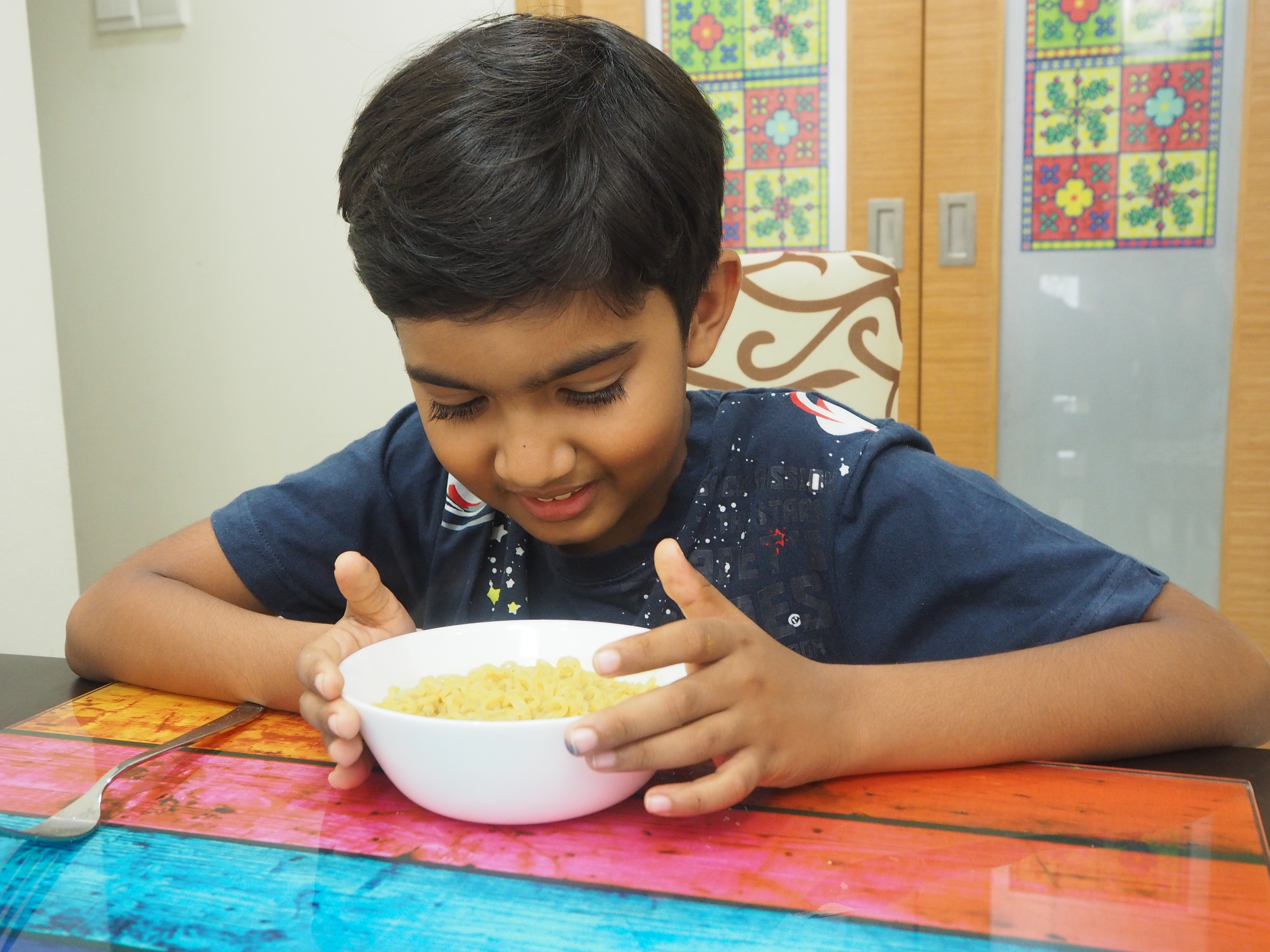 Happy Cooking with your kids!
"Kids learn from experiences whether big or small, good or bad. That's why Friso provides the right nutrition for your child to be strong inside to take on challenges."
#frisostronginside #frisosg #frisoexperience
Read more about Learning and Experiences here. For more information on Friso, check our their Facebook page or Instagram.