Today, it was another exciting invite from Google to celebrate Mothers' Day and had a great time with my fellow blogger mums! Google parenting hacks are something we all want to know!
Apart from the wonderful tour of Google's office which is more of a retreat than an office, new Google stuff to try on, special tips for mommy, we have learnt some wonderful tips and tricks from the speakers. Isn't it whenever we have a query we rush to Google and look out for an answer? Seriously, I do that many a times, especially when studying Mandarin with my son.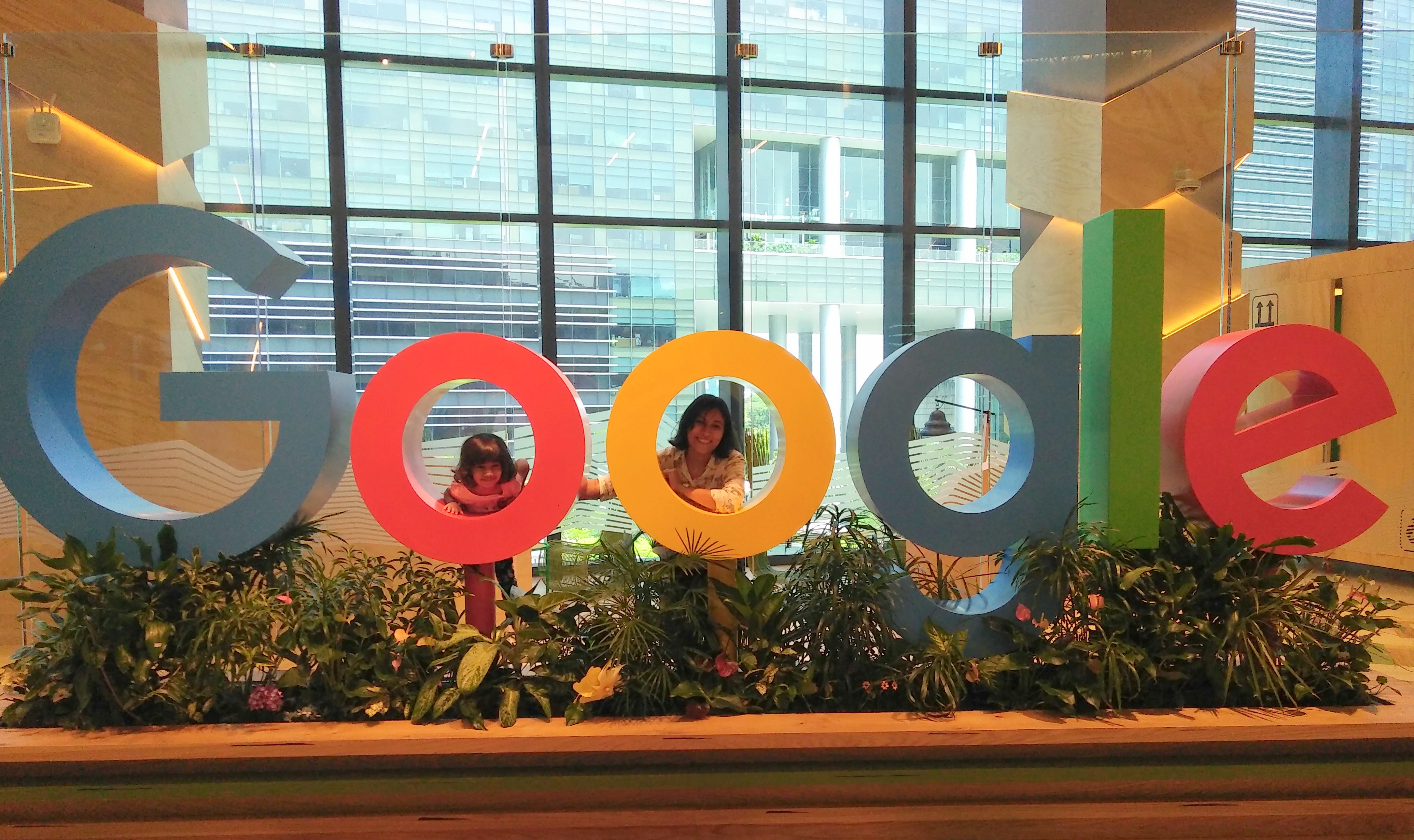 What special we had at #GoogleParentingCafe today!!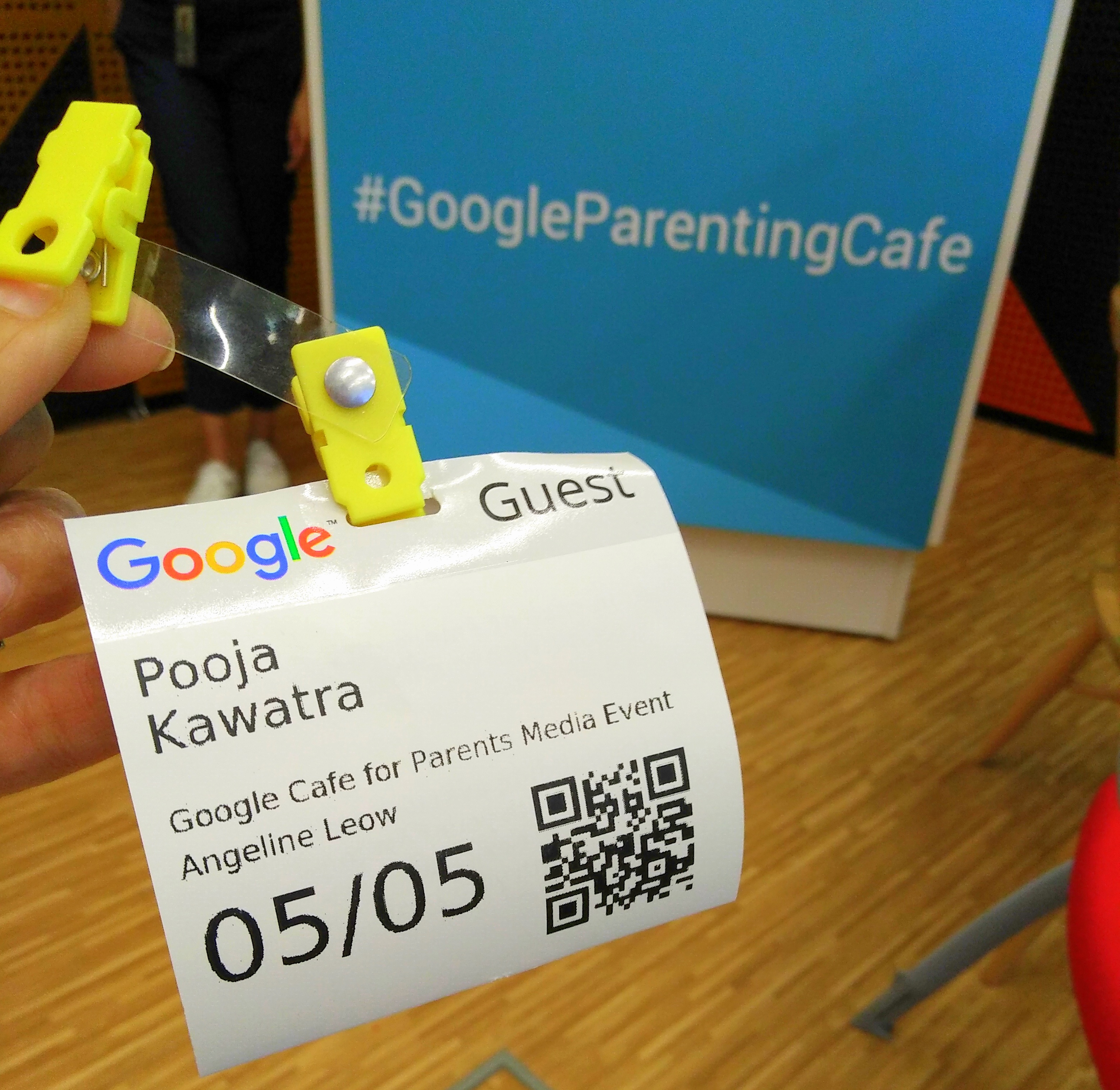 Thought of sharing these parenting hacks with all the parents and hope we can make our life easier!
Google Parenting Hacks
Did you get a clue from this photo? if not, let me share with you here-
Google Calendar
Does your refrigerator looks like one in the photo atleast mine is exactly like this one. I am sure most of us keep a track of our everyday schedules, appointment, bills and if not then here are the reasons for using it.
● Too many things going on? Keep track of everyone's schedules with multiple calendars
● Colour code calendars for easy differentiation
● Set-up notifications so you'll never miss an important event.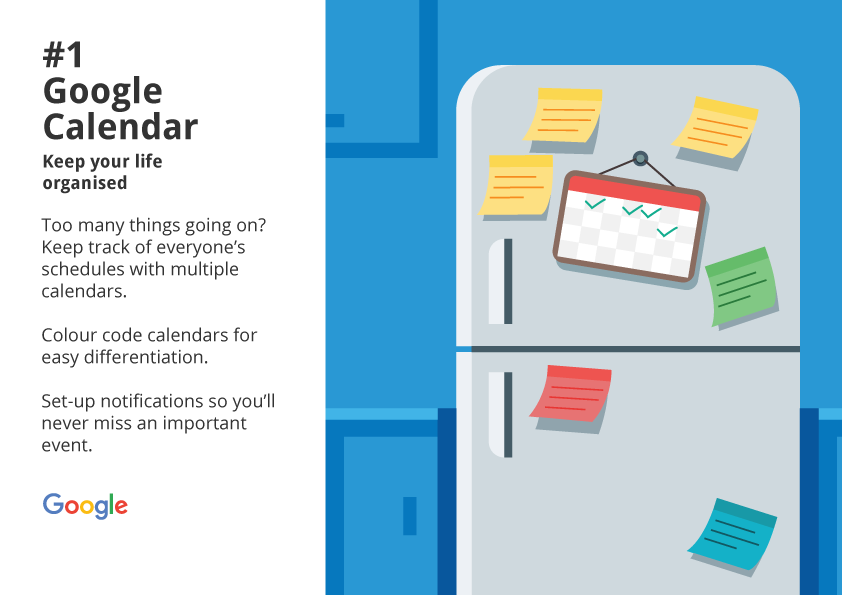 2.  Meet the Google Assistant – Your very own personal assistant
● An intelligent voice-powered personal assistant designed to provide convenience through two-way conversations
● Simply say "Ok Google" and get it to find answers to everyday questions instantly — like "How do I get to the nearest Post Office?", or even get it to sing Happy Birthday!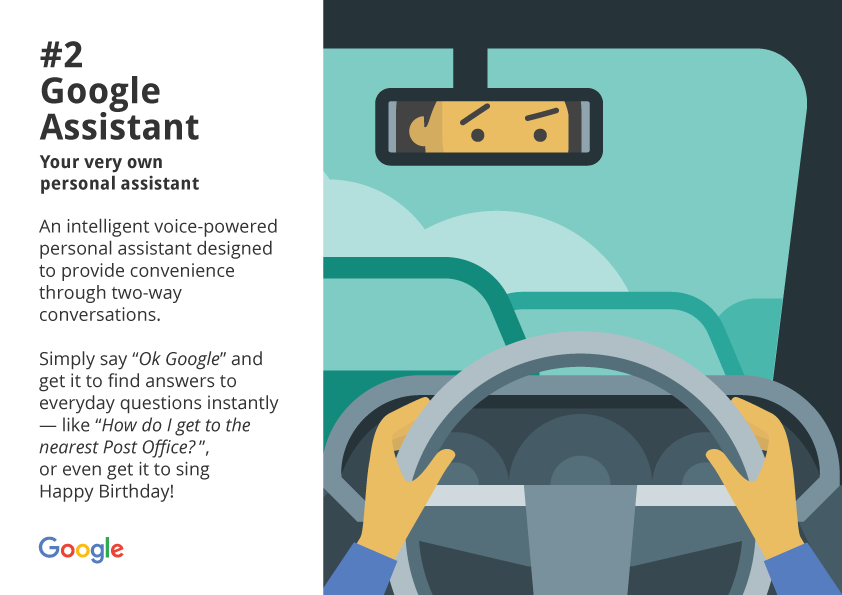 3. Save every memory with Google Photos
● Edit, share and backup your precious moments on one app. You'll never run out of space with Google Photos' unlimited storage
● Let machine learning do the hard work of sorting your photos, and organising them so you can search by family member
● Create collages and mini videos with Google Photos Assistant. Try it for Mother's Day!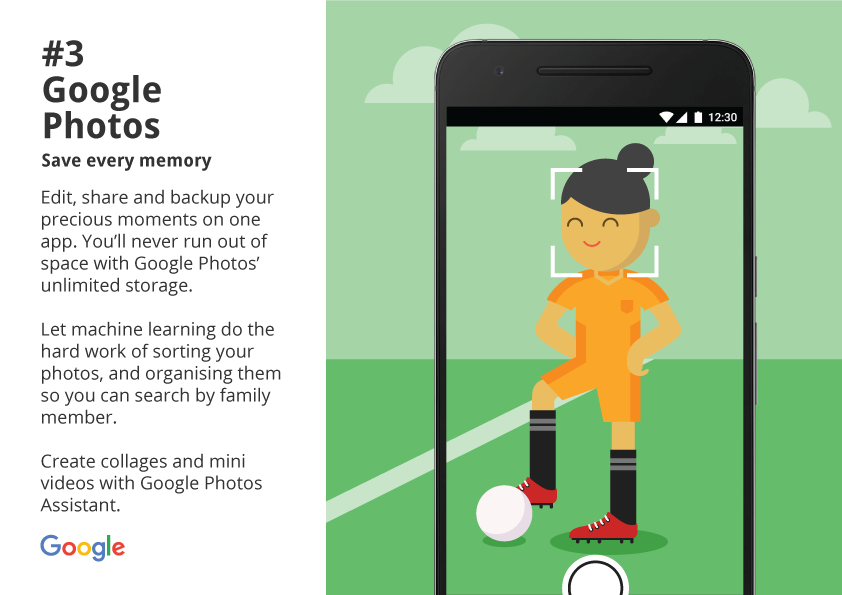 4. Preserve old photos with PhotoScan
● Not sure what to do with all those old printed photos? With PhotoScan, you can turn them into digital copies within seconds
● Remove any glare, crop or edit the photos so they're good to keep forever
● Store and share them using Google Photos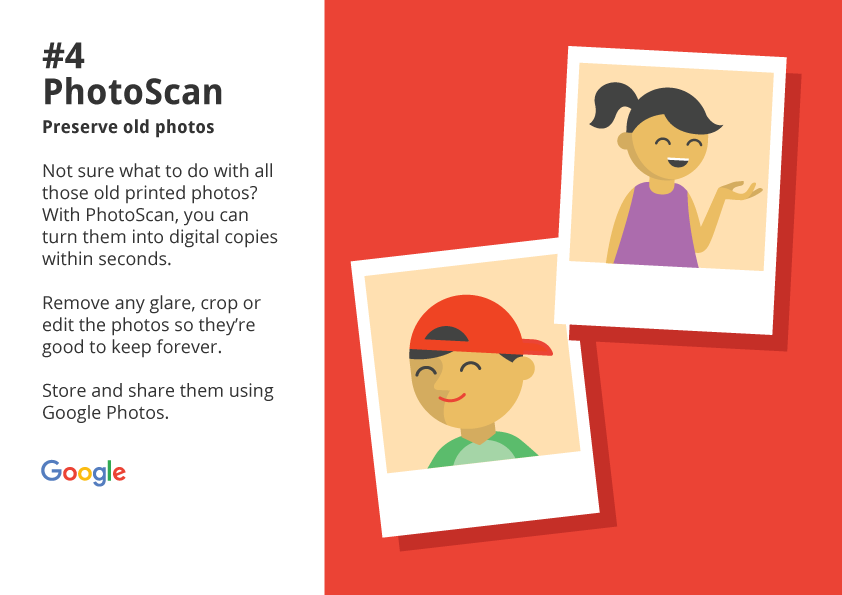 5. Search your way to the answers for difficult questions
● Find the answers to tricky homework questions quickly with a simple search query, like "What is half of pi?"
● Use the Google Search bar as a calculator, by typing in calculations like "49% of 180" or even longer strings like "5*60+12/4"
● Or simply ask a question like "How many islands are there in Singapore?"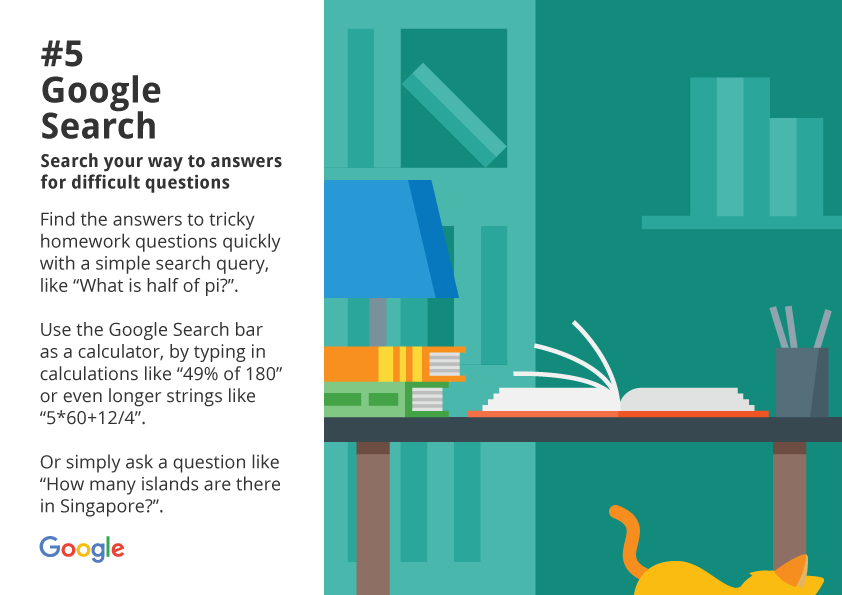 6. Explore the world with Google Street View
● Street View puts the world at your fingertips — you can hike the Inca Trail to explore Machu Picchu in Peru, visit the Taj Mahal in India, or dive Australia's Great Barrier Reef — all in a single app.
● Pop your phone into a Google Cardboard for a virtual reality experience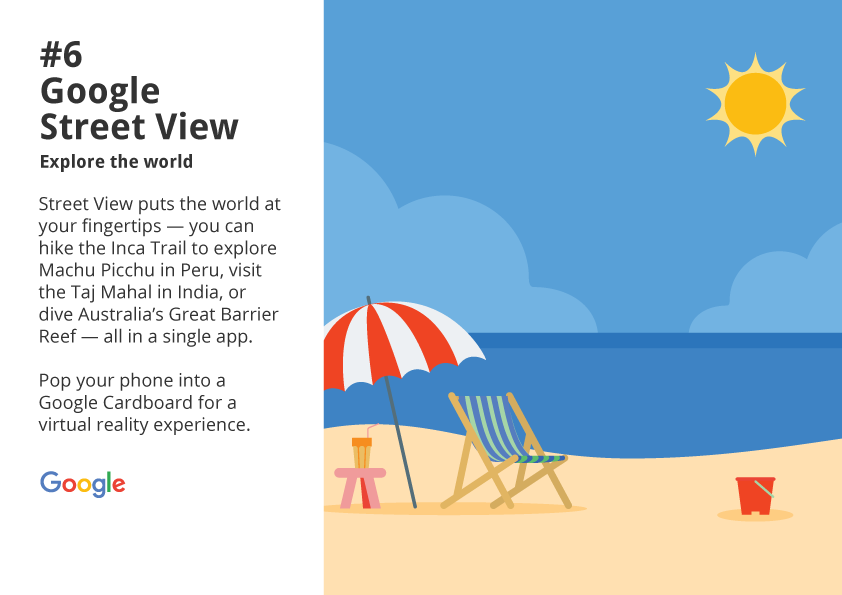 7. Pick up a new language with Google Translate
● Spark your kids' interest in another language by translating foreign words and phrases into English – or vice-versa
● Going on a family holiday? Use Word Lens on your phone to scan and instantly translate languages such as Korean, Japanese and more!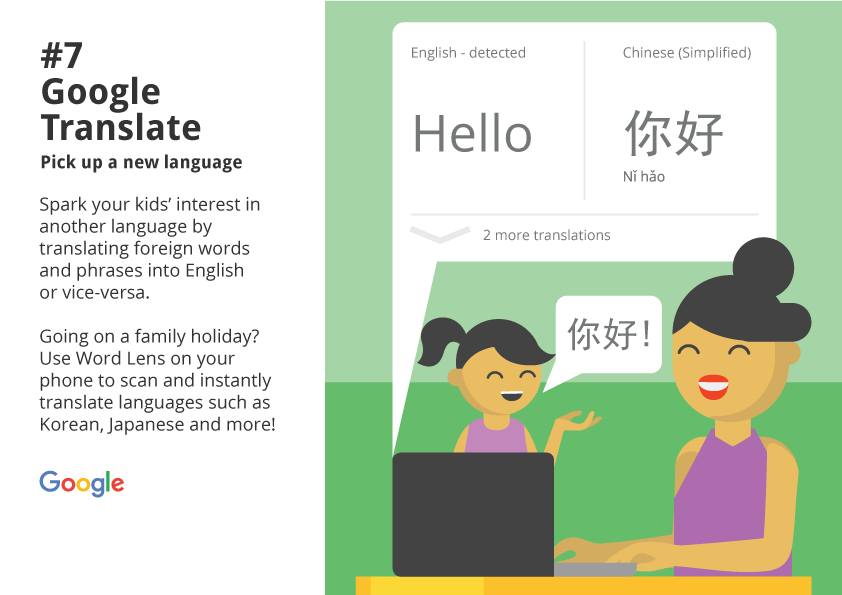 8. Show family-friendly results with Google Safe Search
● Filter out mature and inappropriate content on Google Search by turning on "Safe Search" in your Search settings
● Safe Search works on mobile devices too!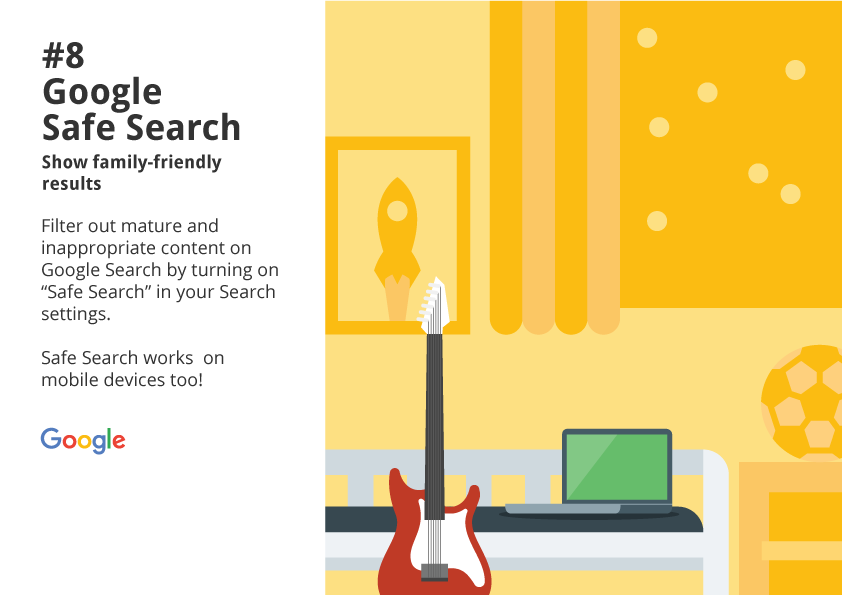 9.

Educate and entertain with YouTube Kids
● A standalone video app built with parents and children in mind
● Limit your child's video watch time with a timer setting
● The parental control settings allows you to decide what kids can and cannot watch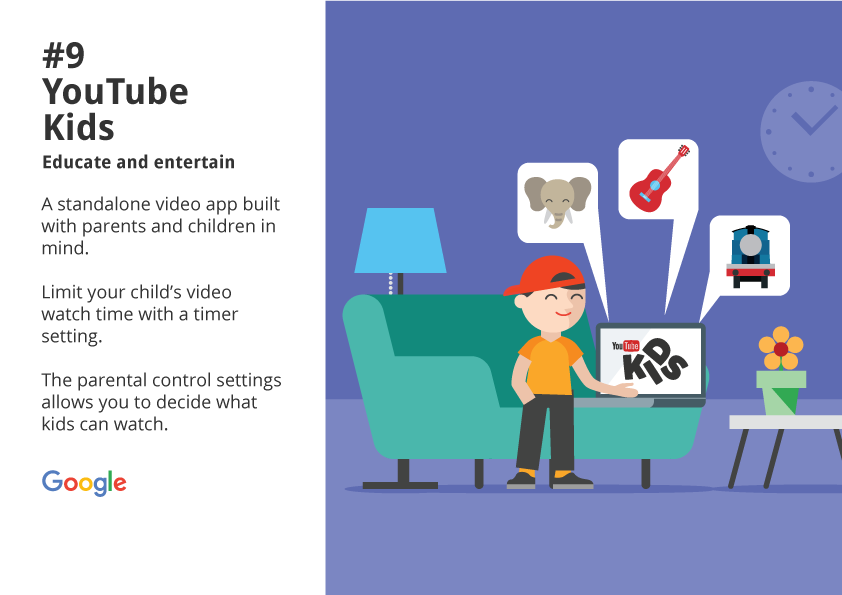 10.

Video-call your loved ones with Google Duo
● No matter which country you're in, stay connected with your loved ones with Google's smart video-calling app
● Switch from 4G to Wi-Fi seamlessly without interrupting the call
● Preview video calls before picking up with Duo's " Knock-Knock " feature