Wow…Amazing! Ahh…Wonderful! Wee…this is fun! Yippie…that's called a celebration! Well friends…this post is not a lesson on the use of Interjections. Actually, it is a real, echoing, palpable expression of hundreds of people present today at ALL-STAR Nick Jr. CHRISTMAS celebration at CITY SQUARE MALL!!!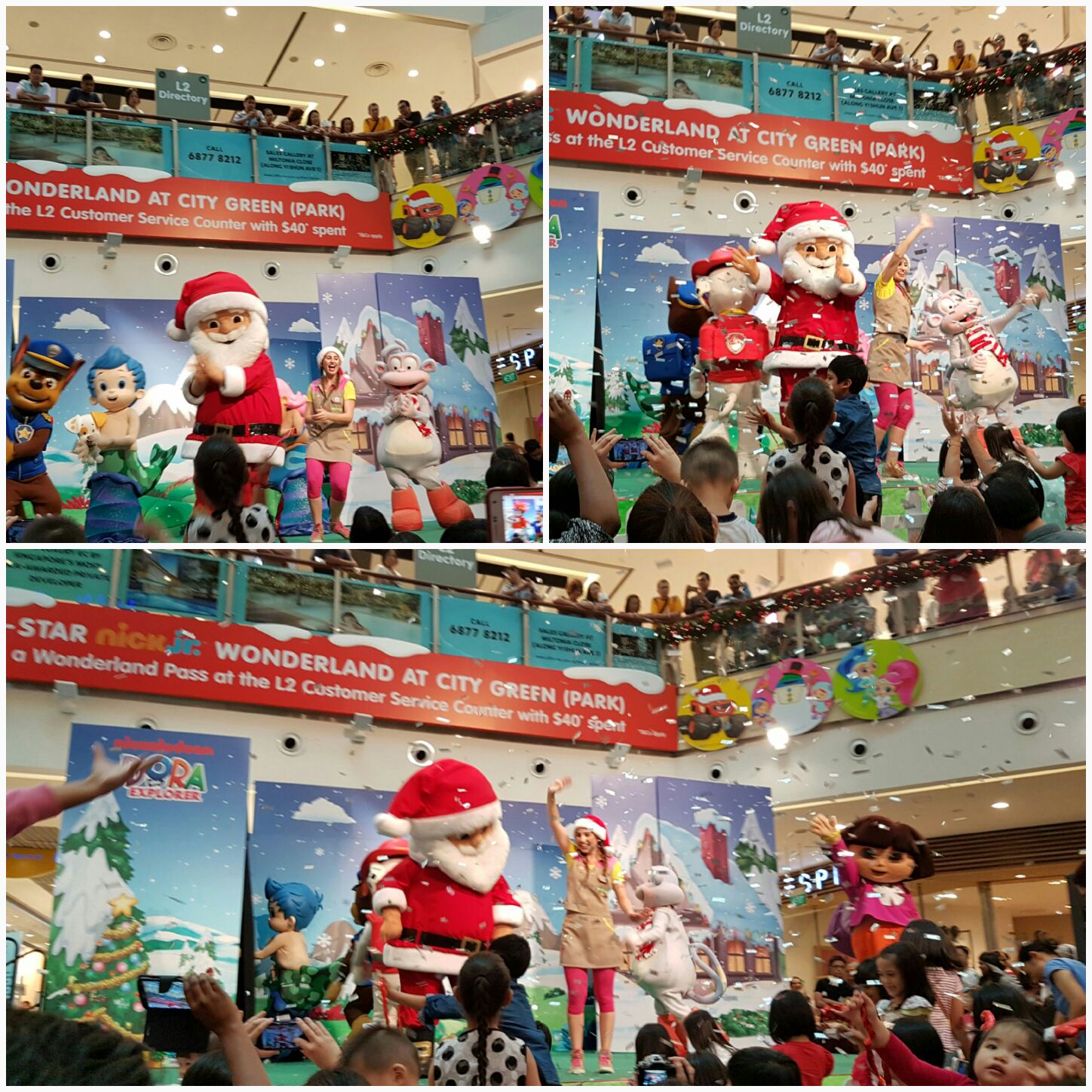 Always been my kids favourite, CITY SQUARE MALL, once again astonished and won the hearts of little ones by celebrating ALL- STAR NICK JR. CHRISTMAS ranging from 18 NOV 2016 to 1 Jan 2017. The celebration reached its peak on 3rd Dec with the first presentation of NICK JR. – A PRESENT FOR SANTA 'LIVE' ON STAGE show.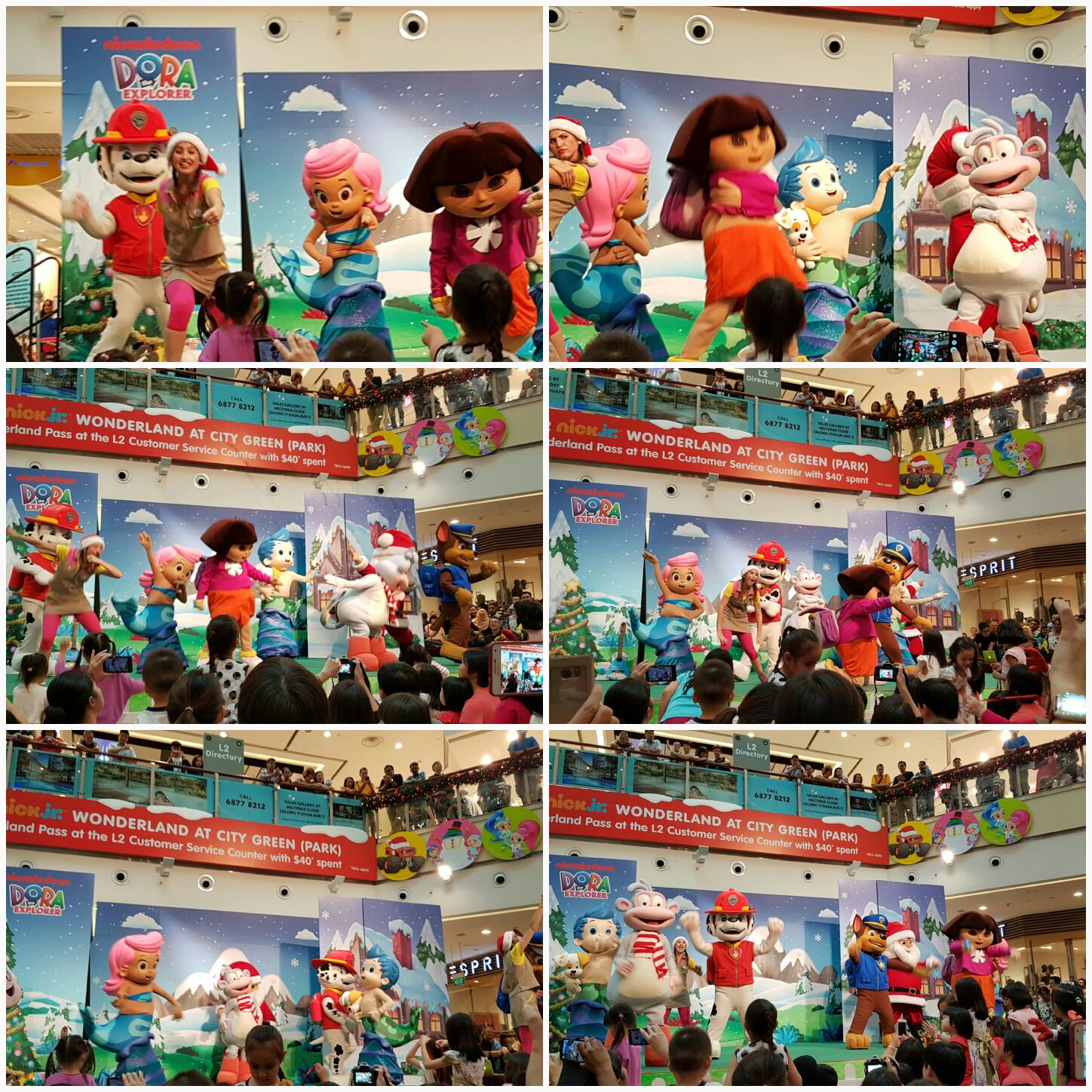 Believe or not, it was super entertaining when all the other characters join Dora and Boots, along with Chase and Marshall from PAW PATROL, and for the first time ever in Asia, Gil and Molly from Bubble Guppies on a Christmas adventure as they deliver a present to Santa!
 Shreeya (5yrs) and Atharv (3yrs) my kids were so engrossed in looking at the live characters that for some time, they didn't even react! Once they realized that it's real, actually happening 'live'… they were dancing on the beats, smiling on the characters chit-chat, grimacing accordingly! The world stopped for them! They seemed happy and my husband and I were glad to see them happy as always! The echo of Dora song…Dora, Dora dora…and jingle bells, jingle bells, jingle all the way and the brilliant concept of presenting a gift to Santa himself, left all of us in an awe!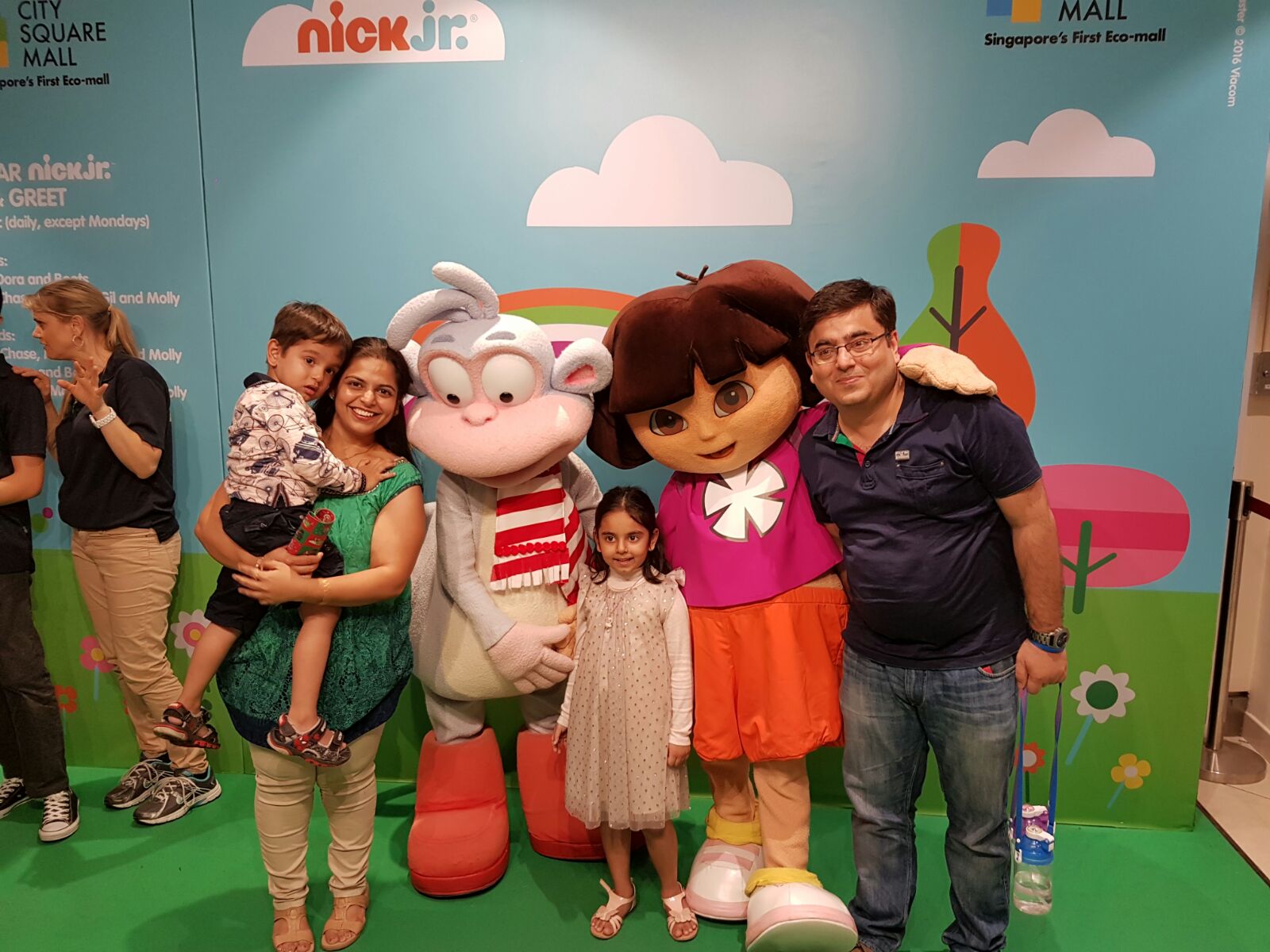 Both the kids liked this inversion in the storyline, where Santa is getting a Christmas gift…Wow! The fun didn't stop here, it gets aggravated during Meet and Greet Session with Dora and Boots, Atharv's and Shreeya's favourite characters. Shreeya was super excited to meet them in person but Atharv felt a bit nervous. In fact, he didn't allow the characters to touch us. He came into my arms, and I had a tough time to make him look at the camera… hahaha! Supercute…isn't it?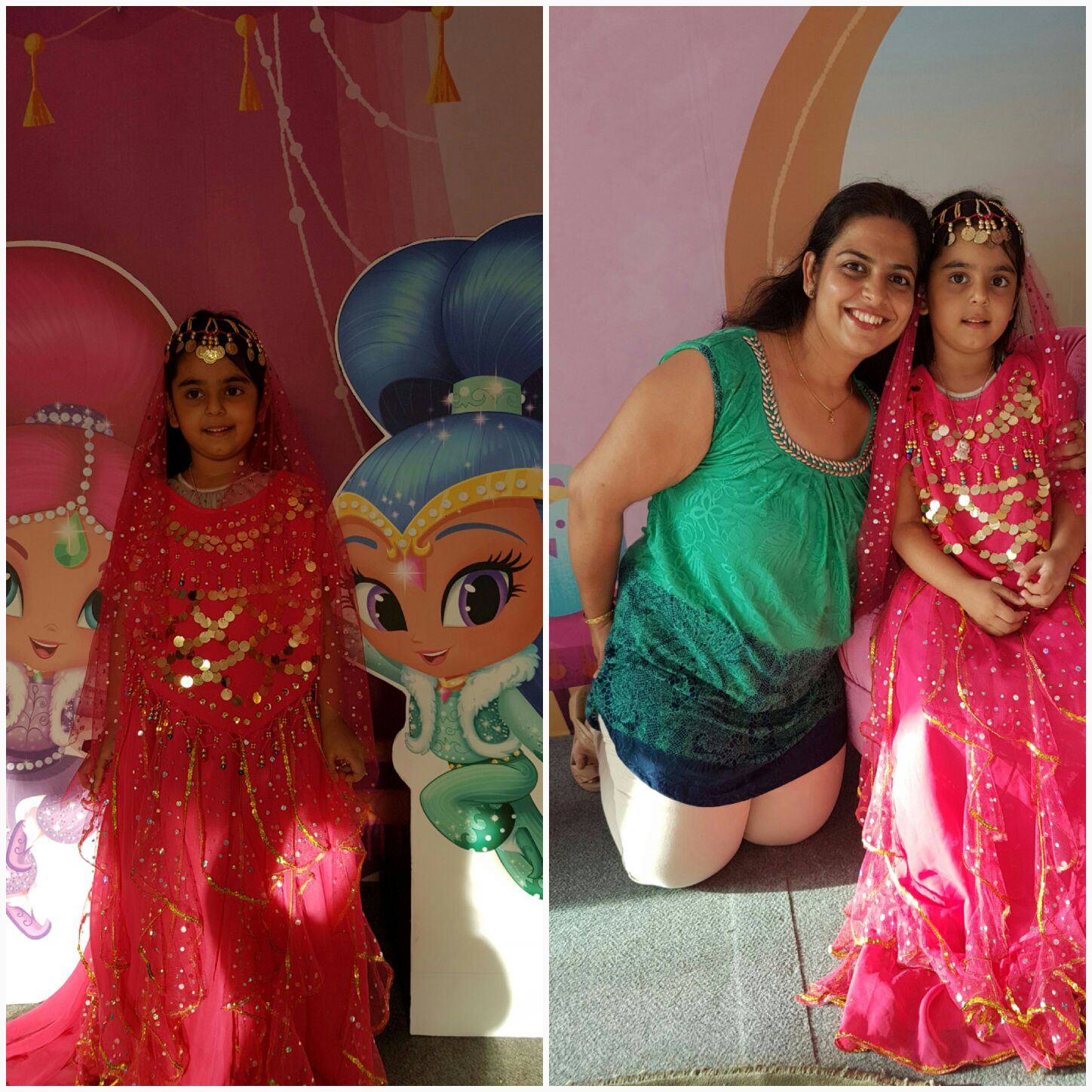 Now was the time for outdoor merriment! Yes, the ALL-STAR NICK-JR. WONDERLAND with Nick Jr. stars and their 6 fun-filled activity stations. We did cover almost all the stations.  The best of all, which attracted Shreeya was SHIMMER AND SHINE DRESS UP PALACE. She dressed up in Shimmer's pink costume and was looking stupendously beautiful.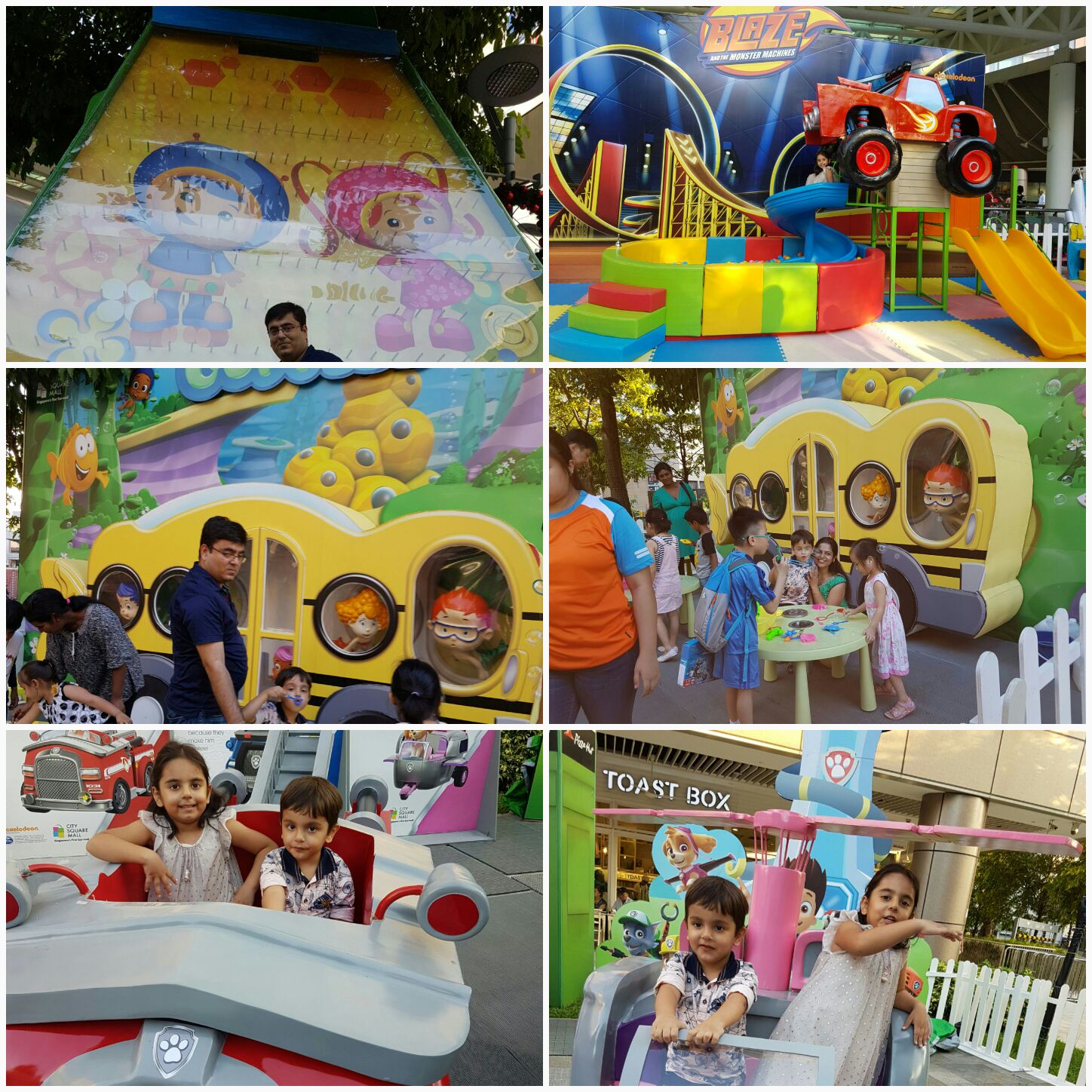 Whereas Atharv got attracted to PAW PATROL LIFE-SIZED 3D VEHICLES DISPLAY. He is a big fan of Marshall and chase and was so glad to sit on their vehicles. In fact, I don't have words to tell you how we all were enjoying and rejoicing!!! Would love to share my family pictures here. If you want to know the programme details, just click the pictures and read the details. So, what are you waiting for?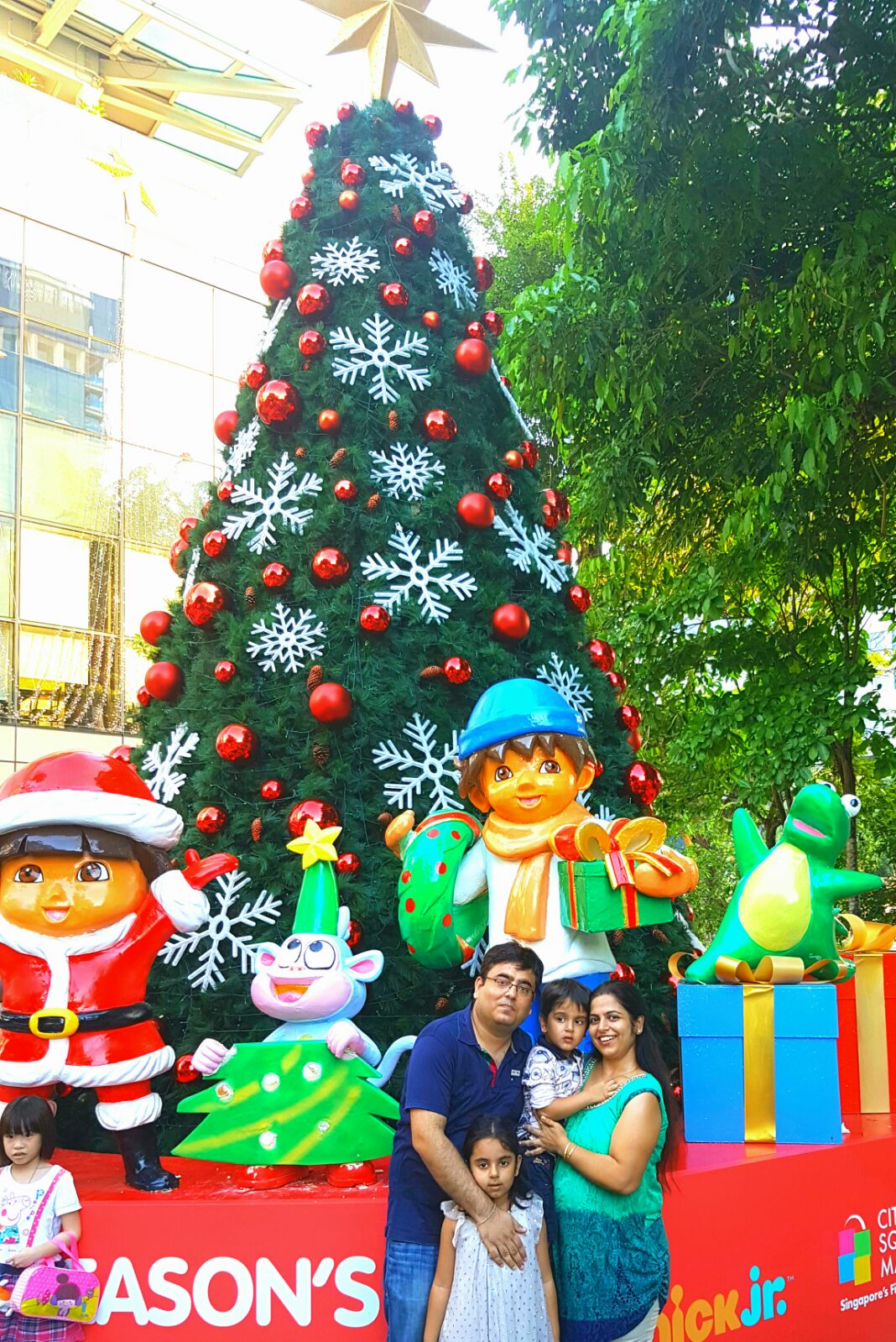 Christmas is not complete without a family photo with Christmas tree!
Merry Christmas!!!
Go and grab your Meet and Greet passes and make your day a super-duper, fun-filled memory!!! The fun is still on…don't miss it.
For the All-Star Nick Jr. Wonderland, shoppers can redeem a Wonderland Pass at L2 Customer Service Counter with a minimum spend of $40. 
As for the Nick Jr. All-Star Meet and Greet, shoppers can redeem a Meet & Greet pass 1 hour before each live show, with a minimum spend of $50. (limited to 50 passes per session)