Singapore's weather is pretty hot for almost the entire year and humidity makes it worse. All the while I have lived in a high rise building which has got a plenty of sunlight and was very windy. So, washing our laundry with a spin dry mode and hang it in the space provided outside our kitchen window and sun dry the clothes was quite convenient.The real problem starts when it is rainy season with dampness and no sun. I never felt any need to use a separate dryer as washing machine was doing a good job so far but since the time we have moved to our new home which is not a high rise and utility area doesn't get the sunlight all day round. I really looked for a dryer but then dryer cycle is not a short one and you won't get crispy dry laundry as you get after drying in the sun.
Few key area where I needed some help-
* Two school going kids means I am doing laundry almost every alternate day and if it rains my laundry take ages to dry.
* Walk-in-wardrobe
* Store room/utility area
* Wooden furniture
I have searched online regarding controlling moisture/ drying clothes on internet and came across this product from
Novita LaundryFresh® Dehumidifier ND 319
which is an effective laundry drying device, it doubles up as a portable dehumidifier to protect valuables from moisture and mold.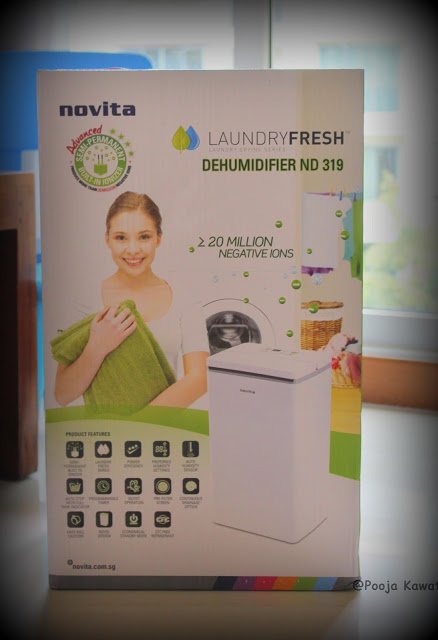 This dehumidifier works together with AirCare™ Air Sterilizer NAS 300 and has got 4 unique features-
Activated Carbon Charcoal Filter
Dehumidify (RH 50%)
Negative Ions
Ozone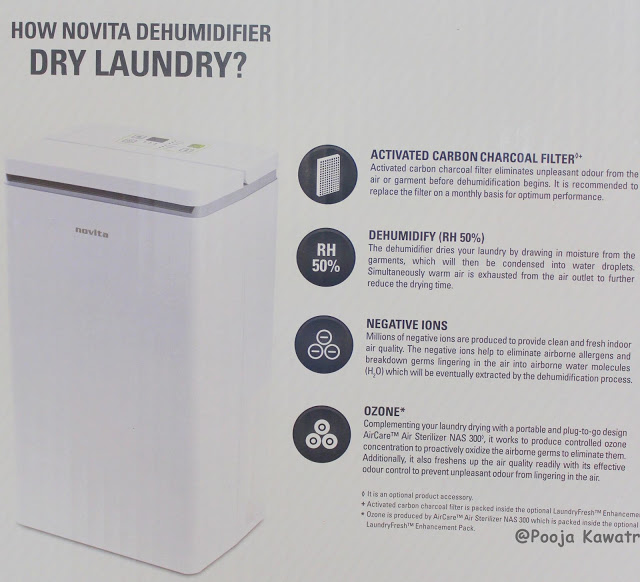 In my previous home, utility area and store room were at two separate place so I used the normal crystal formed dehumidifier for my store room but now utility and store room are closer so humidity level is quite high.
Trust me I was excited to use it as I want to see how much moisture is left in the walk-in wardrobe everyday.Here is how I have operated my new Novita LaundryFresh® Dehumidifier. Setting up is quite simple and it is very portable to move to any room. Design is very sleek and compact.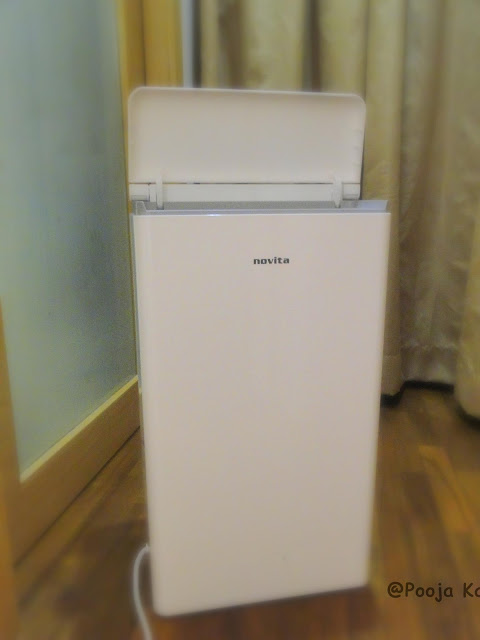 I usually keep this near my walk-in wardrobe as moisture level is up because of bathroom, even though bathroom got plenty of sunlight. You will receive a manual along with it to set up and very kids friendly.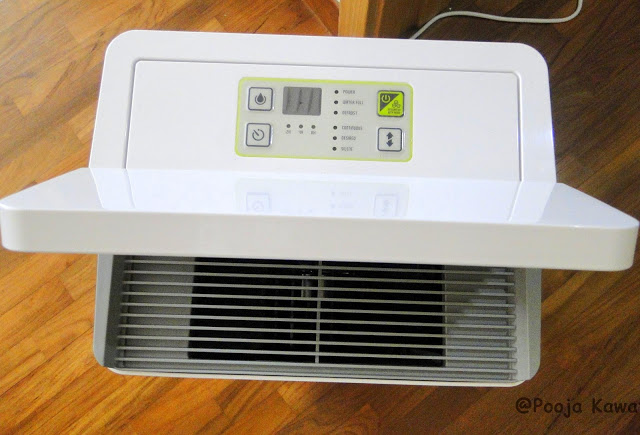 A closer look to see the control panel on it.Top right button is power button, up and down button to choose the mode and you can even set the number of hours while selecting the preferred humidity level. It has got semi- permanent built in ionizer that aids in eliminating airborne contaminants.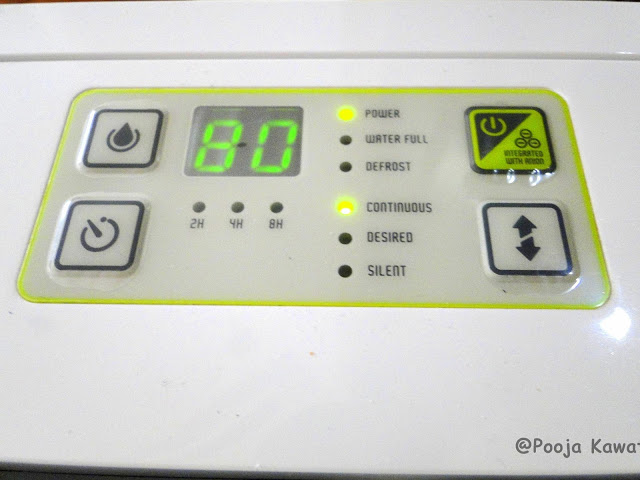 I let it open so that hot air helps to dry the surrounding faster.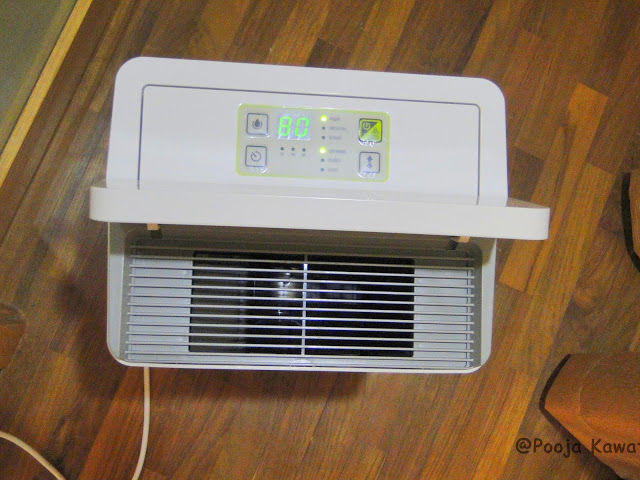 If you will order online you will receive this complimentary enhancement pack (worth $209) which includes the 24 sheets of carbon charcoal filters and AirCare™ Air Sterilizer NAS 300.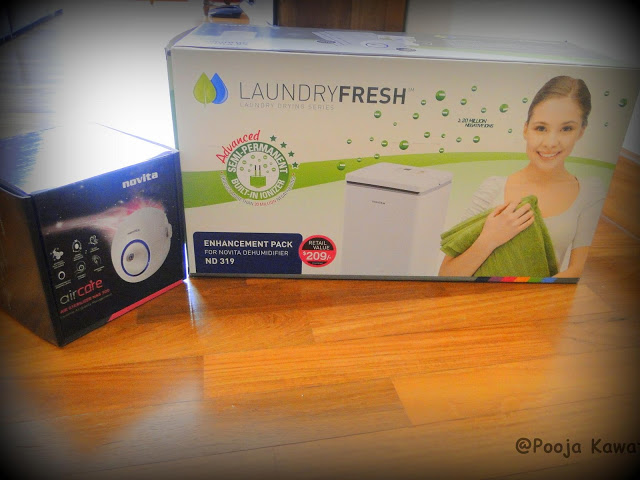 Open the air inlet frame and pull outwards to attach the activated Carbon Charcoal filter into it.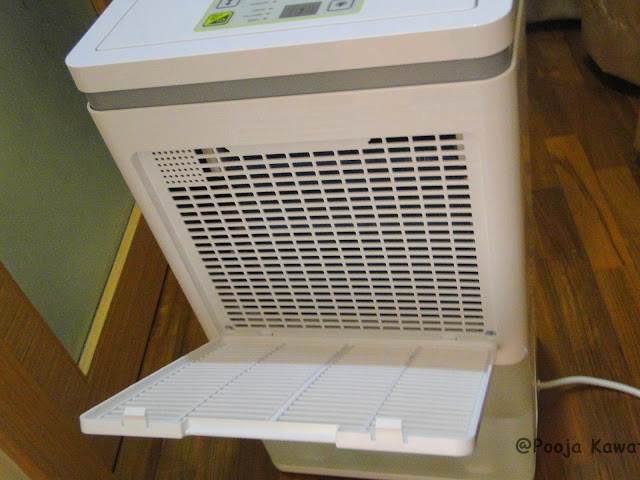 The carbon(black) side of the Activated Carbon Charcoal filter should be placed facing the unit's internal housing.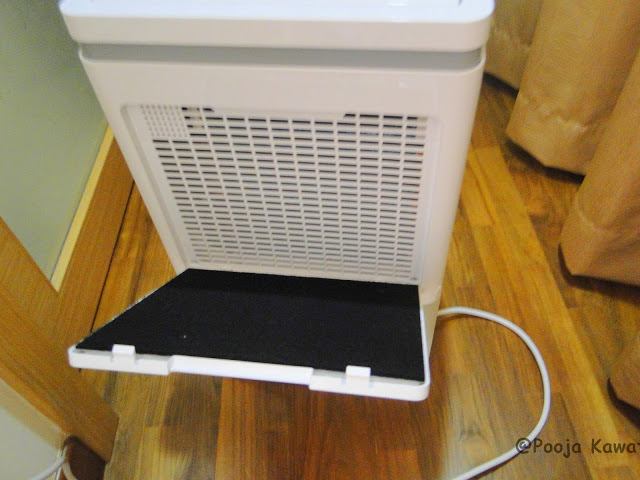 AirCare™ Air Sterilizer NAS 300 is equipped with Advanced Mica Corona Discharge Technology for active sterilization and deodorization. It produces the controlled ozone concentration and helps to eliminate airborne germs and unpleasant odour with its incredible oxidation capacity. For optimum performance, place it in an open space. It has got a control knob to set the ozone emission mode level.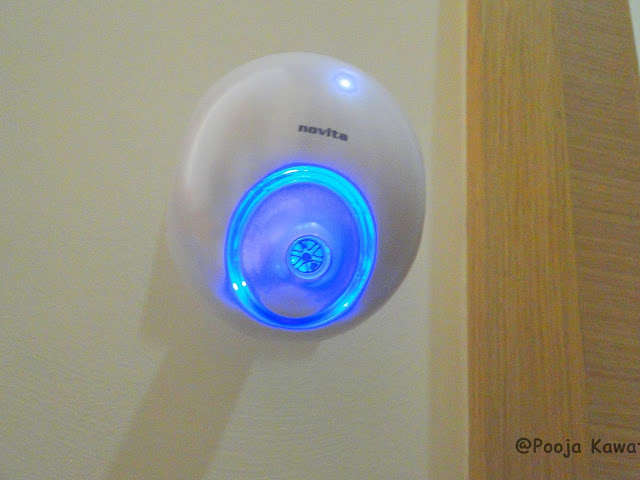 This is after 4 hours of switching it to dry my machine washed spin laundry and walk in wardrobe though all the clothes were not completely dry but almost done. I think if I would have turned it on for an hour or so it would be all done.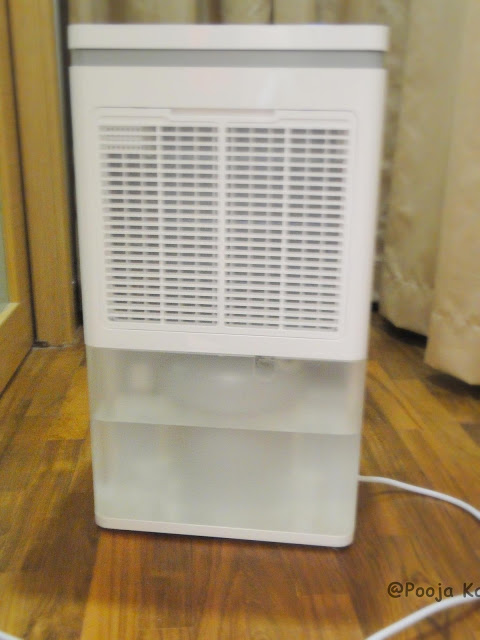 Another good thing is that even if humidity level is higher and you want to keep it running for longer hours you can use the hose provided along with it for continuous drainage, else it will beep the sound when about to reach the maximum tank capacity.
Some of the product features-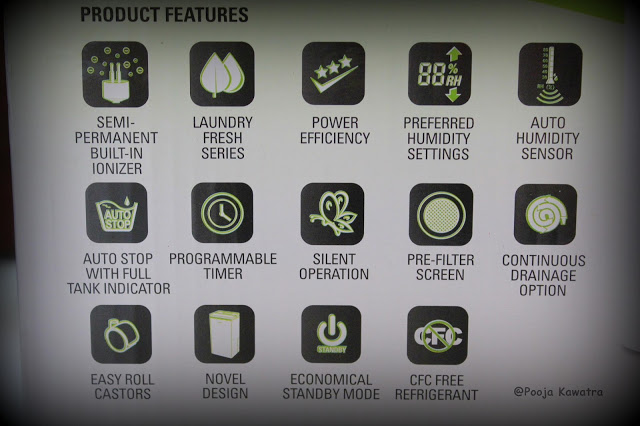 I will say that for me it is more convenient and cost effective to use this LaundryFresh® dehumidifier over the usual dryer as it eliminates germs and unpleasant odour giving laundry a sun dried fresh feel. It serves the dual purpose by acting as a dehumidifier and reducing moisture level in the home. So no more buying of monthly stock of packet dehumidifier. I find it perfect for every family and especially one with kids.