As a kid we always love to have our own personalized stuff so that it is not misplaced and being a mom I love it too, so I don't have to sort out any fights at home. Otherwise at times it becomes so difficult to decide the new stuff belongs to whom! Now everyone is getting ready for the Christmas presents and I think it makes a perfect gift for kids.When I checked It's my bag website, I loved all their designs and pattern for back pack, satchels, swim bags with different pattern for boys and girls.
I have selected the designs for both the satchels or sling bag and backpack. For these satchels they want to have a same design so I opted for this vespa design in two different colours. You can personalise it with your name or initials or anything which comes to your mind.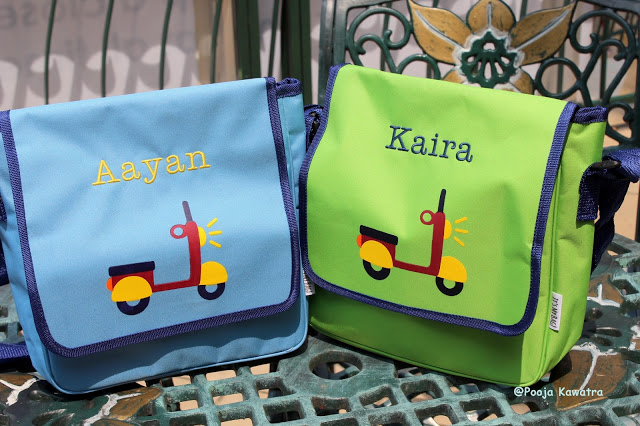 These satchels are perfect for a short outing or for their classes where they can keep inside the necessary stuff like their water bottle, books, tissues etc. This vespa design comes in Sky blue and apple green colour.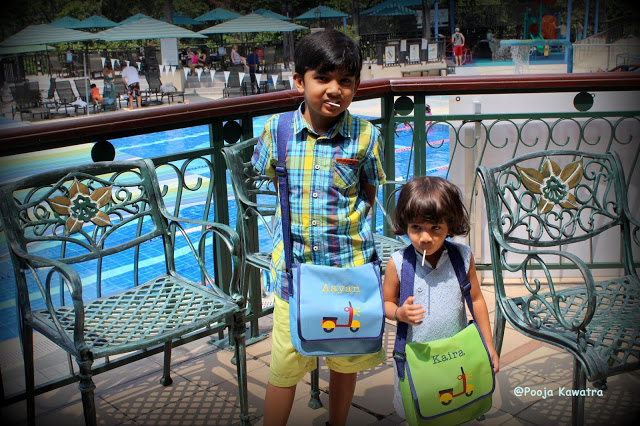 These satchel bag measures 23* 24 * 6 cm and straps can be adjusted; it has got a zippered compartment and comes with a Velcro flap cover. Kids can safely keep their belonging inside and zip it as well.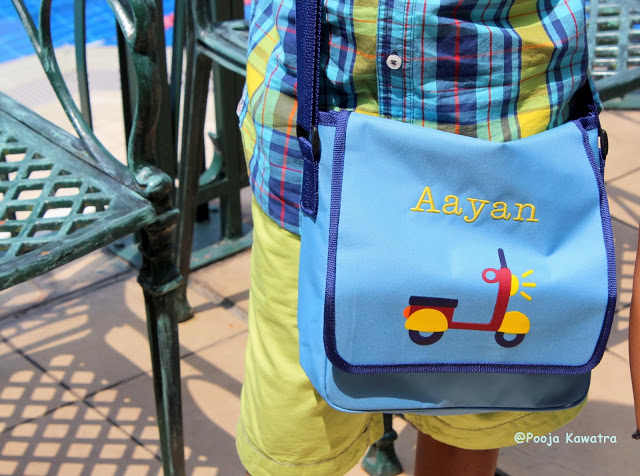 I find these bag are of right size for kids to carry things on their own though slightly big for my 2 year old but she insist to carry it on her own as big bro did the same.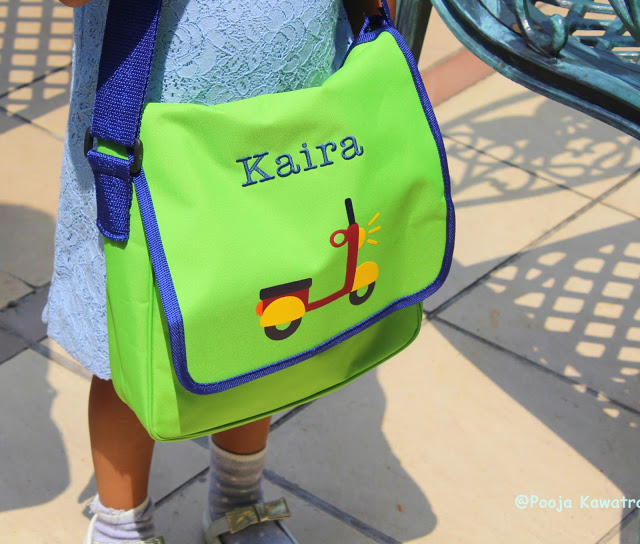 Another one from their range is Backpack which your kids can bring to their school or while going for holidays.
We have received all the bags nicely packed like this one from Its my bag. Just to give you a fair idea about these bag size which measures around  25*30*12 cm. 
For Aayan and Kaira's  backpack, we choose Alien(Orange) colour for Aayan and we took the Robot design in a pink colour for Kaira.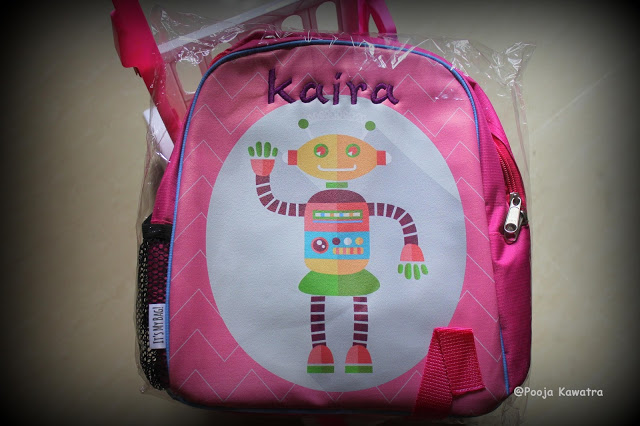 This bag is just right for kids to keep their clothing for 2-3 days if going for a short trip or I use it in place of diaper bag for my little girl I can fit a pair of her clothing, wet wipes, diaper, some snacks etc. I have noticed one thing in this bag that there is no pocket or separate compartment inside the bag though bag is quite spacious.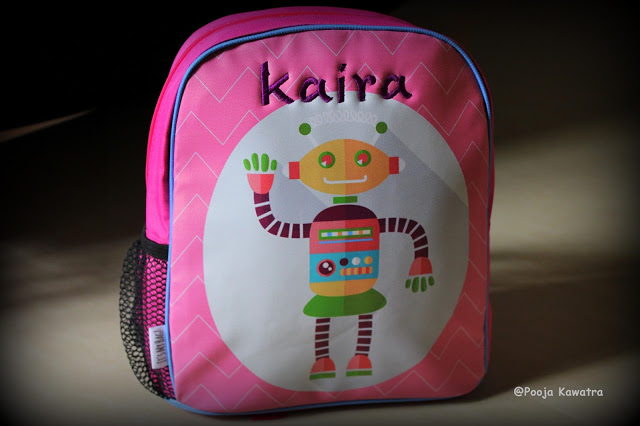 You can see outside there is a mesh pocket where my kids usually keep their water bottles and it is spacious to hold the bottle or even a pencil box easily. I purposely took the closer photo to show you the stitching of these bags.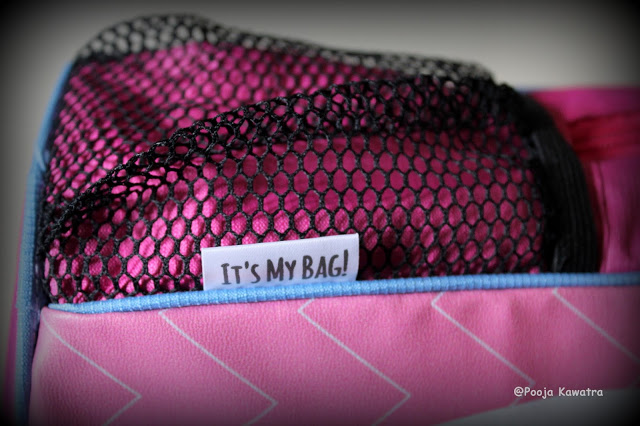 This is how it look from inside though the photo is not doing a bit of justice to show exactly.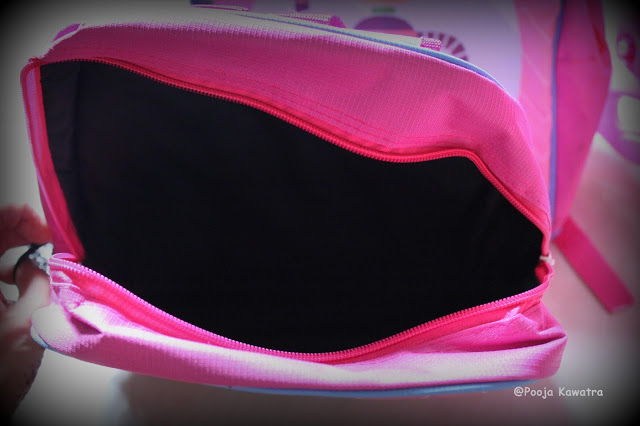 Another closer photo to show how beautifully and neatly the name has been embroidered. Love the way they have designed and embroidered the names for both kids. My little girl is carrying this backpack everywhere and literally everywhere even when she goes to a playground.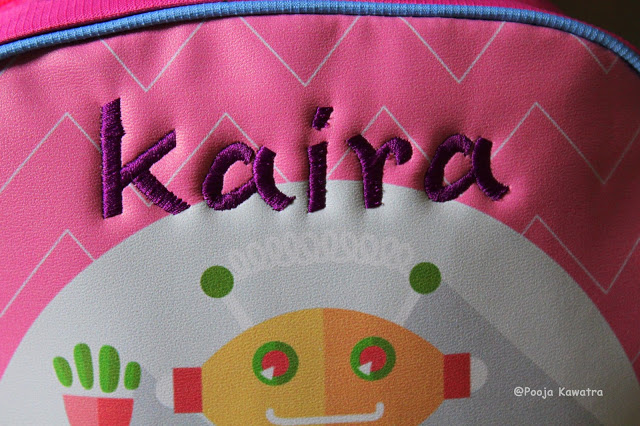 For Aayan he super- liked this personalised Alien bag but he find it a bit small to take this one to his school. So he takes this one on weekends whenever we go out. Design looks really nice and different from his usual car, aeroplane design.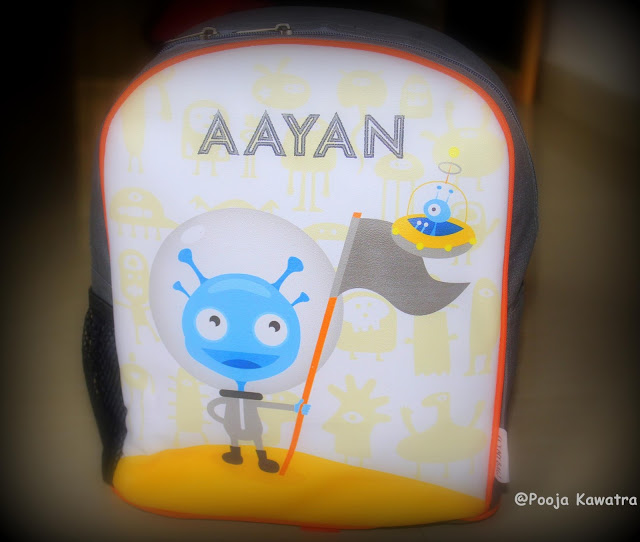 If you look at these bag straps they are quite strong enough to hold the things inside the bag and again are adjustable.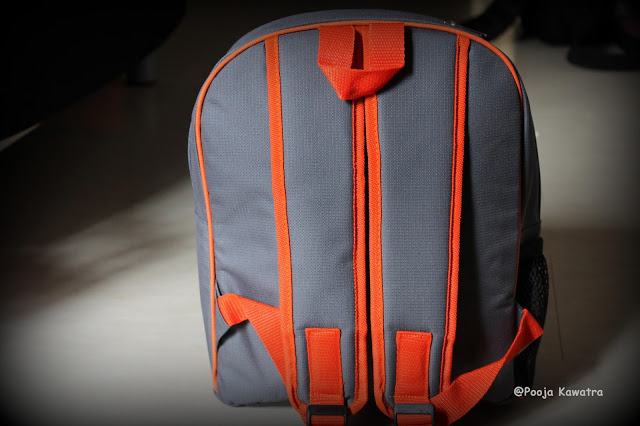 Now see how his name has embroidered according to design of his bag.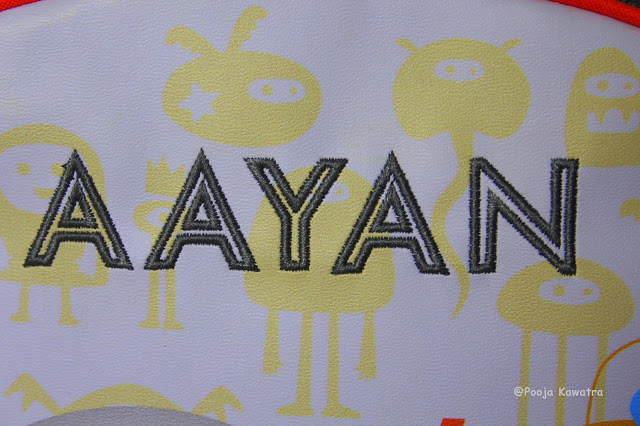 Overall want to say that I loved the design, material, embroidery on this bag making it an ideal gift for your kids or for any occasion. If you read on their website Elaine has mentioned that "We keep the quality and functionality of this product in mind when it comes to kids' bag". I believe it surely is a great product as it is coming from another mom.
Thanks to It's my bag for sponsoring 1 Robot bag from their website(you can choose the colour and design). You can also use our discount code Mums&Babies20% off the retail price listed on the website.

{Itsmybag review discount code & giveaway}As a kid we always love to have our own personalized stuff so that it is not…