I still rejoice that feeling of becoming a first time mom and shopping for baby's first clothing. At that time I was totally unaware of swaddles clothes availability in the market. I end up buying a few soft sheets and receiving blankets .Though I knew about swaddling and always heard that best way to swaddle a baby is in old -fashioned comfortable clothing as it is good for babies skin.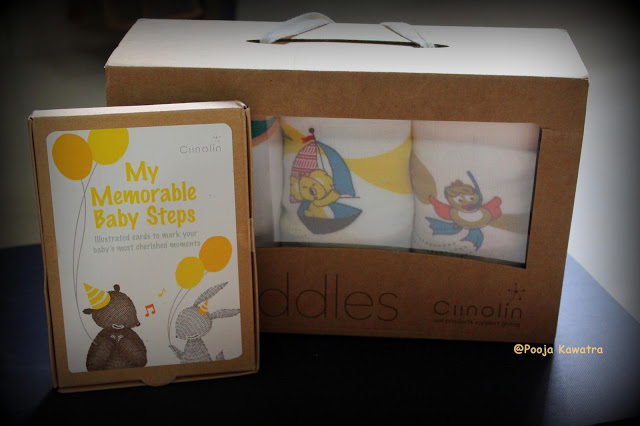 Even before opening these two gorgeous set of products for little one, you will fall in love with their packaging. I was reading the words "giving with every purchase" on the box, Ciinolin practice to give away a fixed portion of income gained from every Ciinolin product sold.
This beautiful set of 3 swaddles from Ciinolin's whimsically southeast asian series, Madura Merrytime collection which is a celebration of the rustic bold colored batik from the Javanese island of Madura. These lovable seafaring friends frolic in maritime motifs inspired by the handcrafted batik of the island's coastal communities, where the art of batik making has been passed down from mother to daughter for countless generations.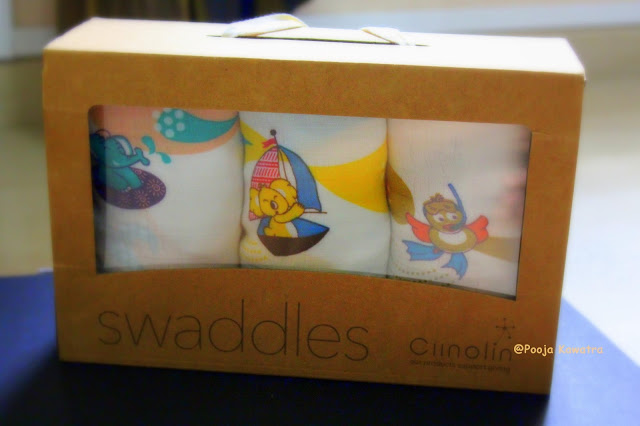 When i got to review Ciinolin muslin swaddles, I thought of sharing my review using them with my two year old girl. Unlike an infant or baby I won't swaddle her in a swaddle cloth but I am still using it in many other ways-
Travelling in a train/car
Taking her out to shopping mall
Napping in her stroller
Nursing
Premium Ciinolin swaddles are made from a unique blend offering the BEST of both world–
70% rayon(natural bamboo fibres)
30% cotton
size of 47″ x 47″
You may ask what is this 70% and 30% signify and what are benefits of it over the usual one-
I find it pretty soft, light and comfortable when she is napping in the afternoon without any aircon and her favourite blanket is a bit hot for her, she loves to wrap herself and snuggles into these swaddles. These swaddles are quite bigger than I have expected them.
If you are a first time mom and don't know about swaddling. You can refer to the back of this box and they have step by step pictorial description.
Another wonderful product from Ciinolin – My memorable Baby steps cards which are so adorable to record your baby's special milestone.
I feel these baby step cards have recently became quite popular as moms earlier used to write down their baby's first. In this pack there are 32 set of cards to choose from various memorable moments of our little one.
Who wants to miss the opportunity to write down those special little moments which we can revive when our little ones will grow up. These cards also offer wonderful photo opportunities for us t just write down the dates and snap a photo of our baby with the cards. I am getting a bit emotional reading the cards and then looking at my angels:)
Thanks to Ciinolin for sponsoring these super comfy swaddles and my memorable baby steps card for our readers. We have got 3 sets of Swaddles and 5 sets of my memorable baby steps card!
(function(d, s, id) { var js, fjs = d.getElementsByTagName(s)[0]; if (d.getElementById(id)) return; js = d.createElement(s); js.id = id; js.src = "//connect.facebook.net/en_US/sdk.js#xfbml=1&version=v2.3"; fjs.parentNode.insertBefore(js, fjs);}(document, 'script', 'facebook-jssdk'));