Heard about "RedMart Coupons & Cashback with ShopBack"?
 As a mum we are always tied up with quiet a few things and there is always a list ready in the home for "To-do", "Grocery shopping", "Baby stuff" and many more. With kids around nowadays I have started loving the online shopping with certain trusted websites only as earlier I was not so confident.
This concept strikes me and thought does this really work? I mean you spend money buying your products online and you get the cashback with every purchase. It's not that I have not heard about cashback as we get in quite a few credit cards but not as this much offered with ShopBack.
Well! If you are like me, here is the something interesting to help you!
Shopback is the one-site shop to get all the fantastic coupon deals at your favourite online shops. Shopback Singapore revolutionizes online shopping by giving you cash to shop. It is a perfect place to find those discounts we look around the year specially during "The Great Singapore Sale(GSS)". It brings the latest promotions and voucher codes from over 300+ renowned brands in the online shopping scene including Taobao Singapore, Lazada, eBay, Rakuten Singapore and Groupon Singapore.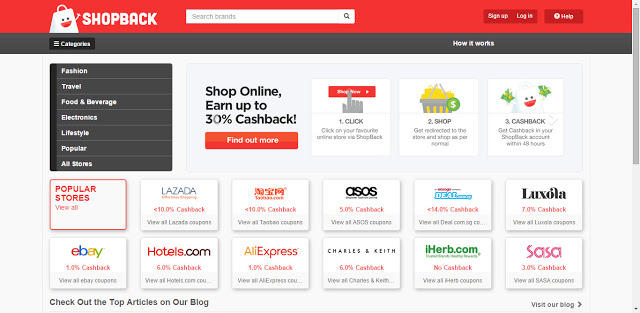 When you sign up with ShopBack, you will even get $5 sign-up bonus.
This is how it works!
Click on any store through ShopBack and get redirected to the store's website.
Shop as usual on store's site and make a purchase.
Get Cashback in your ShopBack account within 48 hours
Cash out to your PayPal or bank account at the end of every month once you have reached redeemable Cashback.
I personally like to buy vouchers from Groupon many a times and now it is much better with ShopBack with 10% cashback.
Rakuten is quite popular here in singapore and you get wide selection of Japanese products that too with great deals and discounts. What else you get 5% cashback with ShopBack!
I feel in recent time RedMart has really become quite popular with everyone especially due to the online grocery shopping and delivery straight to your home. They are even running an offer now for a limited time free delivery above purchase above $30.
That's not all! Again you get 9% cashback with ShopBack.
Do you have same feeling like this – hate carrying stuff home?
Another great news for all of you that ShopBack is running 9.9 sale which is not just restricted to 9.9 but to the entire month of September and you surely don't want to miss this offer.
Top deals from the big brands and many more on the website.
Do check them out and save your time for a hassle free shopping!