We had been planning to visit this exhibition since March when it started during the school holidays but didn't get the chance. Luckily we were able to make a visit in the last week and felt great that we went to this beautiful place for kids.
Imaginarium : A voyage of big ideas is the new edition of Singapore Art Museum' much loved annual contemporary art exhibition for children, begun in 2010 and now in its fifth year. In the spirit of SG50 celebration this year's exhibition is inspired by the crescent moon on the Singapore flag, a symbol of  young nation on the rise with the capacity to dream big and think large. Imaginarium offers creative space featuring artists from Singapore and the region.
 For a child the world is a giant playground.This work invites children to be architects, builders and master planners of their own housing estate and city skyline. With housing blocks designed like Tetris pieces, you can imagine and create whatever you feel like doing it here. Specially toddlers enjoy this space a lot, so colorful and bright giving you the feel of a playground.
Doodling at its best and everywhere right from stairs to ceiling !
There were series of short stories running on Level 2 but kids just watched couple of stories.
With Illustrations sprawling across the walls and winding up the four levels of the building.
Here we are !!
Kids enjoyed a lot here and we have spent the maximum time so that they can show their creativity!
Both busy in their own world !
How much I wish to do like this – what a beautiful world kids have got !
This was moonroom where we did some origami art by making a aircraft and walls were all coloured.
 This was really beautiful room to see the sewing, embroidery, craft using textiles, weaving etc. We just did this pom pom as Kaira wants to use needle, scissors. So this was the easiest we could do here.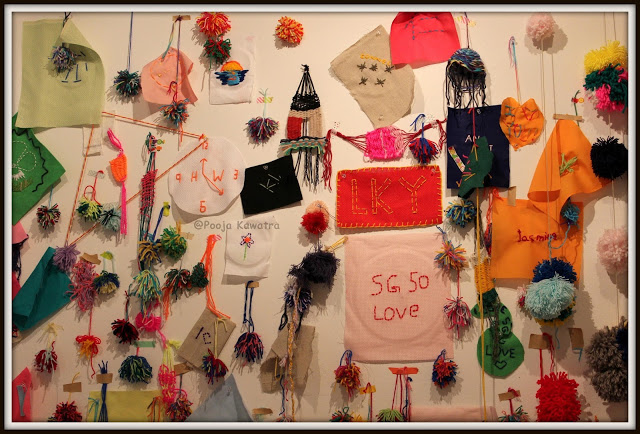 A space to broaden our minds by entering the magical worlds hidden within three secret boxes and beyond.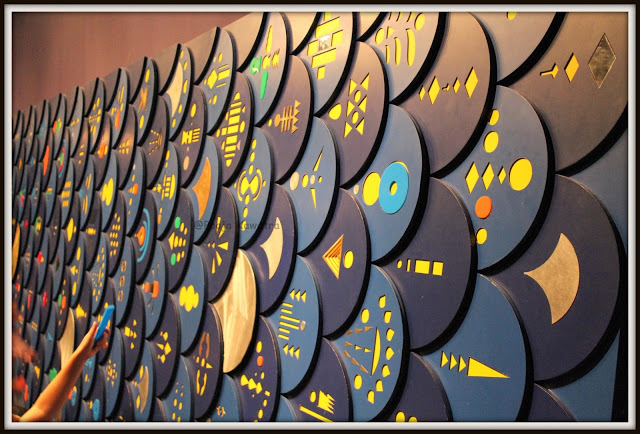 It was so beautiful to see the block lighten up when you pedal faster and faster.
                      Both of them were trying their hands on listening to different sounds.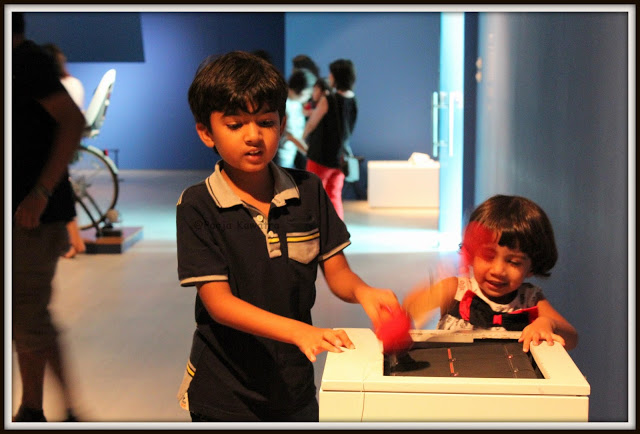 A home filled with candy is surely everyone's dream house- a delightful space where our inner wishes for the future can be projected. A home filled of lollipops and candies everywhere you look around.
 A Chandelier full of candies !!
 You can plant your own candies on the trees- Wow ! What a dream house !!
It was a beautiful experience for kids to see the different artwork and to use their imagination to discover in creating a new world. All the sections were very well designed to create a lot of interest in kids of all age.