Rojak is a traditional fruit and vegetable salad dish commonly found in Indonesia, Singapore and Malaysia. Rojak includes fruits, fried tofu, bean sprouts, prawn, cucumber and anything you want to add in. When you eat it the taste should be sour, tangy, sweet, crunchy. Many people like to eat it as an appetizer while other prefer it as a side dish like salad or even after your food as well. Other day, I felt like having one but none of the food court near to my home  serves it.So thought of making something similar to it with my taste buds. This is my first try with homemade rojak.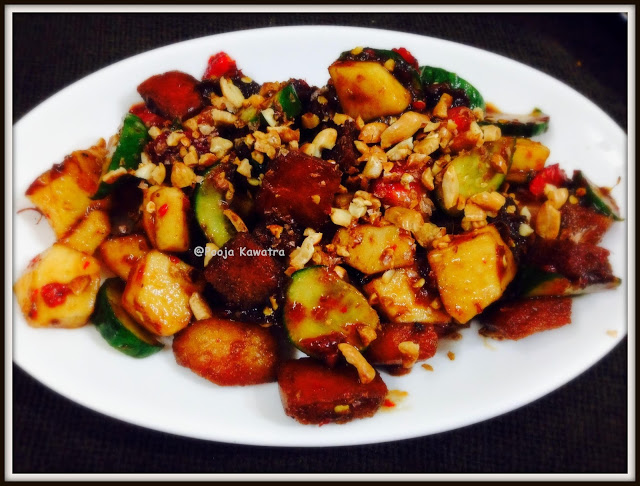 Rojak Recipe
Ingredients
Cucumber-1/4 cup
Apple- 1 diced
Raw Mango-1/4 cup
Pineapple-1/4 cup
Strawberry/ Kiwi(optional)-1/4 cup
Tamarind paste- 2 tbsp
Lime-1/4 tsp
Palm sugar – I took brown sugar- 1-2 tsp
Salt
Red chilli paste-1/4 tsp
Fried Bread crumbs
Roasted crushed peanut
Method
In a salad bowl take red chilli paste, tamarind paste, salt, sugar, lemon and mix hem well until sugar is dissolved.
Add cucumber, apple, raw mango, pineapple, strawberry, kiwi.
Mix everything well.
Just before you are serving add fried bread crumbs for that crunchiness.
Garnish with roasted crushed peanut.
Enjoy your homemade rojak !!