With small kids at home, you need to keep exploring the  new recipes every day. Wheat pasta is a good option which I keep changing sometime with butter, cheese, tomatoes and this time we tried Garlicky creamy pasta. As I have introduced garlic for my little girl so make it more creamier and richer meal for her added cheese and garlic together.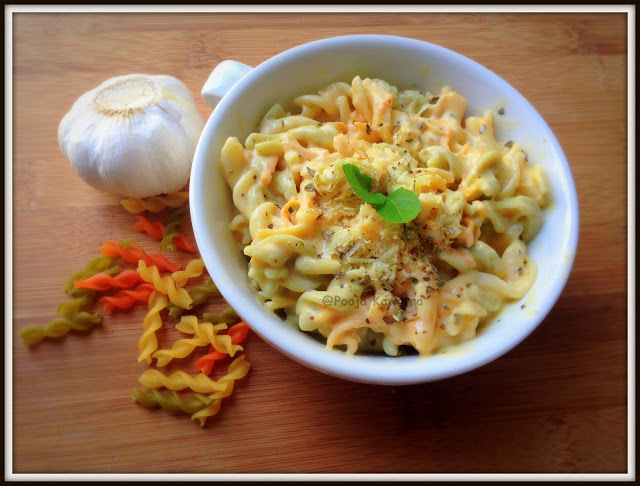 This is one of those quick and easy food which is simply irresistible can be eaten any time of the day. If you reduce the milk and let it be a side dish or add some chicken to it.
Garlicky creamy pasta
Ingredients 
Pasta -1 cup
Garlic- 3-4 pods(chopped/ grated)
Milk- 1/4 cup
Cheese- 1/4 grated or 1-2 slices
Salt
Black Pepper
Mixed herbs
Butter- 2 tbsp
Method
Boil pasta according to instructions and sieve it (It should not be too mushy as we will be cooking it for another 5-10 minutes).
In a pan take butter , add chopped or grated garlic to it and stir  for a while.
Add milk followed by pasta and keep stirring it for 5-7 minutes. Once milk starts boiling add your grated cheese or cheese slice to it.
You will notice that it will start getting thick. At this stage don't leave it without stirring as cheese will stick to the bottom.
Add salt to it and when it is almost thicker in consistency.Turn off the heat and serve it hot.
Garnish it with black pepper and mixed herb or oregano.