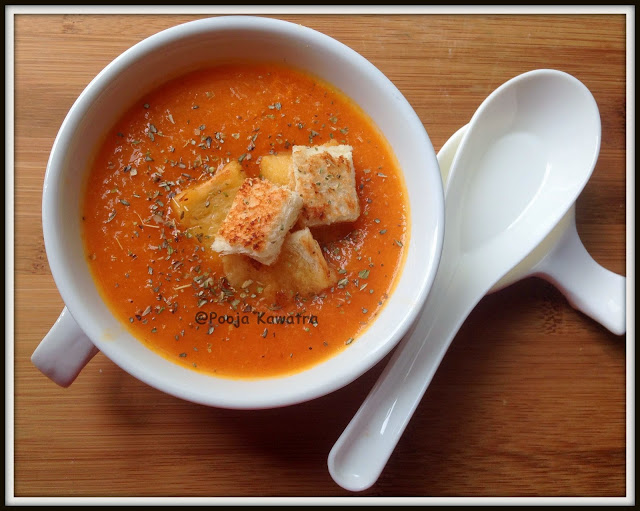 Although tomato soup is one of the basic soup which was can be prepared at home but still many people thinks preparing a soup is a tedious process than buying a tomato soup can from a store. My mom used to cook this soup for us everyday in winters and i still relish this as one of the perfect soup any day.
Thought of sharing the recipe as it won't take much longer to prepare your own healthy and fresh soup right from your kitchen without any preservatives.
You can add more vegetables, spices or can even add cream( i haven't use any cream here as want to prepare a light soup).
Ingredients
Tomato-5-6
Carrot-1 chopped
Onion- 1 chopped
Garlic- 4 pods
Bayleaf- 2
Butter- 1 tbsp
Black pepper- 1/2 tsp
Salt
herbs
Bread-1
Cream(optional)
Cornflour(optional)
Method
In a pressure cooker add tomatoes and carrot, pressure cook them for 2-3 whistles or else in a pan take sufficient water add them and cook till soft(don't throw that water).
Take a pan put butter add bayleaf, garlic and saute for a minute followed by onions. When onions turns slightly brown take them from the burner.
In a blender add onions, tomatoes and carrot you can blend it to soft paste consistency or slightly lumpy one.
Put it in the pan and cook until first boil, now add salt, pepper and 1 cup water or stock. Let it simmer on a low flame for 20-25 minutes.
Here you can add 1 tsp cornflour mixed in water if you want a thicker consistency.
Gently toast the bread on a pan until crispy and garnish the soup with bread croutons, herbs and cream.