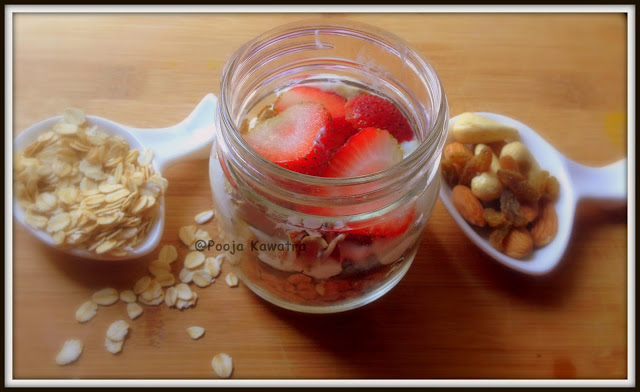 Summers are here and the weather is really getting hot. At times you really don't feel like preparing the breakfast. So, thought of a perfect and healthy breakfast on the go or for office tea time snacks whatever way you want to have it.
Oats  is one of the nutritious food which you can eat at any time of the day and in any form – hot or cold, cooked or uncooked!
Oats that too "uncooked" was my thought when I first heard about it. Eating something uncooked it must be some fruit or vegetables !
Yes ! No cooking involved at all

Hurray !! 
Ingredients
Rolled Oats- 3-4 tbsp
Chia Seeds/Flaxseeds/Pumpkin seeds- 1 tbsp
Yoghurt(optional)- 2 tbsp
Dry fruits- as per your taste
Fresh fruits
Milk- 1/2 cup
Method
– In a mason jar take rolled oats(rolled oats as it is high in fiber as better than instant oats in terms of nutritions and I like the texture too).
– Add chia seeds, flax seeds (rich in omega -3, folate, Vit B, calcium).
– Now add yoghurt(pro biotics and good for tummy)
– Layer it with dry fruits ( this one surely don't need any explanations we all know how good they are for us in moderation and keeping in mind if you have cholesterol).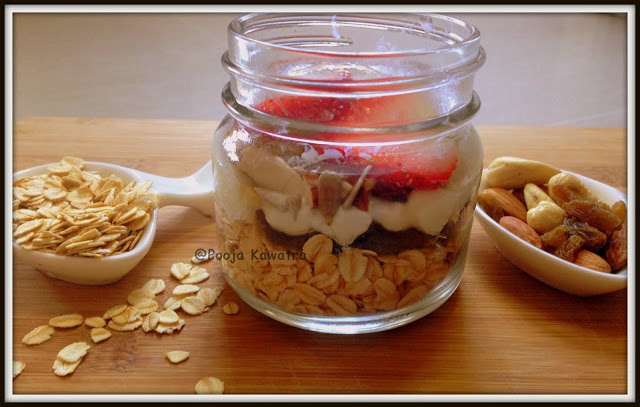 Don't mix anything as we only need to create the layers like the above. Add fruits followed by milk.
Leave it in  your refrigerator overnight and sleep ! Let milk and yoghurt do their work.
In the morning just take out your oats mix them well and top them with any fruit, crunch, peanut butter, cranberries, blueberries etc of your choice.
My Strawberry love is quite visible here. Let me enjoy my healthy breakfast !
Enjoy !