Every day coming up with some different ideas for a toddler snacks or meal is a big task than cooking for them. Well, I want to make something quick and easy under 5 minutes as we were rushing for some work.  This idea strikes me and here we go with our Cheese Jam swirl toast, one of the quickest snacks. My little toddler enjoyed this cheese jam toast which has the blend of two different taste. It is slightly savoury, slightly sweet and crisp from the outside.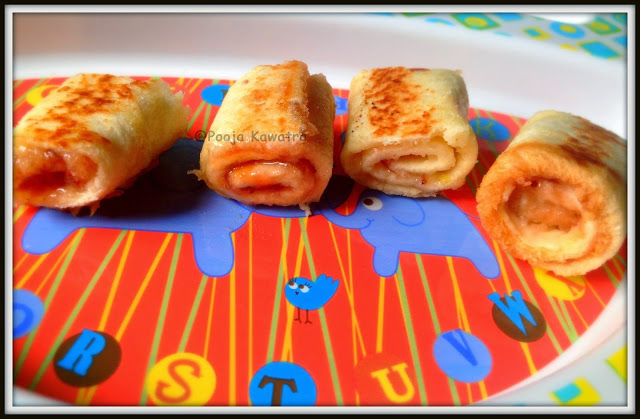 I know you mummy must be thinking about the sweet part of Jam as I find it too sweet for myself. So giving it to my toddler won't be a great idea. I have prepared my homemade jam with the real fruits and is perfect for kids. You can totally eliminate the sugar part in the homemade jam.

Ingredients
Bread-1
Cheese- 1 cube
Jam- (I have used homemade Jam)
Butter
Method
Cut the bread corner and roll it flat with a rolling pin.
Spread the cheese evenly and after it put the jam layer.
Now roll it tightly but gently without breaking the bread ( don't overdo with the jam).
Wet your hand and seal the corner.
On a pan take some butter and toast the bread. Cut it into pieces and serve!