Suji or Rava Idli is a quick fix to prepare the idli for your snack time, unlike the usual idli you don't need to ferment it for so long.
It can be prepared easily anytime and taste yummy.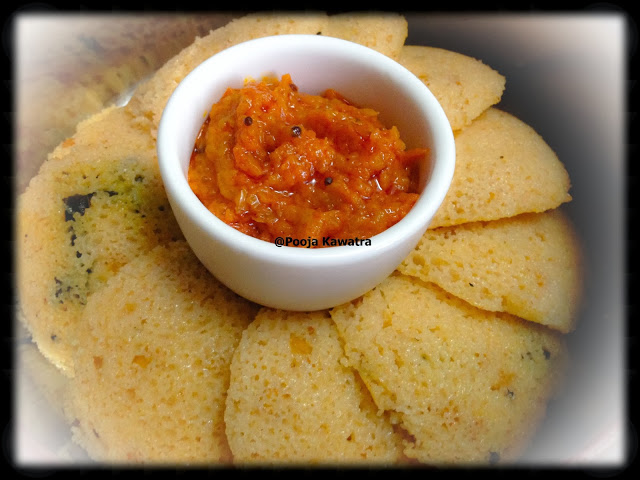 Everyone loves soft idlis which melt into your mouth and I love to eat them anytime. I still remember as a kid my mom used to make batter for rice idli at home and let it ferment but here in Singapore most of the time weather is so unpredictable.
Once I tried making it with suji (rava/semolina) and it came out so well that it became really easy to make it anytime and no need to wait for ferment.
Such a perfect healthy snack to enjoy without feeling guilty!
Suji Rava Idli
Ingredients


Batter
Suji/Rava(Semolina) – 1 cup
Curd- 1/4 cup
Water- 1/2 cup( accordingly add water to batter it should not be too flowy )
Salt
Tempering
Chana Dal-1 tsp
Mustard seeds- 1 tsp
Asafoetida(hing)- a pinch
Curry leaves-5-6
Green Chilli-2 Chopped
Oil
Fruit Salt -1
Method
1.Combine all the ingredients for the batter and leave them aside for 20 minutes.
2. In a pan take 1 sp oil and add all the ingredients for tempering except fruit salt.
3.Now add tempering to batter and fruit salt and mix well.
4. I usually prepare idlis in a big pan, take 1 cup of water and let it boil.
5. Take 1-2 tsp of batter , pour into greased idli mould and put it in the big pan of boiling water and put the lid. Some people use the pressure cooker without lid as well. My pan has a transparent lid so easy for me to check from the top.
6. Turn the flame to lowest and check after 12-15 minutes.
7. Let it cool and take out steaming hot idli to enjoy with red chutney and sambhar.