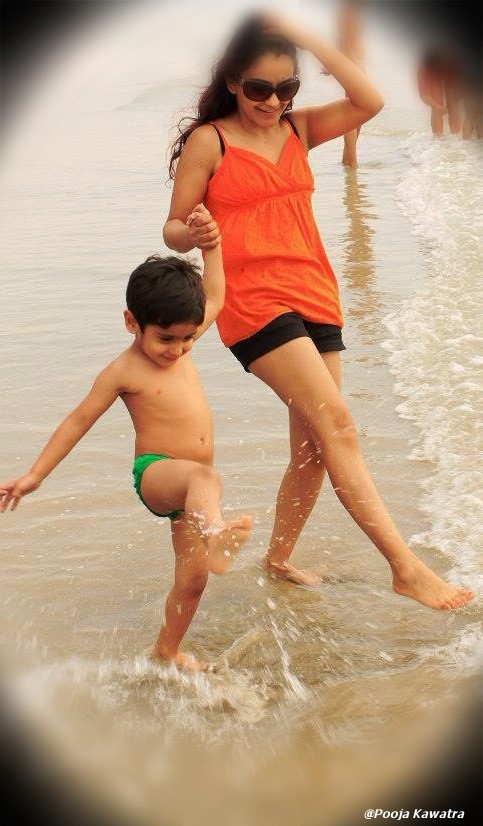 We are here with another beautiful parenting story from a lovely
mom " Pooja Kataria".
Though I haven't met her personally but sometime
just been friends is enough to know about the person and sharing your beautiful
experience.
Pooja and Lokesh have been married for 7 years now and are
blessed with a handsome boy " Panache" . I am sure when you read the
name first thought will be " sounds quite unique but what does it mean."
I have asked the same with Pooja and she like a proud mom answered, it means " Style" and we choose the name as it was quiet unique
and stylish name .It was decided by his dad.
About her pregnancy, Pooja said," I was very happy to
know about my pregnancy as it was all planned and since we both are living in a
nuclear setup. So everything was on our own, right from shopping to planning.We both were so excited with the news and started doing
little bit of shopping like Baby cot, bouncer, bottles and bib.. yes ! small
tiny set of clothes. all looked so cute !!"
As pregnancy was progressing like all the first time mums I
was very nervous as have heard lot of stories about normal pregnancy….
screaming, shouting, pain , labour !! I had a caesarean so it was absolutely
pain and cool .


Life has changed after panache came into our life. It was
quite challenging and being a new mom. I didn't had any idea about breast
feeding and with inverted nipples it was difficult to feed baby properly but I didn't lose hope and tried, tried and tried.. atlast I was able to breast feed him
properly.
More than a big achievement it was the satisfaction to see
happy smiling baby.
For initial months we were totally focused on our baby with
no late-night movies, dinners and pub.
Mums&babies asked what is your everyday
routine – Stay at home mom or working mom !


Pooja happily said, I am a full-time mom and my daily routine is like
all the full time mums ,day starts at 7am , getting Panache ready for the
school and he comes back by 1pm. Till then I complete my house chores n
veggie/grocery shopping, lunch and put him to sleep.
Evening is more of funtime taking him out to the park for
couple of hours. Followed by some work out to healthy life, prepares dinner and
have family time together.
Pooja said, " Life is great. Touchwood.!! Kids bring lot
of happiness and joy in life."


The most special moment was when Panache uttered his first
word…"mumma" said overjoyed mum.


About Panache dad Lokesh, happy mum
mentioned,"Lokesh is a wonderful dad, he helped me alot when Panache was a
small baby from diaper-changing to putting baby to sleep…making baby to burp
and now also he spends quality time with Panache." Nowadays fathers are more
actively involved in raising kids.
We asked
Pooja about any of the pregnancy myth which she has followed or been advised ,
she said during pregnancy my MIL used to insist me for eating desi ghee(clarified
butter) a lot but my doctor has advised me not to consume it more than a spoon.
I have followed my doctor's advice and gained just appropriate weight not more
not less. Later it was easier for me to shed that weight. All credits goes to
my doctor.