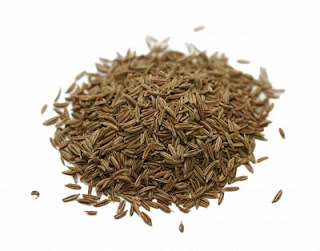 Cumin seeds also known as jeera have been extensively used in culinary preparations in the Indian subcontinent since ages.Cumin seeds not only add taste to food but also are very beneficial for body .


1. It is a rich source of iron and hence very beneficial for anaemics as well as lactating mothers and pregnant women, who tend to need iron more than others.


2.It is a great aid in digestion and prevents indigestion, flatulence, diarrhoea, nausea and morning sickness.


3. For immediate relief from acidity, chew a pinch full of raw cumin seeds.


4. Cumin seeds have antiseptic properties and aid in curing common colds.


5.It doesn't let cough to form and collect in the respiratory system.Since it is supposed to be hot, it dries up all the mucous.


6.It would be beneficial to sip on a concoction of cumin seeds and water.Boil a handful of cumin seeds along with water.Drinking this water wards off common colds and keeps the digestive system on track.


7. Cumin seeds help in stimulating the secretion of enzymes in the pancreas which in turn help in the absorption of nutrients.


8. Cumin seeds also boost the power of the liver to flush out toxins from the body.


9.It has another excellent properties that improves the immunity. it has vitmains, iron and other essential oils that strengthens the immune system.


1 10. Cumin seeds has rich source of Vitamin E, which is great for the hair and skin as well. it also has disinfectant and anti-fungal properties. This protects the hair and skin from fungal infections.
#Extract from various sources