Our Mothers Day Winner Mom Rani wants to share her parenting experience and journey of Kenisha into their life ..!!
Mother's Day Special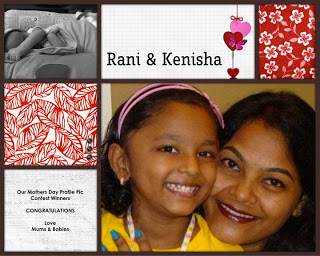 Rani & Vishal got married in Jul 2003 as they both got married at an early age so thought not to have baby for atleast few years.
As all their relatives and family members were in Nagpur so her mom-in-law sent a maid who can take care of her all the time.
With the first time pregnancy both were very happy & excited like all the parents and she had her Godbharai(baby shower) after her 7th month. They both started with shopping for the baby.
She told us with joy that till 32nd week of pregnancy everything was going good except for the fact she gained 97 kgs,,:)))
Her labour was not very easy as EDD was 23rd Aug but doctor admit her on 16th Aug and underwent labour for 27 hours but all that pain gone when she saw her little girl.
It was the happiest day of Vishal & her life when they got blessed with a Baby Girl"Kenisha' .
Rani loves to share about her daughter who is going to be 6 yrs soon and studies in K2..she loves to do Painting, story telling & playing games on laptop.
Thanks Mums&babies for giving me the chance to share my experience. I have got lots of friends through this community who shared their knowledge & views, about Motherhood & parenting. Glad to be the part of Mums&babies….Thanx Pooja !